While elevated geopolitical tensions and economic uncertainty continue to increase risks for businesses and their people, clients rely on Global Guardian to support the safety and security of their organizations with proactive solutions and immediate response.

Whether responding swiftly to client needs in Ukraine, executing time-sensitive security and medical requests at high-profile events, or assisting with high-risk terminations and physical threats to executives, Global Guardian has provided real outcomes this year. Below are a few recent case studies of these events.

If you're interested in learning more about how Global Guardian can support you or your team, click here to contact us.
---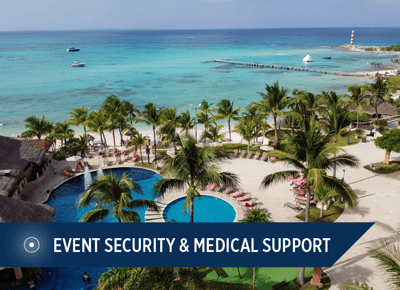 Provided Medical and Security Support for 2,000-Person Corporate Event
To ensure the safety and well-being of employees at an event in Mexico, a client required comprehensive onsite medical and security support—and Global Guardian delivered.
---

Supported Client During Reduction in Force Event
When a large manufacturing company conducted a reduction in force, our team deployed two plainclothes agents to provide a discrete security presence to deter and de-escalate any incidents that could arise.
By leveraging its vetted, on-the-ground 24/7 response team in Switzerland, Global Guardian executed time-sensitive client requests for event security and executive protection.
When a client experiencing crime on their property needed a cost-effective solution, our Asset Security team implemented a 24/7 surveillance solution with a ROSA Autonomous Security Bot.
---
Global Guardian's team stepped in to help stop a suspect from harassing an executive of a global investment firm on social media and arriving at his New York City office in an attempt to take further action.
Before and during Russia's invasion of Ukraine, our team supported clients and their families, assisting with ground evacuations, border crossings, and emergency response supplies.
STANDING BY TO SUPPORT
The Global Guardian team is standing by to support your security requirements. To learn more about our Duty of Care membership and emergency response capabilities, complete the form below or call us at + 1 (703) 566-9463.