Before hitting the road this season, review these travel tips from the Global Guardian team.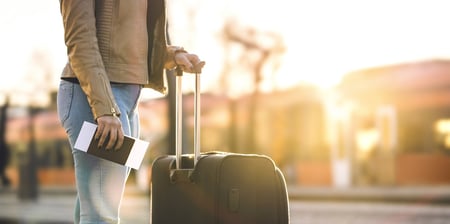 With the summer season traditionally comes an increase in travel and a welcome opportunity to explore a new location, take a moment to recharge, and spend time with family—and according to U.S. Travel Association, six out of 10 Americans are planning to travel this year. However, as domestic and international travel rebound, the lingering effects of the pandemic, which include rising violence in many locations, have created new risks for travelers.
Given this evolving risk landscape, Global Guardian's team compiled the below advice for travelers headed on a trip—whether for leisure or business—this summer.
1. Know a Region's COVID-19 Protocols
COVID-19 health protocols can differ by country and could change at any time, especially as cases continue to rise in many parts of the world. Travelers should understand all requirements, including what to do in the event of illness while in-country.
Whether or not you require a COVID-19 test or booster dose to travel depends on the destination. Several countries—primarily in Western Europe—have an expiry date for vaccine-passport validity.
This means that if you are over 18 and wish to travel to France, for example, you will either need to present a negative test result or get boosted if more than nine months have elapsed after your second mRNA dose (Pfizer or Moderna) or single dose of Johnson & Johnson.

This rule only relates to a third dose of the vaccine (or second in the case of Johnson & Johnson); it is not mandatory to have any additional doses after this in order to be classed as fully vaccinated.

A booster may not be required if you contracted COVID-19 between 11 days and six months before travel. You may present the original positive test result for travel to France, in this example.
---
2. MAKE MEDICAL PREPARATIONS IN ADVANCE
Since not all countries offer the same quality of medical care, it is important to understand the local emergency response systems and capabilities available at a destination in the event of injury, sickness or a natural disaster. Travelers should also review their health insurance policies to ensure they are properly covered while away and consider getting medical evacuation coverage as an extra layer of protection.
---
3. Stay Up to Date on Other Vaccinations
For travel to exotic and geographically remote locations and regions that have limited medical resources and/or limited access to modern medical practices, travelers should also consider a pre-trip appointment with a physician to ensure all necessary vaccinations have been completed. They should also prepare a past medical history and current medication list document in the destination's native language, a travel health kit, and arrange for translator services if available. Click here for more tips from our medical team.
---
4. Understand a Country's Security Climate
According to Global Guardian's 2022 Worldwide Threat Assessment, theft, robbery, drug smuggling, and kidnapping are "rebounding globally." In addition to the U.S, Mexico, Nigeria, India and Sweden are just some of the countries experiencing some form of unrest. Before embarking on a trip, vacationers should familiarize themselves with where they will be traveling in-country and any security warnings issued for that country or its regions.
---
5. Rethink Public transportation
Mexico is among the top 20 most dangerous countries in the world. If traveling to Latin America in particular, airport taxis and ride shares should be avoided at all costs as taxi drivers often serve as scouts on the lookout for vulnerable people. Instead, secure transportation should be arranged ahead of time. Vacationers should also not stray from the safety of the resort and consider traveling with others if they must leave.
---
6. Don't Rely on U.S. Government Emergency Assistance
One should not solely rely on U.S. government assistance in the event of an emergency evacuation because there are limits to the assistance the US Embassy can provide in an emergency.
HOW GLOBAL GUARDIAN CAN SUpport
Global Guardian offers custom-tailored corporate and personal solutions for your travel security and medical needs, including:
Duty of Care:

Global Guardian's emergency response network includes a 24/7 crisis response platform and teams in 130+ countries. With one membership, clients have access to our 24/7/365 Operations Center to ask for advice, help, or request emergency response, as well as access to tele-medical support from board certified physicians. From pre-travel intelligence reports from our experience intel analysts to evacuation coordination in the event of an emergency, our team is standing by to support. Family memberships also available.

Medical Evacuation:

Global Guardian's Air Ambulance

membership program provides air medical services to members anywhere in the world at any time. Global Guardian will cover the cost of evacuating a client hospitalized with an illness or injury to the hospital of

their choice. As of April 1, 2022, Air Ambulance members hospitalized as an inpatient due to COVID-19 while traveling internationally may be transported to the hospital of the member's choice. Click here to learn more.

Global Tracking and Intelligence:

The Travel Guardian platform provides real-time travel alerts around the world, as well as travel-related information for each country, safety ratings, health and safety tips, and relevant information on COVID-19 that is updated in real time. Travelers also have one-button access to the Operations Center in the event of an emergency.

Secure Car & Driver:

Global Guardian provides scalable and customizable international car and driver support for emergency and non-emergency transport. With highly experienced agents equipped with local knowledge and intel, our transportation services deliver a secure environment and provide best-in-class service.
STANDING BY TO SUPPORT
For information about our comprehensive security and medical solutions, call our 24/7 Operations Center at +1 (703) 566-9463 or complete the form below.