INCIDENT: Client required an effective, comprehensive security solution to combat illicit activity on property
LOCATION: Georgia
SERVICE: Remote Guarding, ROSA Autonomous Security Robot
SITUATION:
An organization suffered from persistent threats of vandalism, trespassing, possession of firearms, and substance abuse on their property. Despite attempts to deter and quell the disruptions, regular disturbances persisted. In need of a comprehensive and cost-effective security plan, the organization reached out to Global Guardian's Asset Security Division to deploy a cutting-edge solution using advanced technology and remote guarding to safeguard their property and maintain peace of mind.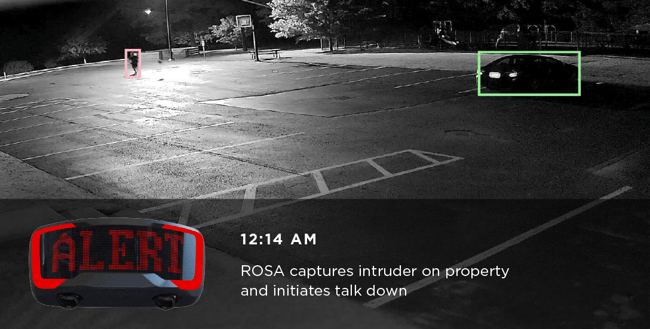 RESPONSE:
When Global Guardian's Asset Security Team was notified of the organization's urgent request for assistance, the team immediately conducted a site assessment and designed an innovative solution using the latest RAD technology, a Responsive Observation Security Agent (ROSA) Autonomous Security Bot. ROSA is equipped with a 180-degree field of view through dual hi-resolution digital cameras. The self-sufficient device has built-in cellular communications, human and vehicle detection, audio messaging, license plate recognition, responsive digital signage, talk-down capabilities, and a host of other enhanced services to be in constant, seamless communication with highly trained remote agents in Global Guardian 24/7 Security Operations Center.
Within 60 days of initial contact from the organization, ROSA was deployed, integrated with the Security Operations Center, tested, and officially implemented to maintain a 24/7 security presence on site and deter illicit activity.
Shortly after, ROSA detected an individual trespassing on the organization's property just after midnight, well beyond the property's posted hours. Upon threat detection, an internal countdown began and a visual and audible alert was activated. As programmed, remote talk-down was initiated through the device's internal capabilities, and after the intruder made no attempt to leave, Global Guardian's remote agents took over and immediately notified the local authorities, who were dispatched to the scene. The intruder fled shortly after, before no damage was caused to the property.
As a result of the Asset Security Team's diligence, this innovative solution continues to prevent suspicious activity and promote peace of mind for the organization and surrounding community.
To learn more about Global Guardian's Asset Security solutions, complete the form below.