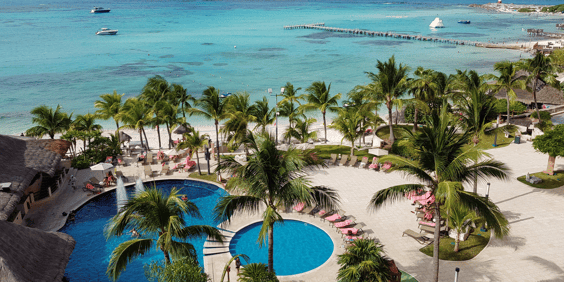 INCIDENT: High-profile event for corporate partners required comprehensive onsite medical and security support to serve thousands of guests.
LOCATION: Cancun, Mexico
SERVICE:
Emergency and Non-Emergency Medical Assistance
COVID Testing & Protocols
SITUATION: At the beginning of 2022, a multinational law firm and Duty of Care corporate client was planning a large corporate event in the spring to bring its partners together—more than two years after its last significant corporate gathering. Over 2,000 people would attend the event over the course of 10 days in Cancun, Mexico.
To ensure the safety and well-being of its employees onsite while maximizing meeting productivity, the client requested comprehensive intelligence briefings and medical and security support, including a COVID-19 testing system and medical evacuation coverage to mitigate the threat of exposure in an ever-changing COVID-19 environment. Additionally, with heightened security risks outside the grounds of Cancun-area resorts, including potential theft, violent crime, express kidnappings, and low-level cartel activity, the client required secure transportation to and from the hotel and security presence around the facility.
| | |
| --- | --- |
| Number of Guests in Attendance: | 2,000 |
| Number of Global Guardian Security and Medical Personnel: | 17 |
| Number of COVID-19 Tests Administered: | 1,700 |
| Number of Medical-Related Incidents | 17 |
| Number of Medical Transports: | 2 |
| Number of Security-Related Incidents: | 4 |
RESPONSE: Upon receiving the request from the client, Global Guardian's executive leadership and special operations teams immediately began developing a comprehensive plan to fulfill the event requirements. With four months until the event, the team assembled an onsite operation with 17 personnel, including:
A Security & Medical Director
Two team leads
Two board-certified physicians
Highly qualified medics
Security agents from Global Guardian's in-country response team with local knowledge, intel, and language skills
In addition to the onsite personnel, Global Guardian acquired all the necessary medical supplies to triage various medical issues and pre-positioned transportation assets, including SUVs, Sprinter vans, and golf carts.
After conducting an initial site assessment and several planning meetings with the client, the team developed an emergency response plan for the event and COVID-19 protocols and testing procedures. Global Guardian also created a detailed communication plan to ensure all guests knew how to request medical and security support via one point of contact overseeing the operation.
In the lead-up to the event, Global Guardian's intelligence analysts provided the client with custom reports on the security and medical-related risks associated with the area. During the event, the team also created and distributed daily intelligence briefings for key stakeholders and event organizers to ensure that all parties knew of any relevant threats and travel-specific COVID-19 protocol changes.
Throughout the 10-day event, the team worked swiftly and seamlessly behind the scenes to respond to all security-related needs and triage emergency and non-emergency medical incidents, including:
Minor injuries
Travel sicknesses
Dehydration
COVID-19 and flu-like symptoms
COVID-related departure forms
On two separate occasions, the onsite physicians and medics provided care to stabilize a guest experiencing a severe health-related emergency, then coordinated transportation to a nearby vetted hospital for necessary care. With the patient's consent, Global Guardian's medical team communicated with the local physicians to ensure the patient was treated and returned to resort. While the need never arose, Global Guardian was prepared to coordinate and execute the medical evacuation of any guest to the hospital of their choice.



In addition to responding to these incidents, the team conducted secure and professional airport transfers and all travel-required COVID-19 testing for the majority of event guests.

Each day, the onsite Security & Medical Director provided incident reports to ensure all key stakeholders had situational awareness. Thanks to the thorough planning and detailed execution by a team of highly qualified personnel, Global Guardian successfully responded to and supported all onsite medical and security-related needs that arose, mitigating any disruption to event activities.