Dear Members and Friends,

As we all learned to navigate the constantly evolving security challenges posed by the COVID-19 pandemic in 2021, we at Global Guardian have remained committed to delivering real response in the face of crisis. Through it all, we are grateful for the continued trust our clients place in us.

Over the past year, we have collectively come to terms with our new reality. As I connected with clients and partners on the challenges they are facing with regards to the pandemic and evolving threat landscape, the words of one client resonated: "We are not going back, we are going forward". The pandemic has disrupted the way all of us work and live our daily lives, however Global Guardian has strived to help shape the way forward, by finding new ways to serve our clients with comprehensive duty of care and security solutions.
---
Global Guardian's Growth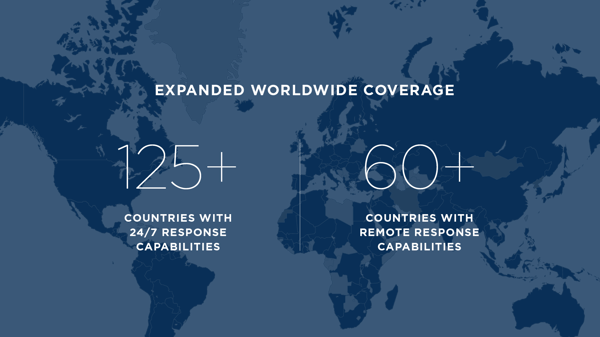 In 2021, our network of fully vetted and trusted on-the-ground response teams—a cornerstone of the Global Guardian model—continued to serve clients near and far. Our global presence was further expanded this year as we increased our 24/7 security capabilities to over 125 countries, with a response network in over 60 more. At the core of it all is our 24/7 Operations Center, which continues to be a consistent and invaluable resource for clients, providing critical response and service, regardless of the situation.
Whether responding to the Texas winter storms, Hurricane Ida, the Myanmar coup, complex COVID-19 evacuations, the collapse of India's healthcare system, or the fall of Kabul, Afghanistan, Global Guardian's ability to move and respond in minutes and hours delivers positive outcomes and real results to our clients during their greatest time of need.
To further support our model and critical infrastructure, we added new team members who bring a wealth of experience and deep practical knowledge with backgrounds in public service, including intelligence, special operations, Secret Service, and law enforcement. I have had the pleasure of working directly and indirectly with these individuals during the last year and their contributions to our operations and clients are already shaping the future of Global Guardian.
As we work together to meet the current and future needs of our clients, Global Guardian has also continued to grow its client base. I am particularly proud of the fact that the National Aeronautics and Space Administration (NASA) picked Global Guardian as its International Medical Evacuation Services provider for the Johnson Space Center, one of our first government contracts.
---
Core Services Update
Travel Security
Since travel came to a standstill in 2020, we have witnessed the growing demand for travel to resume—not just for corporate travelers looking to conduct business in person, but for leisure travelers eager to get back to experience other parts of the world. Despite evolving international travel restrictions and requirements as 2021 ended, we saw a resurgence in travel between June and November, with the number of travel missions from our clients growing by 95% compared to the same period in 2020. In anticipation of this eventuality, our Traveler Security Division introduced new services and products last year to prepare and protect travelers amid an evolving threat landscape.
"Despite evolving international travel restrictions and requirements as 2021 ended, we saw a resurgence in travel between June and November, with the number of travel missions from our clients growing by 95% compared to the same period in 2020."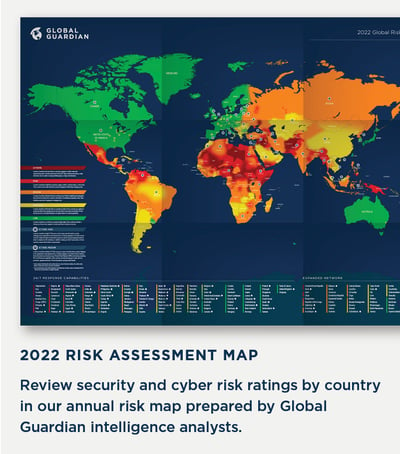 The launch of one of those new products, our Kidnap & Ransom membership, was in direct response to the rising crime levels and instability in countries across the globe. Over the last two years, the world has changed around us and many of the destinations you were used to visiting unfortunately have materially different risks associated with them. With our Kidnap & Ransom Services, individuals, families, and corporations have access to pre-crisis training and planning and expert response, including managing negotiations, liaising with law enforcement agencies, briefing victim families and coordinating all necessary details, should a kidnapping or extortion incident occur.
As COVID-19 travel requirements fluctuate toward what seems to be the new normal, we launched the TravelCheck tracking and intelligence feature on our traveler portal, as well as country-specific updates and resources on our mobile application. Both features provide our clients with real-time information and COVID-19-related restrictions at their fingertips no matter where in the world they may be traveling.
Over the last year, Global Guardian's team conducted life-saving medical evacuations via emergency aviation, many involving COVID-19 positive patients. These missions, like the ones in the Democratic Republic of the Congo and in India, involved navigating complicated hurdles to bring patients to life-saving care at their hospital of choice.
Through it all, Global Guardian's on-the-ground teams utilize a deep understanding of regional issues and real-time intelligence to navigate complex situations. This local presence gave us the ability to act swiftly in the crises that transpired in 2021, including: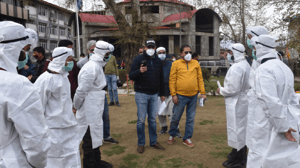 In India, we built a team of Indian doctors, who were knowledgeable about local conditions and regulations, to provide telemedicine services, and write prescriptions for patients as the Delta variant of the coronavirus tore through the country. Our team conducted COVID-19 tests, provided oxygen concentrators, and delivered medicines and even groceries while navigating bureaucratic hurdles as well as lockdowns and travel restrictions. Our Special Operations Division team was instrumental in our efforts to support our clients in India.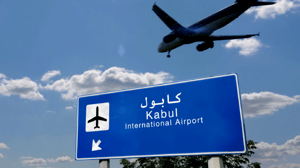 In Afghanistan, our local team, relying on its vast and varied network of relationships, assisted with evacuations for months. To date, our team has assisted with the departure of over 500 people—duty of care clients and Afghans—through intel, alerts, guidance, and movement via ground and air (commercial and NATO aircraft). While the collapse of the democratically elected government in Kabul caught most onlookers by surprise, the fact that we had eyes and ears on the ground gave us the ability to alert our clients to leave the country well before the Taliban entered the capital, and then focus on the safe evacuations of Afghan nationals.
Duty of care and travel risk management has become top of mind for organizations around the world, as evident by the new ISO travel risk management standard, giving guidance on how to manage the risks and respond to incidents associated with international business travel.
Even with the onset of the Omicron variant, I am heartened by the present uptick in travel—domestic as well as international, business as well as leisure—and am optimistic that this trend will continue. Global Guardian stands by to support its corporate and family Duty of Care clients as they travel with intelligence briefings, COVID-19 testing, executive protection and transportation, and other customized services to ensure a safe experience.


Asset Security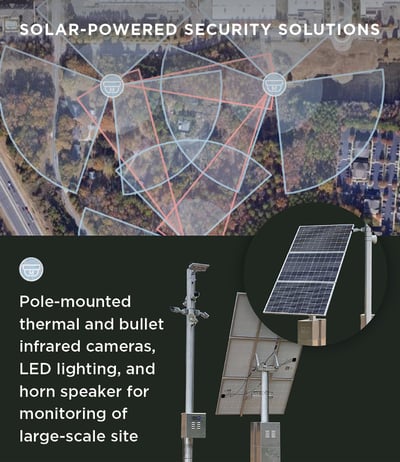 Over the last year, our clients have focused on protecting their people and assets, both at home and abroad. Responding to their needs, Global Guardian's Asset Security Division expanded the use of video surveillance, intrusion detection and monitoring, and alerts in 2021. They also strived to meet the unique challenges of clients who had sites that lacked the necessary electrical power and communications infrastructure. In response, our Asset Security colleagues designed innovative new systems, which included a state-of-the-art wireless, solar-powered security solution with a 360-degree field of view for surveillance so that our client's assets could be properly monitored and protected.
Our team has been well ahead of the curve when it comes to rolling out new vetted and tested products and ensuring the technical security of those products. Global Guardian takes pride in the fact that it is 100 percent NDAA (the National Defense Authorization Act) compliant. Working in tandem with this technology are remote guarding agents monitoring, assessing, and responding to events every day.
In the past year, the experienced agents in our 24/7 Operations Center in Charlotte, North Carolina responded to over 100,000 intruder or suspicious activity incidents at monitored locations around the world—with a decreased response time through the use of state-of-the-art technology. Our Asset Security Division also increased its support to clients outside the United States in ten countries—the Netherlands, Australia, the United Kingdom, Ireland, India, Japan, China, France, Luxembourg, and Hong Kong.

"In the past year, the experienced agents in our 24/7 Operations Center in Charlotte, North Carolina responded to over 100,000 intruder or suspicious activity incidents at monitored locations around the world."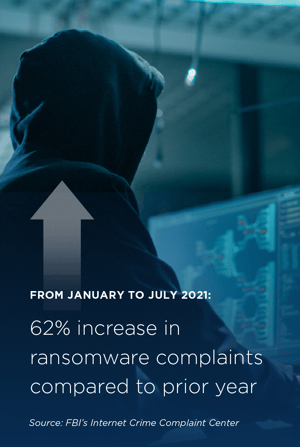 Cyber Security
While companies continue to assess when to bring employees back to the office, many workforces continue to work remotely—often on unprotected networks—allowing cyber hackers to capitalize on these vulnerabilities. As predicted, 2021 proved to be the year of ransomware. From January to July 2021, the FBI's Internet Crime Complaint Center reported a 62% increase in ransomware complaints compared to the same time period in 2020—and the vast majority of cybercrimes continue to go unreported. Global Guardian's Cyber Security team provided essential protection to corporations and individuals against these threats.
We continue to monitor and stay ahead of other concerning cyber trends, providing clients with comprehensive digital threat management services, including deep and dark web assessments, online threat monitoring, and digital privacy protection. With these comprehensive services, our team protects the digital identities of our clients by keeping personal data out of the hands of malicious actors.
Our goal is to maintain consistent communication with our cyber security clients, ensuring they are aware of the threats impacting their personal lives and businesses. Last year, our team of intelligence analysts increased the number of custom daily, weekly, and monthly reports provided to our clients, helping organizations stay ahead of potential threats with predictions and situational updates.


Customized Security Services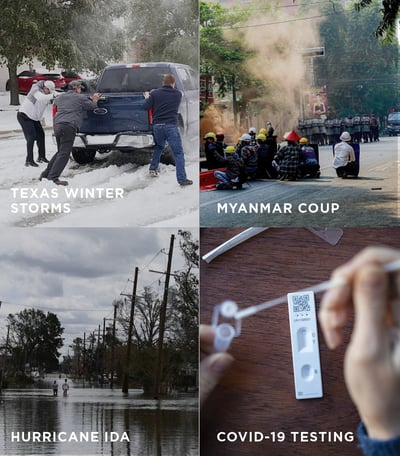 The past year has underscored the ability and versatility of Global Guardian's teams as they anticipated and pivoted from one challenge to the next. Be it a healthcare crisis, a natural disaster, or a government collapse, Global Guardian exists so that we can provide customized services and solutions to our clients.
In Texas, we responded to the winter storms, which caused life-threatening power failures and froze water pipes across the state, by providing essential supplies and evacuations to organizations and their employees at home. In Myanmar, our team provided financial support to clients in the middle of a coup and breakdown of the banking system. In Louisiana, our team evacuated more than 700 people and provided food, medical, security, and communications support as Hurricane Ida—the most destructive storm of the 2021 Atlantic hurricane season—battered the state.
As corporations around the world faced the challenge of safely returning employees to the office, our teams developed comprehensive testing strategies and administered thousands of COVID-19 tests for our corporate clients. In response to the growing number of threats on executives in corporate America, we launched Discrete Agent Services with professionals trained to deal with a myriad of challenging security situations and blend into the most demanding environments.
Global Guardian continues to find new and effective solutions to complete client missions thanks to the dedication and experience of our teams.
---
Thank You
We at Global Guardian are deeply grateful for the continued partnership and support of our clients.
I firmly believe that armed with the experience we have gained over the past year and the hard work of our teams, Global Guardian is even better prepared to protect our clients in the years ahead. If anything, this past year reiterated to me the importance of companies and individuals being agile, prepared, and proactive—and Global Guardian is here to serve you in 2022.
Standing by to Support,

Dale Buckner