INCIDENT: Commercial builder required an insurance-mandated surveillance solution for a 19-acre construction site without electrical power or communications.
LOCATION: Durham, NC
SERVICE: Solar-Powered Solutions, 24/7 Surveillance
SITUATION:
A commercial builder was mandated by their company's insurance provider to install a 24/7 surveillance solution with appropriate lighting on a 19-acre construction site for the duration of their 23-month construction project. The site lacked the required electrical power and communication infrastructures to support a traditional surveillance design, so the builder needed the right partner to design and deploy a custom solar solution with a limited budget and inside a small deployment window. The builder reached out to Global Guardian's Asset Security Team to execute the custom design.
RESPONSE:
Upon receiving the request and requirements from the builder, the Global Guardian Asset Security Team immediately conducted an initial site assessment and began designing a comprehensive wireless, solar-powered security solution. The team navigated several challenges—including lighting and battery power requirements needed during prolonged periods of inclement weather when the system would be without sun exposure—and carefully selected cameras for optimal coverage.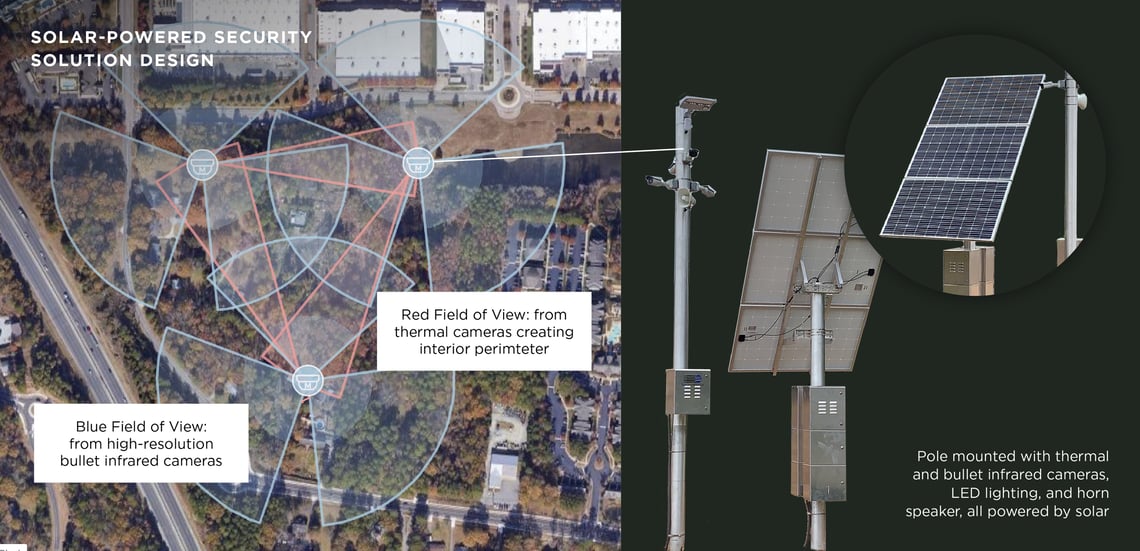 The state-of-the-art wireless security solution consisted of three solar-powered poles with LED lighting and thermal and bullet cameras with a wireless mesh network, creating a 360-degree field of view for surveillance of the site. Each pole contained three high-resolution bullet infrared cameras for a longer range of viewing, critical for the large site, and one thermal camera. Together, the three thermal cameras created an interior perimeter around the main construction area which contained all the equipment. Also mounted on each pole were horn speakers to be utilized for talk downs by remote guards should an incident occur. With solar panels powering each pole, the whole system was designed to operate for up to five days without sunlight.
Within 30 days of receiving the request from the commercial builder, the Asset Security Team installed, tested, and integrated the solar-powered security system into Global Guardian's 24/7 Operations Center, where highly trained and experienced surveillance agents are providing remote guarding of the construction site. Thanks to the team's creative system design and swift execution, the client received comprehensive protection and monitoring of their site that met all insurance requirements—and at a significant cost-savings when compared to 24/7 onsite guards.

To learn more about our Asset Security Solutions, click below.