INCIDENT: Hurricane Ida, a category 4 storm.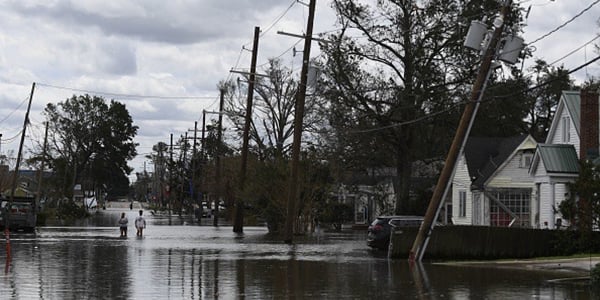 LOCATION: Louisiana
SERVICE: Emergency Evacuation, Medical, Security, and Communications Support
SITUATION:
Ida hit the Louisiana coast near Port Fourchon on August 29, 2021 as a Category 4 storm, bringing sustained 150 mph winds, a massive storm surge, and torrential rains. The storm caused widespread flooding and power outages affecting more than one million customers, inflicted an estimated $22.5 million in damages in 19 counties, and resulted in the deaths of 82 individuals.
Among those impacted were several Global Guardian clients with locations and resources in the path of Ida.
RESPONSE:
The Global Guardian Operations and Special Operations teams began monitoring the path of Ida on August 23, 2021, and as it developed into a tropical storm near Grand Cayman, the team started alerting clients of its potential path. Clients continued to receive threat alerts and intelligence every 24 hours via the Global Guardian mobile app and Travel Guardian platform, as well as email communication.
Meanwhile, as Ida intensified into a hurricane, Global Guardian deployed multiple response teams and agents to a location nearby where Ida was expected to make landfall and prepared for emergency evacuations by coordinating the use of multiple vehicles and helicopters in the area. The team set up satellite communication systems and proactively reached out to clients in the area to establish contact and make sure they were aware that Global Guardian was standing by should they need support.
Immediately after Hurricane Ida had cleared the area, the on-the-ground team started evacuating clients by ground to Texas and Florida and by air to locations around the country, navigating the challenges brought on by power outages and limited resources. Satellite equipment allowed the team to maintain communication throughout the mission. In total, over 700 individuals were safely evacuated from the area. The team also delivered necessary resources to clients, including generators, food, water, toiletries, and medical supplies, and conducted health-and-wellness checks on elderly individuals whose families were unable to make contact. As clean-up efforts commenced, the team executed multiple drone site surveys and damage assessments, as well as supplied armed and unarmed agents to secure client assets.
Thanks to Global Guardian's proactive communication and mobilization efforts, clients were brought to safety and their assets were secured amid an uncertain and chaotic environment. For details of Global Guardian's response, see timeline below.


TIMELINE OF HURRICANE IDA SUPPORT & RESPONSE IN LOUISIANA
DATE
IDA DEVELOPMENT
GLOBAL GUARDIAN RESPONSE
August 23
Ida originates in the Caribbean
Global Guardian team begins monitoring Ida's path
August 26
Ida develops into a tropical storm
Global Guardian team begins alerting clients in and around the path of the storm every 24 hours via app alerts and email
August 27
Ida intensifies into a hurricane
Global Guardian deploys team to an area 1.5 hours outside where Ida is expected to make landfall and alerts clients of support capabilities
August 28
Ida reaches peak intensity as a category 4 hurricane
On-the-ground team prepares to provide evacuation assistance by mobilizing vehicles, helicopters, and agents and sets up satellite communication systems
August 29
Hurricane Ida makes landfall near Port Fourchon, Louisiana and devastates the town of Grand Isle and surrounding areas
On-the-ground team remains in contact with clients and drives into the affected areas to begin evacuation efforts and delivery of food, water, and medical supplies
August 30
Hurricane Ida gets downgraded to a tropical depression
On-the-ground team continues evacuation efforts of more than 700 people by ground and air and begins to conduct site surveys and damage assessments via drone and health-and-welfare checks on elderly clients
September 1–
October 15
Hurricane Ida aftermath
On-the-ground team finishes evacuations and continues to support clients with essential resources and security during clean-up efforts
Click below to learn more about Global Guardian's Emergency Response services.