Global Guardian Asset Security is an official UL Listed Central Monitoring Station, exceeding the safety and reliability standards set forth by the Underwriters Laboratories. Learn more about the benefits of working with a UL Listed company.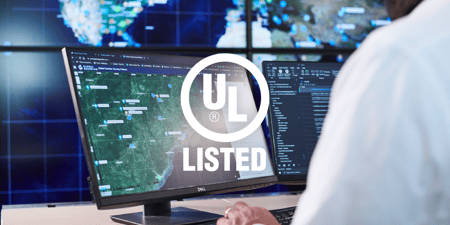 Underwriters Laboratories (UL) is a global safety science leader that helps companies demonstrate safety, enhance sustainability, strengthen security, deliver quality, manage risk, and achieve regulatory compliance. When a monitoring station is UL Listed, it has demonstrated to the UL that it meets or exceeds their safety and reliability standards. This listing from the UL communicates to the consumer that the central station is a trusted and reliable source for central station monitoring.
By working with a UL Listed Central Monitoring Station like Global Guardian, organizations will not only meet the requirements set by their insurance providers, but they will benefit from the following:
1

REGULATion BY UL STANDARDS TO ENSURE QUALITY AND SAFETY

Quality is paramount when hiring monitoring services to protect a business, but it can be difficult to know where to start when evaluating a monitoring company. Choosing a UL Listed company guarantees that the service adheres to a set of rigorous safety and quality standards. UL Listed companies are evaluated every year to ensure they are up to date with the best technology and practices, so choosing a company that is UL Listed is a sound investment in safety.

2

REGULAR SYSTEM TESTING

It can be a challenge to maintain all the different monitoring systems in operation around a business—and forgetting one can spell disaster. A system that goes unchecked could fail in a key moment, leaving property and people unprotected in an emergency. UL Central Station Monitoring includes system testing on a regular basis and sometimes, even daily.

3

COMPREHENSIVE VIDEO MONITORING SERVICES

UL Central Station Monitoring doesn't just include fire alarms. It also covers video monitoring services for a variety of purposes. Services can include recording, supervision of employees or inventory, video alarm verification, and more. There are even video backups to provide redundancy in case of failure.

4

TRAINED PROFESSIONAL HELP IN AN EMERGENCY EVENT

These central station monitoring systems aren't just automated. A live professional is waiting on the other end in case of an emergency. If an alarm is tripped, they are trained in the proper compliance and procedures and will do everything possible to mitigate danger or damage in addition to contacting the appropriate authorities.

5

MONITOR MULTIPLE SYSTEMS THROUGH ONE CONVENIENT SERVICE

One of the biggest advantages to a UL Listed Central Station Monitoring service is the fact that it rolls all the crucial safety and security systems into one convenient monitoring service. Rather than having several different companies for each particular security or safety need, a central monitoring service can watch for fire, burglary, medical emergencies, and more, all at the same time.
---
ABOUT GLOBAL GUARDIAN ASSET SECURITY
Global Guardian is committed to supporting its clients with the most comprehensive security offerings available—including solutions to keep your business and home safe from property crime.
Our Asset Security Division offers innovative, thoughtful, and cost-effective monitoring services using advanced, NDAA-compliant technology, including:
Surveillance and remote guarding with the ability to monitor a wider field of view and react quicker than traditional guards to proactively deter criminals
Custom-built intrusion detection systems that meet the requirements of insurance providers
Access control to prevent data loss, theft, or breach of privacy
Solar-powered systems as a 100% wireless solution and green initiative
24/7 Operations Center designed to respond in under 90 seconds to incidents at monitored locations around the world
We work with clients across all business industries—energy and infrastructure, automotive, construction, agriculture, commercial property management, and manufacturing.
---
Global GUARDIAN ASSET SECURITY IN ACTION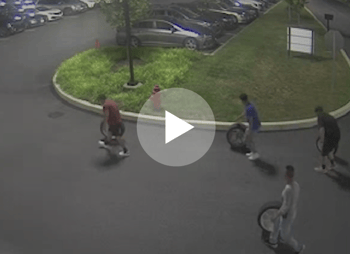 INCIDENT: Intruders attempted to steal property from a national car dealership.
LOCATION: Pennsylvania
SERVICE: 24/7 Remote Guard Video Monitoring
While monitoring on-site security cameras at a client's car dealership, remote guards in Global Guardian's 24/7 Security Operations Center detected individuals attempting to steal property just after 9:30 PM. Within seconds of seeing the intruders, Global Guardian's remote guards performed a talk down over the system to let the individuals know that they were being monitored. When the intruders didn't leave the site, our team quickly dispatched the local police, who arrived at the car dealership and apprehended the individuals in less than eight minutes after the incident began. While the situation unfolded, our remote guards closely monitored the live feed and briefed the client on the event. Thanks to Global Guardian 24/7 Remote Guard Video Monitoring and the swift action by local police, the loss of valuable property was prevented. Read more.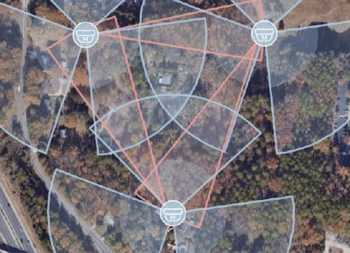 INCIDENT: Commercial builder required an insurance-mandated surveillance solution for a 19-acre construction site without electrical power or communications.
LOCATION: Durham, NC
SERVICE: Solar-Powered Solutions, 24/7 Surveillance
A commercial builder needed to install a 24/7 surveillance solution with appropriate lighting on a 19-acre construction site, however the site lacked the required electrical power and communication infrastructures to support a traditional surveillance design. After conducting an initial site assessment, the Global Guardian team began designing a comprehensive wireless, solar-powered security solution. The state-of-the-art wireless system consisted of three solar-powered poles with LED lighting and thermal and bullet cameras with a wireless mesh network, creating a 360-degree field of view for surveillance of the site, with the ability to operate for up to five days without sunlight. The Asset Security Team installed, tested, and integrated the system within 30 days of receiving the request, and are successfully monitoring the client's construction site 24/7. Read More.
---
STANDING BY TO SUPPORT
The Global Guardian team is standing by to support your security requirements. To learn more about our asset security services for your home and business, complete the form below or call us at + 1 (703) 566-9463.