As employees prepare for a return to the office or get ready to hit the road, employers need to consider the global health emergency's toll on their employees' mental health and travel safety.
More than two years since the first cases of COVID-19 were reported, there is a distinct sense of life returning to normal in some parts of the world, in other parts governments are imposing lockdowns and strict quarantine measures in the face of new infections. South Africa, where the government has just ended its national "state of disaster," is an example of the former; Hong Kong and Shanghai are examples of the latter.
New variants and subvariants of the coronavirus, low vaccination rates, and waning immunity among those who have been vaccinated are behind the infection spikes. In the United States, COVID-19 infection and death rates are on the decline as of early April; however, a new subvariant of the virus is causing infections to rise in Europe and East Asia, which means the United States could be next, said Dr. Chris White, deputy medical director at Global Guardian.
---
BA.2: A 'Variant of Concern'
Parts of the world that were initially classified as "moderate to high risk" are now being classified as "very high risk" as a consequence of the BA.2 subvariant of the Omicron variant of COVID-19, which has been listed by the World Health Organization (WHO) as a "variant of concern." While Dr. White attributes the increase in COVID-19 infections in Europe and East Asia to a waning of immunity as well as changes to the spike protein of the virus as a result of mutations, he said the BA.2 subvariant nevertheless has a lower likelihood of causing severe disease, especially among those who have been vaccinated or previously infected. He also does not expect it to produce the surge in infections or deaths similar to that caused by the Omicron and Delta variants of the coronavirus.
Dr. White describes trends in infections as location specific—they will depend on the availability of vaccines, vaccination rates, and access to COVID-19-specific therapeutics and treatments in an area.
Working Amid a Pandemic
As to how governments respond to new infections, Dr. White believes that will be determined by historic patterns of action. "If there was an area that locked down and had stay-at-home mandates, that is always a possibility [again]," he said. On the other hand, he added, "it may just be as simple as adding back in mask mandates and limiting travel."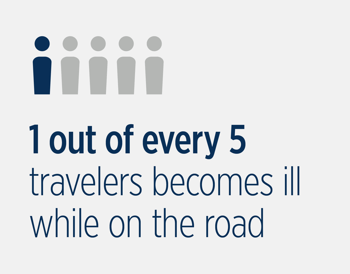 Dr. White acknowledges that people cannot live in a constant state of emergency, but he recommends staying "appropriately cautious."
Global pandemic aside, each year, about 20 percent of all travelers become ill while traveling and about 5 percent of them will require some form of emergency care while abroad, according to Dr. White. It's critical in the present environment that travelers adequately prepare to limit any risks to their health and wellbeing. This may involve creating a checklist of items to do prior to travel, including obtaining a translated copy of prescriptions and important medical history and putting together a first aid kit, or reviewing your health insurance policies and considering additional coverage in case of an emergency.
Additionally, Dr. White contends that as employers consider having their employees prepare for business travel and return to the office, the mental health of employees should be a key consideration.
---
The Pandemic's Toll on Mental Health
The global prevalence of anxiety and depression increased by 25 percent in the first year of the pandemic, according to the WHO. The global health body attributed this alarming increase to several factors, including the unprecedented stress caused by loneliness, constraints on people's ability to work, the fear of being afflicted by COVID-19 or having a loved one die from the disease, and financial worries. Early on in the pandemic, this was a wake-up call to all countries to pay attention to the mental health of their populations, and now, "there is a shift where more and more people are reprioritizing to focus on their mental health and renegotiating a 'new normal,'" says Dr. Karen Kierce, chief executive officer of RCT International.
In addition to pandemic-related stress, the uncertainty surrounding global events and natural disasters "contribute to what people are feeling, which is uneasy," adds Dr. Kierce. Over the last two years, she said, workers have felt the burden of juggling jobs, the schooling needs of their children, and in some cases caring for sick relatives. Kierce said that as a result, many people are redefining their identities and what it means to be successful—and this time of transition is having a tremendous impact on the workplace.
Dr. Kierce says company leaders need to be mindful of the toll the pandemic has taken on their own mental health before they address their employees' needs.
"If you don't put your own oxygen mask on first you are not going to be of any use to anyone around you, including yourself," she said. "People should try, as best as they can, to keep a finger on their own pulse of wellness."
---
The Challenge of Returning to the Office
While a combination of factors, including the mental health toll of the pandemic, contributed to the Great Resignation in 2021, we are now in a time of "great departure," says Dr. Kierce. One of the biggest concerns Dr. Kierce hears is from employers who are trying to keep employees from departing their jobs for ones with higher pay and more flexibility to support work-life balance. Oftentimes, employees are departing for new opportunities before their current employer has time to enact any real change in their workplace and work-from-home policies. "Yesterday's solutions are no longer working," says Dr. Kierce. According to a recent Morning Consult poll, only 63 percent of current remote workers would feel comfortable returning to the office.
To stay competitive in the current job market, Dr. Kierce emphasizes the importance of assessing your company's policies, saying: "Employees have a really hard time operating in the gray area when they are stressed," and they need a clear definition of policy when it comes to remote work—one that is in line with others in your industry and supports the mental health and work-life balance of your employees.
---
Overcoming the Challenge of Returning to the Office: The Three Cs
Dr. Kierce sets out three areas of special focus for employers looking to retain employees and create an office environment that is conducive to their return: creativity, communication, and conflict resolution. "Those are all things that are going to be required as we move forward during this transition to whatever we are going to end up being," she says.
Creativity:

Corporations are looking at creative ways to bring workers back to the office and keep them from leaving their jobs. In some cases, this means providing employees with perks. Google, for example, is offering its employees free electric scooters. Some companies are paying for employees' parking. Others are offering free meals, which, Dr. Kierce says, has created a camaraderie that will pay off in the long run. Still other employers have eased strict office dress codes, but Kierce says that has resulted in employees turning up for work in outfits just shy of pajamas and flip-flops. She advises employers carefully manage the transition back to the workplace to avoid such unintended consequences.

Communication:

Employers need to communicate their return-to-office plans transparently and frequently to their workforce, especially under these current conditions of transition. "It is really in everybody's best interests to talk about this transition back to the office," Dr. Kierce says.

Conflict resolution:

With every step away from live communication, you lose the richness and context of the message, and as a result, you increase the likelihood of misunderstanding and conflict — especially when employees are already under stress, says Dr. Kierce. When it comes to conflict resolution, indirect communication, like text, email, and video calls makes it harder to address the issues. "As a conflict deepens, your options decrease," she says, "but if things can be dealt with early, you have really increased the likelihood that people are going to feel good about where they are in your organization."
As employees return to the office, some are returning to regular business travel, which has the potential to cause additional stress amid the uncertainty surrounding global health and security threats. However, by providing detailed travel information, comprehensive support, and a system to lean on in the event of an emergency, corporate leaders can decrease levels of anxiety for their employees and increase their confidence, setting them up for success on the road. "Knowing that you have a partner that has your back, is more important than people realize," says Dr. Kierce.
---
How Global Guardian Can Help
Duty of Care: Global Guardian enables organizations to fulfill their duty-of-care obligations by reducing risks associated with business travel and providing a global response capability for any emergency, big or small. With a team of board-certified physicians, Global Guardian's medical support includes everything from emergency prescription assistance to access to a team of U.S.-based doctors.
Pre-Trip Intelligence: As part of pre-trip preparation, Global Guardian briefs clients on documentation, tests, and vaccinations that are required by their destination country, medical advice from Global Guardian's team of doctors, information on reliable medical services in a traveler's vicinity, and more. Additionally, Global Guardian's tracking app provides useful information about the most recent travel alerts for each country, safety ratings, health and safety tips, as well as relevant information on COVID-19 that is updated in real time.
Medical Evacuation: Global Guardian's Air Ambulance membership program provides air medical services to members anywhere in the world at any time. Global Guardian will cover the cost of evacuating a client hospitalized with an illness or injury while traveling to a hospital of their choice. As of April 1, 2022, Air Ambulance members hospitalized as an inpatient due to COVID-19 while traveling internationally may be transported to the hospital of the member's choice. Click here to learn more.
---
STANDING BY TO SUPPORT
Find out how our team can support your security needs. For assistance, call our 24/7 Operations Center at 703.566.9463 or complete the form below.