2019 was a year of expansion for Global Guardian. On behalf of our entire team, thank you for your continued trust and support.
Global Guardian was built to ensure the safety of your most important assets. We differentiate ourselves through the level of service we provide, an ability to deliver immediate response on a global scale, and our skilled operators standing by to respond to your most complex crises.
To ensure we remain leaders in every vertical in which we operate, we continually invest across our platform to expand our integrated suite of emergency security and medical services. In 2019, we launched a new traveler security technology dashboard, expanded our medical and travel management services, opened a new international office in London, and added talented operators across each division. While these new services fundamentally change the scale and breadth of capabilities we deliver to our clients, our Global Response Network remains our most valuable and unique asset.
---

At our founding, we set out to build a global network of in-country response teams that could deliver emergency services on a global scale. These operators would have the regional knowledge and local relationships needed to navigate the unique crises our clients face as they travel and conduct business abroad. Our goal was to forge strong and lasting relationships with these teams by providing consistent business and managerial oversight in return for ground truth intelligence and immediate deployment abilities. We started slowly, testing and vetting teams in eight countries where our clients traveled most, and over the past decade we have expanded this network to include in-country teams in more than 100 countries. These relationships have never been stronger than they are today. Our Operations Center interacts with these ground units daily, coordinating more than 100 missions in 50 different countries every month. It took nearly a decade and a material financial outlay to build this capability, but we now maintain a unique and invaluable resource exclusively available to our clients.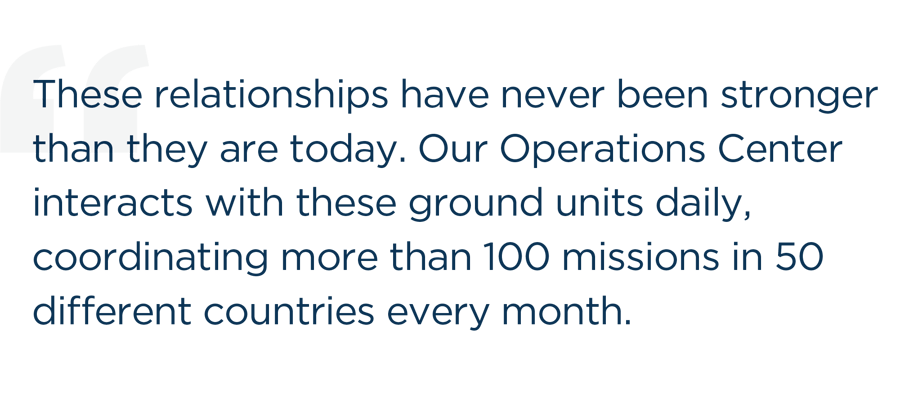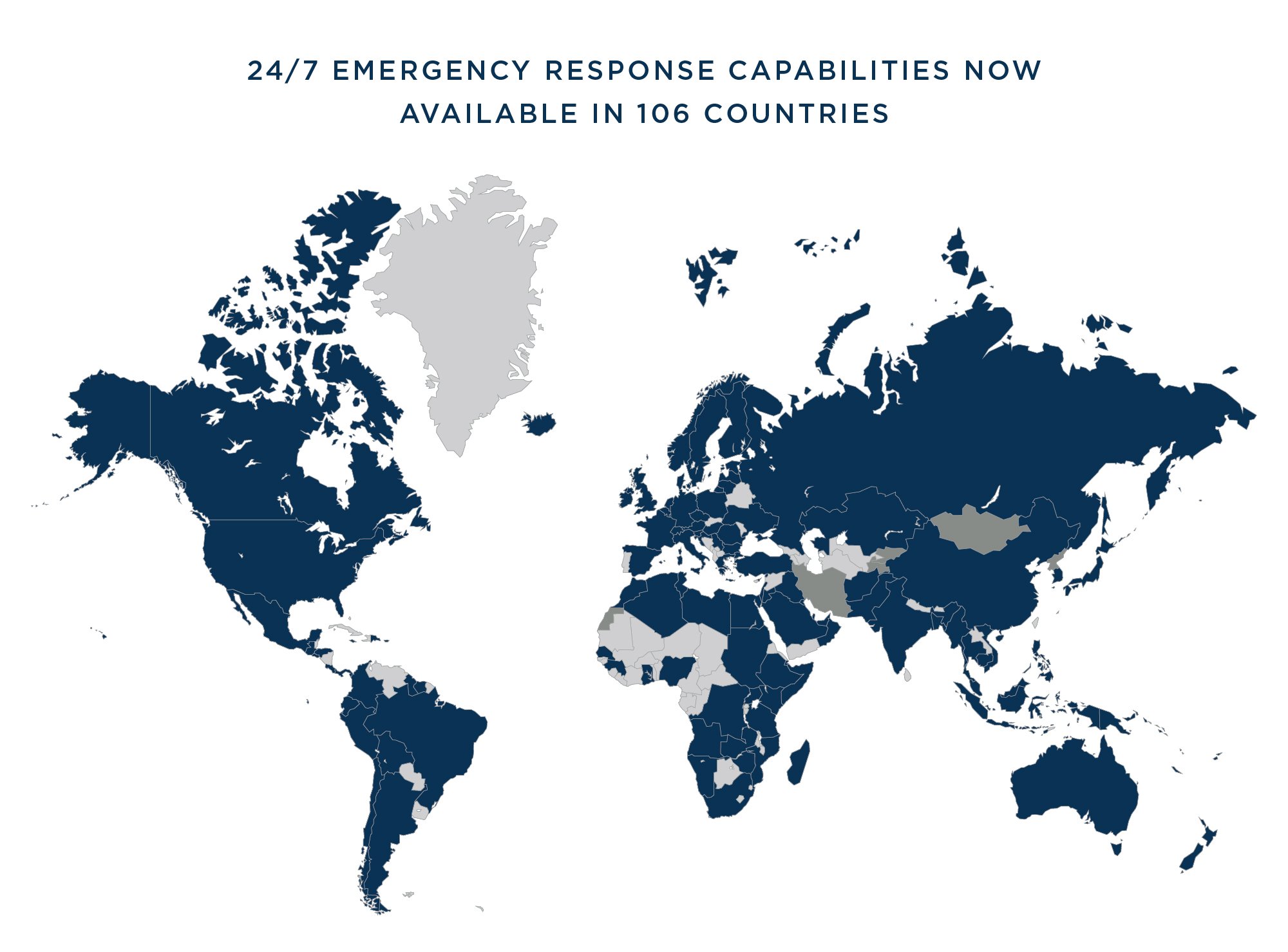 ---


Global Guardian's Traveler Security Division provides a comprehensive Duty of Care solution for corporate travelers. Members have access to immediate crisis support services, travel tracking and intelligence resources, mission-related security solutions, and bespoke financial protection coverage for crisis events. The Global Guardian Operations Center serves as a "Global 9-11," accessible 24/7 to any traveler on our platform, as well as a valuable resource to assist clients in the coordination of mission specific security requests such as executive protection, car and driver, and custom intelligence reporting. We have experienced strong demand for Event Security and Evacuation Planning services as more clients task us with coordinating medical and security support for corporate events and assisting in the creation of tailored and actionable evacuation plans. The Air Ambulance medical evacuation program tripled its membership base and launched a new firm-wide access plan that reduces per employee costs and time-consuming enrollment requirements standard in competitor programs.

---

Global Guardian's Asset Security Division provides video surveillance and intrusion detection monitoring services. We opened a new, fully dedicated, 4,500 square foot state-of-the- art Operations Center in Charlotte, North Carolina to monitor existing client facilities in more than 20 states. Our event driven analytics platform has proven invaluable for facility protection, and we finished the year with 4,200 intrusion events, 450 police dispatches, and 15 criminal apprehensions. We announced the hiring of Logan Leslie, President of the Asset Security Division. Logan recently completed the JD/MBA program at Harvard University after 15 years of military service which included deployments as a member of the U.S. Army Special Forces.
---

Global Guardian's Cyber Security Division provides real-time monitoring and threat detection for corporations and executive home networks. We tailor our cyber services to each client's security needs, conducting a baseline assessment and analyzing both the size and composition of the network. Once a security solution is implemented, we provide constant monitoring and analysis to identify vulnerabilities and potential breaches. This allows us to remedy these breaches to minimize any material damage—and possibly stop a cyber attack before it starts.
---

To ensure the safety of a traveler, a security manager needs complete situational awareness. This is achievable by integrating actionable intelligence, accurate location tracking, and a ground response capability. Our newly launched Global Awareness Platform provides security managers a single dashboard to view traveler locations, ingest itineraries, automate alerts, and access real-time intelligence. This platform provides a tool capable of managing and organizing the vital data that must be immediately accessible to respond properly during a crisis. By pairing this technology with our Global Response Network, we offer security managers an integrated emergency capability unique to the market.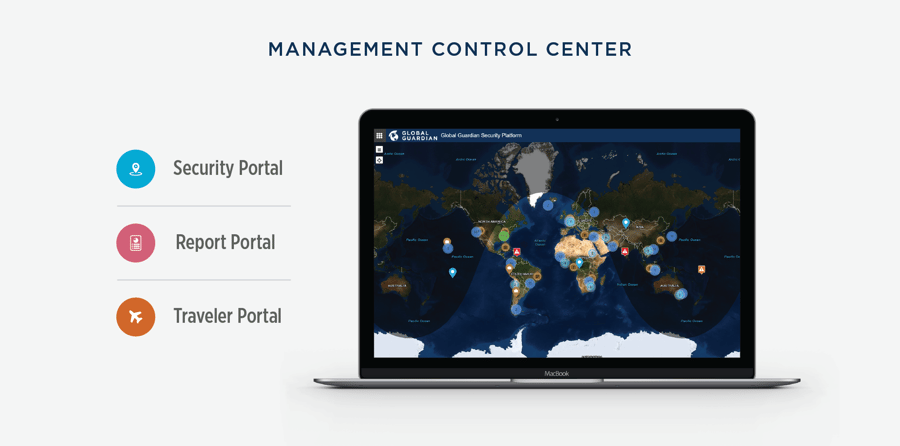 ---

The strength of our business is based on the quality of our employees. We hire experience, train excellence, and promote talent. If a member calls our Operations Center, they are speaking with an operator with real world crisis support experience and decision-making autonomy. In 2019, we welcomed 28 new employees and promoted eight current employees to management positions. I am pleased to announce the hiring of Mike McGarrity to lead our new Global Risk Services division. Mike joins us after a 23-year career at the FBI where he led the Bureau's Counterterrorism Division.

On a personal note, I always look forward to writing this letter as it provides a brief moment of reflection and a renewed sense of appreciation for the incredible support we have received since founding Global Guardian nearly a decade ago. It is remarkable to step back and look at what we have built together. None of this would be possible without the trust that you have put in our team. As we look forward at the growth opportunities ahead, you can be assured our ethos will never change. Our competitive advantage lies in our responsiveness and capabilities, and we will never sacrifice the service we deliver or the reputation we have earned.
We are responsible for the safety of your most important assets. We are judged by our ability to execute during a crisis, and mission failure is not an option.
Standing by to support,

Dale Buckner, Chief Executive Officer
To download a PDF copy of the Year in Review, please click here.
ABOUT GLOBAL GUARDIAN
Global Guardian is a McLean, VA based global security firm that provides its clients with access to a comprehensive suite of security services. Its capabilities include personnel tracking supported by a dedicated 24-hour Operation Center, a full range of personnel-based security and executive protection services, medical support and transportation, travel intelligence and emergency response and evacuation services in over 100 countries. Global Guardian's suite of risk mitigation services provides organizations with innovative and cost-effective solutions to help them protect their staff and business operations around the world.
Find out how our team can support your security needs. For assistance, call our 24/7 Operations Center at 703.566.9463 or click below.