Update
South Korea witnessed a spike in confirmed cases over the last 48 hours, from 50 to over 200. The latest outbreak is tied to a secretive church whose members account for a majority of the new infections in the country.
Over 400 members of the Shincheonji Church of Jesus, which mainstream South Korean churches consider a cult, have reported potential COVID-19 symptoms. Health officials are trying to track down at least 340 members to test them for the virus.
Workers disinfected a branch of the church in Daegu, in the south of the country, even as sick and healthy members sat tightly packed on the floor of the building. The first death in South Korea was reported on 20 February in Cheongdo, the birthplace of Lee Man-hee, the founder of Shincheonji. Members often make pilgrimages to the town. The majority of cases in South Korea are not in Seoul, but in the south and tied to this church.
On 19 February, Iran simultaneously recorded it's first cases and deaths from COVID-19 in the holy city of Qom. As of today, there are 18 confirmed cases, including 12 in Qom, four in Tehran and two in Gilan. Four of those 18 have died, the most deaths in a single country outside mainland China.
In Hubei province, health authorities changed diagnosis classification again, reverting BACK to only counting lab-confirmed cases. This led to a drop in case counts and was supposedly done to maintain consistency with the rest of China and the region.
On 21 Feb, the U.S. State Department issued a new travel warning, advising U.S. citizens to avoid cruise ships in the APAC region due to COVID-19 and the accompanying travel disruption risks.
What we know:
76,787 confirmed cases worldwide
2,248 deaths
18,858 recovered
Rate of spread is generally slowing outside of unique situations in South Korea and aboard the Diamond Princess cruise ship
CURRENT STATUS
At least 65 airlines from over 45 countries have suspended or cancelled flights to mainland China and/or Hong Kong due to the outbreak. Check with individual airlines for current status, as suspensions and limited restrictions can change at any moment.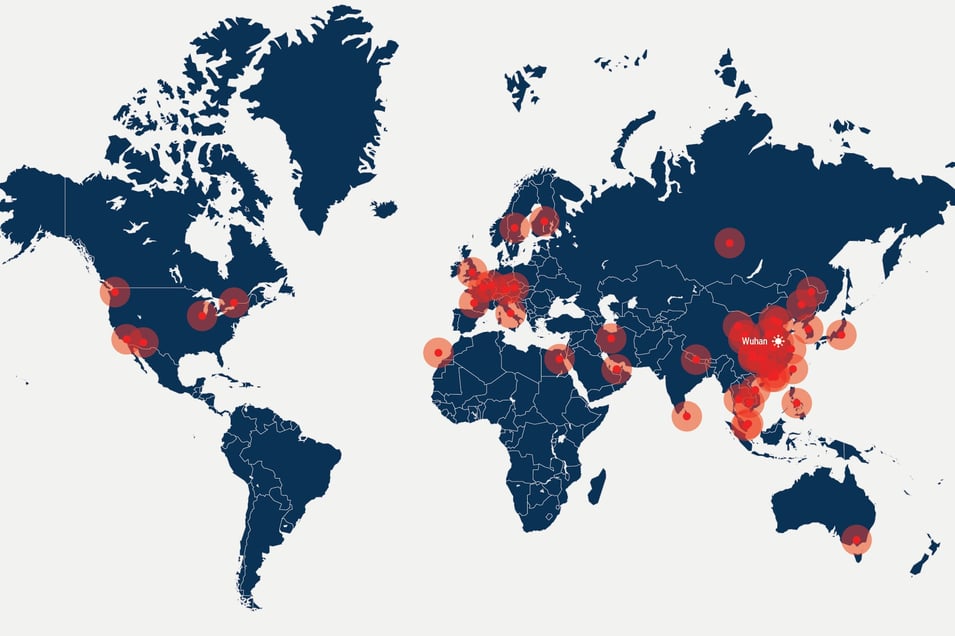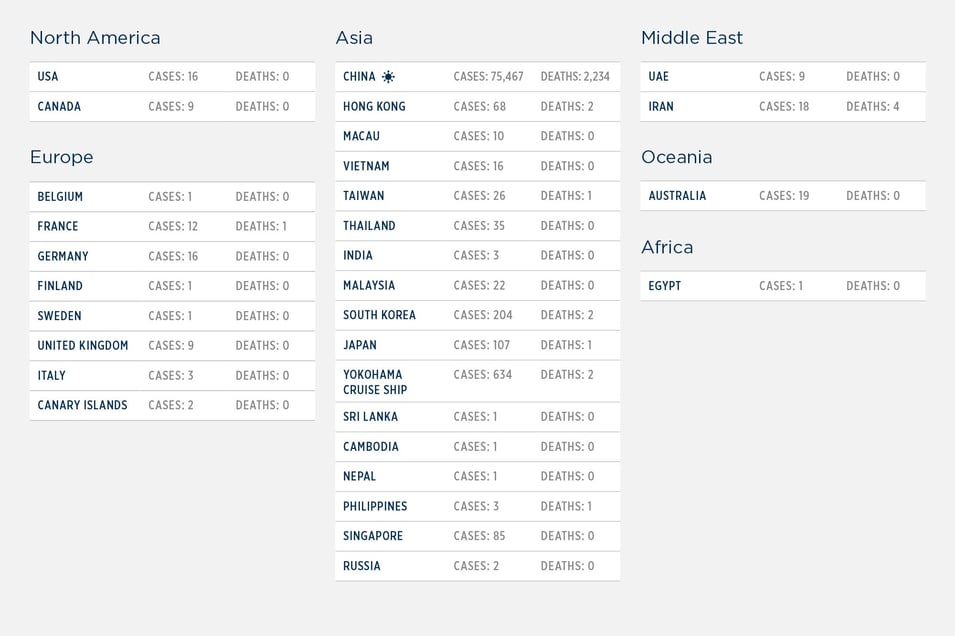 TRAVEL ADVICE
The U.S. State Dept. has issued guidance not to travel to China due to the outbreak. In addition, Global Guardian recommends the following:
Avoid all travel to mainland China.
Avoid non-essential travel to Hong Kong and reconsider non-essential travel to Singapore, Japan, and South Korea due to risk of travel limitations and rising numbers of confirmed cases.
Do not go on a cruise in the APAC region.
If remaining in a city with known COVID-19 cases, practice advanced careful hygiene measures, including frequent hand washing and sanitizing.
Wear a face mask or respirator in public if traveling in cities with reported infections.
OUtLook
While trends in China are overall positive, the spikes witnessed in South Korea at the Shincheonji church and aboard the Diamond Princess cruise ship highlight how quickly the virus can spread in high-population-density areas or when common sense health measures are ignored.
See below graphs from Johns Hopkins and Worldometers. The flattening curves indicate quarantine measures are working as new case growth slows. Additionally, active cases have started a daily decline as recoveries start to outpace new cases globally: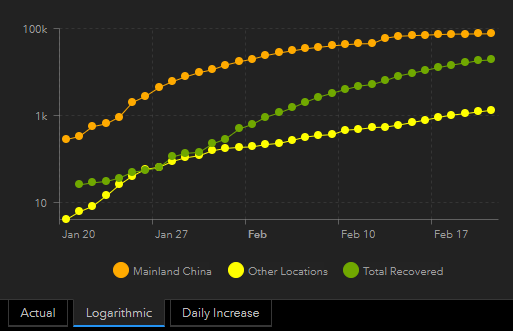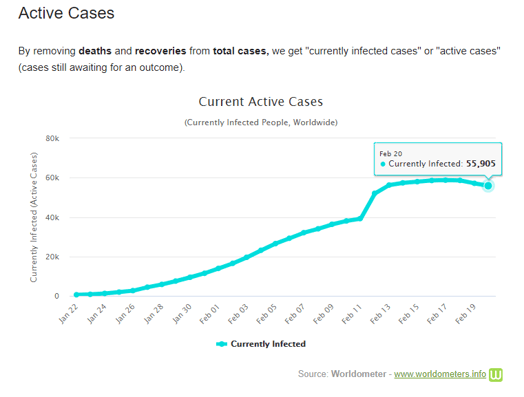 Support
Global Guardian is closely monitoring the situation. To request additional support or learn more about pricing on customized daily, weekly, or monthly intelligence reports tailored to your organization's interests, please reach out to our security analysts by clicking below.