Update
Over the weekend, total cases surged in South Korea (4,335), Italy (2,036), and Iran (1,501) as authorities scrambled to contain the outbreak.
Spread of the virus in mainland China is slowing significantly, with just 202 new cases in the last 24-hours compared to over 1,200 new cases outside China in the same time period.
First cases have been reported in Monaco, Luxembourg, Ireland, Jordan, Portugal, Czech Republic, Armenia, and Iceland The majority of these cases were imported from regions of ongoing community outbreak such as Iran, Italy, Japan, and South Korea.
On 29 February, the U.S. State Department raised its travel advisory for Daegu in South Korea to Level 4: Do Not Travel. Daegu is the epicenter of the COVID-19 outbreak in South Korea, which remains at a Level 3: Reconsider Travel. There are more than 4,300 confirmed cases and 26 deaths in the country.
On 29 February, the U.S. State Department raised it's travel advisory for the regions of Lombardy (including Milan) and Veneto in Italy to Level 4: Do Not Travel. Clusters of COVID-19 outbreaks are concentrated in these northern regions. The rest of the country remains at Level 3: Reconsider Travel, following an advisory upgrade from the State Department on 28 February.
The first deaths in the U.S. were recorded in Washington state. Two individuals at the same nursing home died following complications from COVID-19. New cases have been reported in New York and Florida. U.S. CDC officials are urging preparedness, not panic, in the face of an outbreak. Frequent hand-washing and other careful hygiene measures are recommended.
What we know:
89,253 confirmed cases worldwide

3,048 deaths

45,393 recovered

Major spread areas are now outside China
CURRENT STATUS
Multiple airlines and countries have instituted travel restrictions on China, Hong Kong, Japan, South Korea, Italy, Singapore, Thailand, Iran and other countries with recorded community spread (not strictly imported cases). This list is changing constantly as governments and airlines act out of an abundance of caution.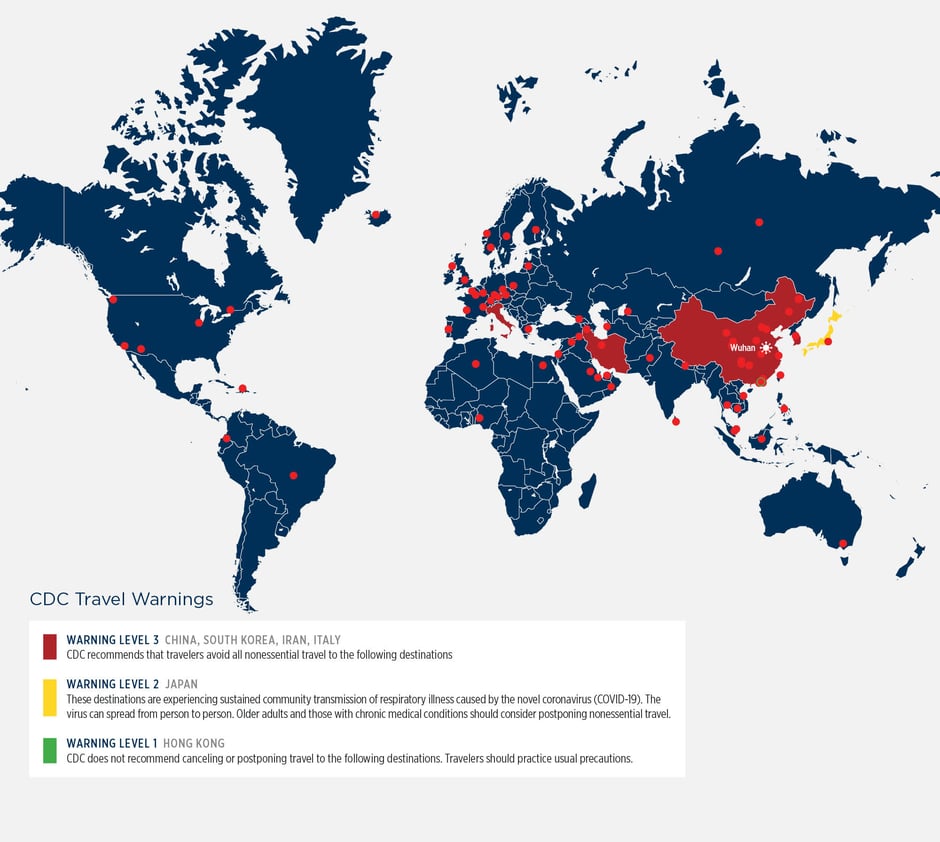 TRAVEL ADVICE
The U.S. State Dept. has issued guidance not to travel to China, Iran, and parts of Italy and South Korea due to the outbreak. In addition, Global Guardian recommends the following:
Avoid all travel to mainland China and Iran.
Avoid

non-essential travel to South Korea, Japan, and Italy.

Reconsider non-essential travel to Hong Kong, Singapore, and other APAC countries with known community outbreaks.
Do not go on a cruise in the APAC region.

If remaining in a city with known COVID-19 cases, practice advanced careful hygiene measures, including frequent hand washing and sanitizing.

Wear a face mask or respirator in public if traveling in cities with reported infections.
OUTLOOK
While trends in China are overall positive, the surge in cases in South Korea, Japan, Iran, and Italy are concerning and may be a precursor to serious outbreaks in Germany, France, and Spain where each country now has more than 120 confirmed cases.
See below graphs from Worldometers highlighting rapid growth of cases outside China: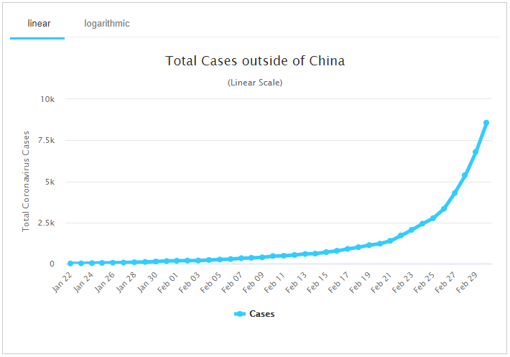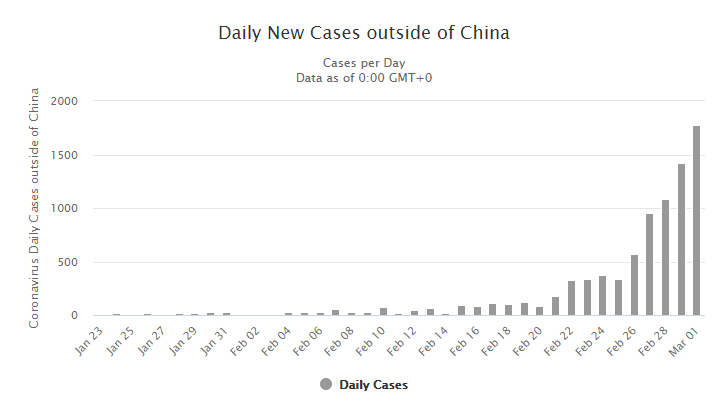 Support
Global Guardian is closely monitoring the situation. To request additional support or learn more about pricing on customized daily, weekly, or monthly intelligence reports tailored to your organization's interests, please reach out to our security analysts by clicking below.