Situation update
Kazakhstan's flagship carrier Air Astana and Turkey's Pegasus Airlines both suspended flights to and from Russia due to risks from conflict and lack of insurance coverage.
Goldman Sachs became the first major U.S. bank to announce it would close its operations in Russia with a similar announcement from JPMorgan Chase & Co following not far behind.
Russia has banned exports to "unfriendly" countries across several sectors until the end of 2022 in response to Western sanctions, including: agriculture, electrical, forestry, medical, tech equipment, and telecommunications.



Russia also banned exports of cars, airplanes, and drones as foreign companies attempt to recover $10 billion of leased aircraft from Russian airlines.
Additionally, wheat, meslin, rye, barley, corn, and some sugar exports to the Eurasian Economic Union have been banned until August 2022 as Russia tries to ensure its home market has enough food amid disruptions from sanctions.

President Putin announced that Russia would recruit its own "volunteers" in response to Ukraine's foreign legion. Third-party groups will allow the Kremlin to distance itself from civilian deaths as fighting further intensifies in Ukraine. Up to 16,000 Syrian troops have reportedly been recruited to fight.
Ukraine's Air Force Command reports that Russian aircraft entered Ukrainian air space before turning around and flying toward Belarus where they fired missiles at the Belarussian border town of Kopani. Ukraine's Internal Ministry claims this is a false-flag operation carried out by Russia to provide pretext for Belarus to join the conflict.
The U.S. has warned that Russia may carry out an attack targeting nuclear power plants, or using chemical or biological weapons in order to accuse Ukraine of a false-flag operation.
Unconfirmed allegations from Defense Intelligence of Ukraine claim that Russian forces are gathering bodies of slain Ukrainian soldiers to plant at Chernobyl as "saboteurs", in order to blame a catastrophe on Ukraine as a false-flag operation.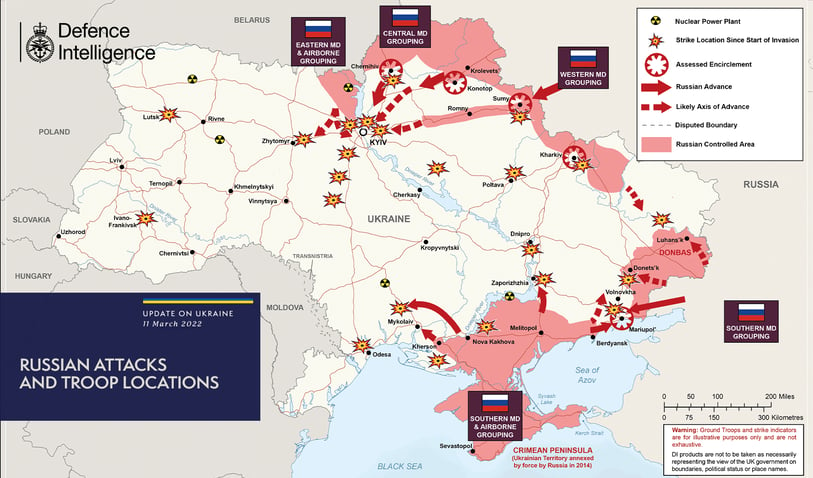 Support
Our team can respond immediately with the following capabilities:
Bespoke intelligence reports and briefings
Armed or unarmed security personnel
Satellite communications (phone and wireless internet)
Emergency medical and tele-medical support
Logistical support (food, water, generators, fuel)
Evacuation by ground, air, or sea
Click below to contact Global Guardian's 24/7 Operations Center or call us directly at +1 (703) 566-9463.