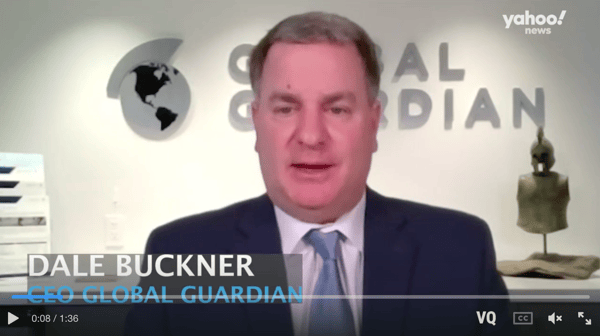 "Just burning that adrenaline for so long, at a certain point, you kind of start to get that zombie effect almost," he said. "We're picking up people now that start to look like that a little bit. It's scary. It's not good.""
In an interview with Yahoo News Australia, Global Guardian President and CEO Dale Buckner shares insight on Russia's war on Ukrainians mental health, the key measures being used to keep President Zelensky safe from Russian assassins, and how NATO is working to "find a balance" between maximizing military support for Ukraine without "crossing that line, and then hitting a tripwire, and starting World War III".
---
ABOUT GLOBAL GUARDIAN
Global Guardian is a McLean, VA based global security firm that provides its clients with access to a comprehensive suite of security services. Its capabilities include personnel tracking supported by a dedicated 24-hour Operation Center, a full range of personnel-based security and executive protection services, medical support and transportation, travel intelligence and emergency response and evacuation services in over 125 countries. Global Guardian's suite of risk mitigation services provides organizations with innovative and cost-effective solutions to help them protect their staff and business operations around the world.
Find out how our team can support your security needs. For assistance, call our 24/7 Operations Center at 703.566.9463 or click below.