Situation update
Russia's Legislative Commission has approved a bill that will allow the state to seize organizations owned 25% or more by foreign entities from "unfriendly" countries if they do not resume normal operations. Over the past week, the Russian labor force has faced a flood of unemployment as major foreign businesses close shop in Russia.
Starbucks, McDonald's, Coca-Cola, and Pepsi are among the latest major business to stop operations in Russia.
Russian Central Bank officials announced that sale of foreign currencies to citizens is suspended at all banks until at least 09 September, due to international sanctions. For withdrawals of over USD10,000, the balance must be made using roubles instead of dollars.
The Russian Duma has approved amendments that will allow the creation of a unified register of individuals that have been declared "foreign agents." The Russian government currently maintains a similar register for business entities, which allows for systemic discrimination of affected persons in Russia.
President Biden signed an executive order on 08 March to ban new investments on Russian oil, liquified natural gas, and coal imports to the U.S. Gas prices have risen to an all-time high stateside as refiners cut back on contracts with Russia.
The EU enacted a never-before-used temporary protection scheme, allowing Ukrainian nationals who flee war to be granted permission to live and work in EU member states for up to three years.
Russian forces appear to have made progress south toward Kyiv's western flank. Despite heavy losses of both soldiers and equipment, Russia's army continues to make slow but steady territorial gains in Ukraine.
Over the last several days, there has been a reported softening of negotiating positions on both sides. Ukraine is reportedly open to "neutrality" and to back away from its NATO bid. In addition, Ukrainian President Zelensky has sent out conflicting signals regarding his willingness to recognize Russian sovereignty over Crimea and the independence of the Luhansk and Donetsk People's Republics. Meanwhile, Russia has signaled it may be able to live next to a (mostly) sovereign Ukraine if the Donbas is demilitarized. Ultimately, it remains unclear if a peace deal is likely in the near-term.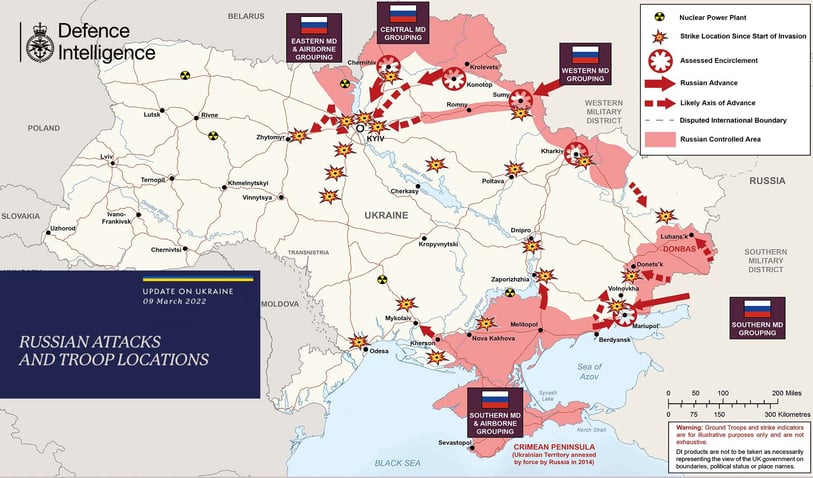 Support
Our team can respond immediately with the following capabilities:
Bespoke intelligence reports and briefings
Armed or unarmed security personnel
Satellite communications (phone and wireless internet)
Emergency medical and tele-medical support
Logistical support (food, water, generators, fuel)
Evacuation by ground, air, or sea
Click below to contact Global Guardian's 24/7 Operations Center or call us directly at +1 (703) 566-9463.