On 8 March, officials locked down all of Lombardy region, including Milan, and Parma, Piacenza, Rimini, Reggio-Emilia, Modena, Pesaro and Urbino, Venice, Padua, Treviso, Alessandria, Verbano-Cusio-Ossola, Novara, Vercelli and Asti provinces in Veneto, Marche, Emilia-Romagna and Piedmont regions.
These regions were declared 'red zones'. Non-essential travel out of the 'red zones' is restricted but internal travel is permitted. Schools and all public gatherings have been suspended. The majority of businesses have temporarily closed or reduced their operating hours. Some 16,000,000 people are impacted by the lockdown measures. Italy has recorded at least 7,500 total cases and 366 deaths, with new cases and deaths rising quickly each day.
Public health measures in South Korea appear to be having a positive affect, as there were only 165 new cases recorded in the last 24-hours despite the more than 7,200 active cases nationwide.
In Europe, France, Germany, and Spain now each have over 1,000 recorded cases. Of note, Germany has no deaths due to COVID-19 while France and Spain have 19 and 26 deaths respectively. There are concerns that these three countries will experience the same outbreaks as Italy in coming weeks.
Saudi Arabia has locked down the entire governorate of Qatif, in the east of the country, after just 11 cases were confirmed, in an effort to get ahead of a possible outbreak.
First cases have been reported in Albania, Bangladesh, Bulgaria, Moldova, Paraguay, Malta, and Colombia. The majority of these cases were imported from regions of ongoing community outbreak such as Iran, Italy, Japan, and South Korea.
In the U.S., multiple universities across the country have cancelled classes or pushed them online. Some institutions are advising students not to come back to campus after spring break, and to anticipate remote learning for the rest of the semester. Multiple states have declared a "state of emergency" in order to prepare for local outbreaks by freeing up funds and allocating critical resources.
The U.S. has 566 confirmed cases after conducting just over 2,000 tests, though the case count will spike as widespread testing gets underway in the U.S. following a slow start due to shortages and restrictive criteria.
New York City officials say that they would only close public schools as a last resort, in part because about 114,000 students in the school system are homeless and "may have nowhere else to get hot meals, medical care or even a place to wash their dirty laundry." This same issue will affect other major metropolitan school districts and may limit the ability of cities to curb the spread of COVID-19 by shutting down schools.
What we know:
111,753 confirmed cases worldwide

3,888 deaths

62,722 recovered

Major spread areas are now in Iran, Italy, and South Korea. Continental Europe is likely to be the next "hot zone" for community transmission.
CURRENT STATUS
Multiple countries and airlines have instituted travel restrictions and border closures with countries across the planet. These policies are changing constantly and new restrictions could be put in place at any moment. Check with airlines and appropriate government agencies for the latest restrictions between countries.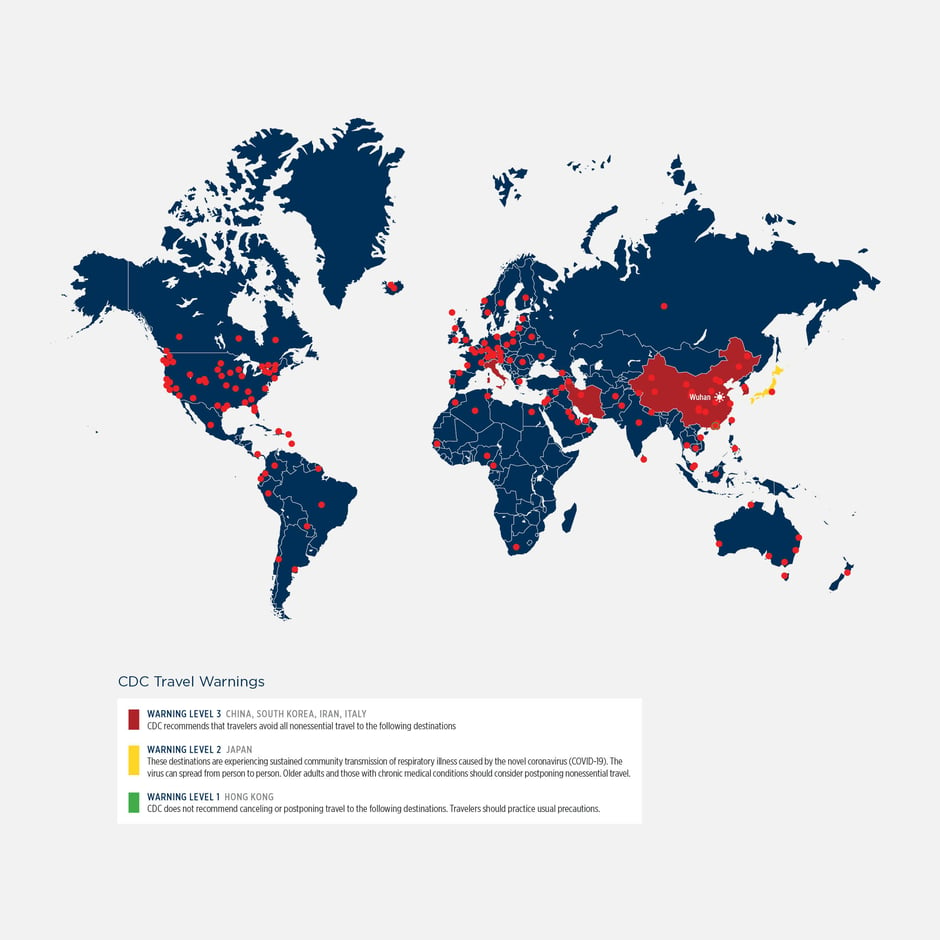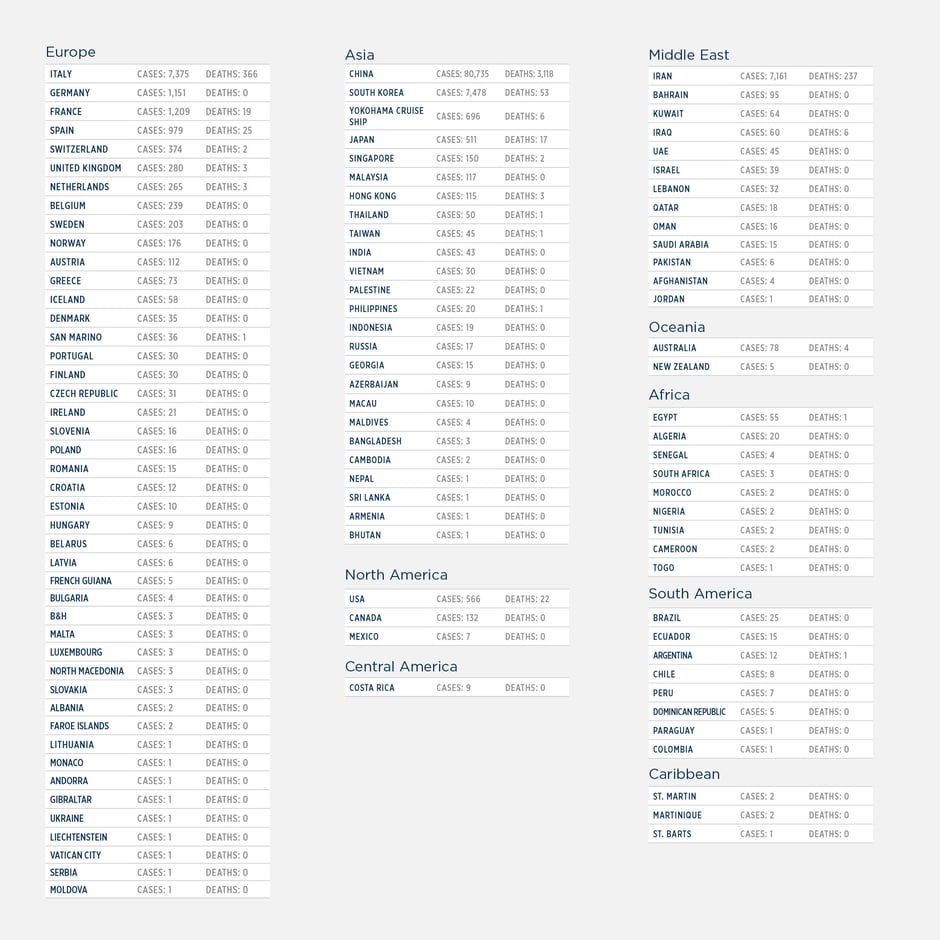 TRAVEL ADVICE
The U.S. State Dept. has issued guidance not to travel to China, Iran, and parts of Italy and South Korea due to the outbreak. In addition, Global Guardian recommends the following:
Avoid all travel to

mainland

China, Iran, Italy, and South Korea.

Reconsider non-essential travel to

Qatif in Saudi Arabia, Japan, Hong Kong, Haro, La Rioja in Spain, Heinsberg district, North Rhine-Westphalia in Germany, and Oise Department in France.

Do not go on a cruise if you are elderly or have underlying health conditions, per new U.S. State Department guidelines.

Practice advanced careful hygiene measures, including frequent hand washing and sanitizing.
OUTLOOK
While the World Health Organization has not declared COVID-19 a pandemic, it is impacting locations across the globe whether they have confirmed cases or not. International travel has dropped off substantially, even to places without any COVID-19 outbreaks, and global economic growth has slowed as stock markets and commodities take a major hit over fear and uncertainty. A global recession is possible, especially if summer weather not does make a dent in the spread of COVID-19.
See below graphs from Worldometers highlighting rapid growth of cases outside China: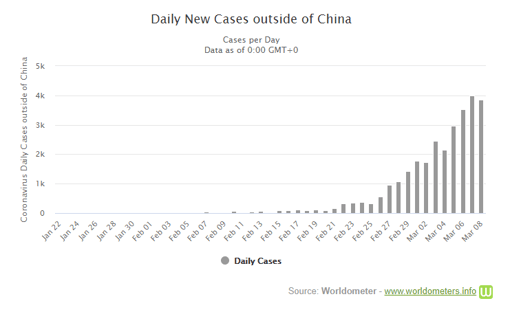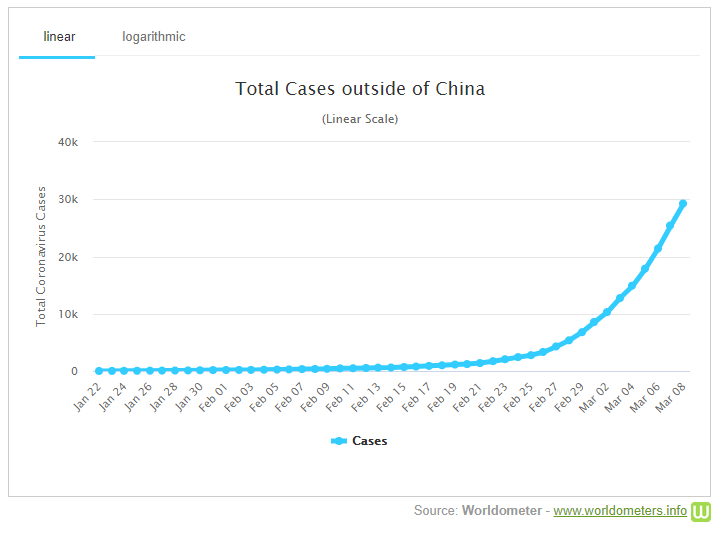 Support
Global Guardian is closely monitoring the situation. To request additional support or learn more about pricing on customized daily, weekly, or monthly intelligence reports tailored to your organization's interests, please reach out to our security analysts by clicking below.