Late on 09 March, the Italian government announced the most restrictive measures yet in an effort to slow the spread of COVID-19.
The entire country is on lockdown, a step not taken since China effectively quarantined the entirety of Hubei province. The decree orders the following (translation & information provided by U.S. State Department OSAC):
Prohibits movement in public places except for justifiable work reasons (commuting, public and commercial transport is allowed), basic necessities (i.e., food shopping), and health emergencies.

Cancels sporting events and public gatherings as well as closes schools, universities, and recreational facilities through April 3.

All public exams, except those related to the health care sector, are suspended. Masses, weddings, and funerals are also prohibited.

With limited exceptions regarding access to hospitals, health care/long-term care for relatives and visitors also is suspended.
All businesses and shops must ensure a one-meter social distance between clients.
The Italian government has announced that law enforcement authorities would establish checkpoints at airports and train stations to collect "self-declaration forms

" from travelers specifying the purpose of their movement and their destination. Italian officials have also noted that checkpoints may be established on highways to collect these forms.

If found without these forms, Italian officials could direct you to return home. Travelers and all residents in public spaces are required to have this form.
There are reports that if you are a tourist, you do not require this form, and your passport should suffice.
Movements within the country from province to province must be justified, although public transport is still allowed within cities.
All museums, gyms, theaters, pools, clubs, bingo parlors, and discos are closed.
Bars and restaurants must close by 6:00 p.m.
Northern regions of Italy most impacted by COVID-19 are experiencing severe local healthcare system strain. While there are 10,149 confirmed cases, the actual number of cases is likely much higher given the 631 deaths so far in Italy. In an effort to alleviate the strain, China has agreed to supply Italy with 1,000 ventilators and 2 million masks. Additionally, they are donating 100,000 respirators, 20,000 protective suits, and 50,000 test kits.
In Europe, France, Germany, and Spain now each have over 1500 recorded cases. Of note, Germany has just three recorded deaths while France and Spain have 33 and 49 deaths respectively. It is likely that France and Spain have significantly more cases that currently confirmed. Other countries with surging cases are Switzerland, the Netherlands, and Denmark. European countries are looking to Italy to see if nationwide lockdown measures will prove effective.
Testing in the U.S. is slowly increasing, with just over 8,000 tests administered. As more and more tests become available and CDC testing criteria are loosened, more positive cases will be found. In addition, the U.S. Health and Human Services (HHS) announced that COVID-19 testing will be designated as an "essential health benefit" meaning it will be covered by health insurance plans, Medicare, and Medicaid. This is a critical step to ensure people will not forgo testing due to costs.
In the U.S., certain public school districts and higher education systems alike have sent students home for the rest of the year for either remote learning or cancelling of classes altogether. This will have lingering affects on the U.S workforce and economy as child care resources are strained.
What we know:
121,564 confirmed cases worldwide

4,373 deaths

66,239 recovered

Major spread areas are now in Iran, Italy, and South Korea. Continental Europe is the next "hot zone" for community transmission.
CURRENT STATUS
On 11 March, the director general of the World Health Organization (WHO) announced that they have "made the assessment that #COVID19 can be characterized as a pandemic". While this does not change anything fundamentally, it is a significant step in recognizing the impact of COVID-19, as pandemics have only been declared a handful of times.
As COVID-19 spreads, more and more countries will institute travel restrictions both externally and internally. These policies are changing constantly as the pandemic evolves. The International Air Transport Association maintains a list of airline travel restrictions.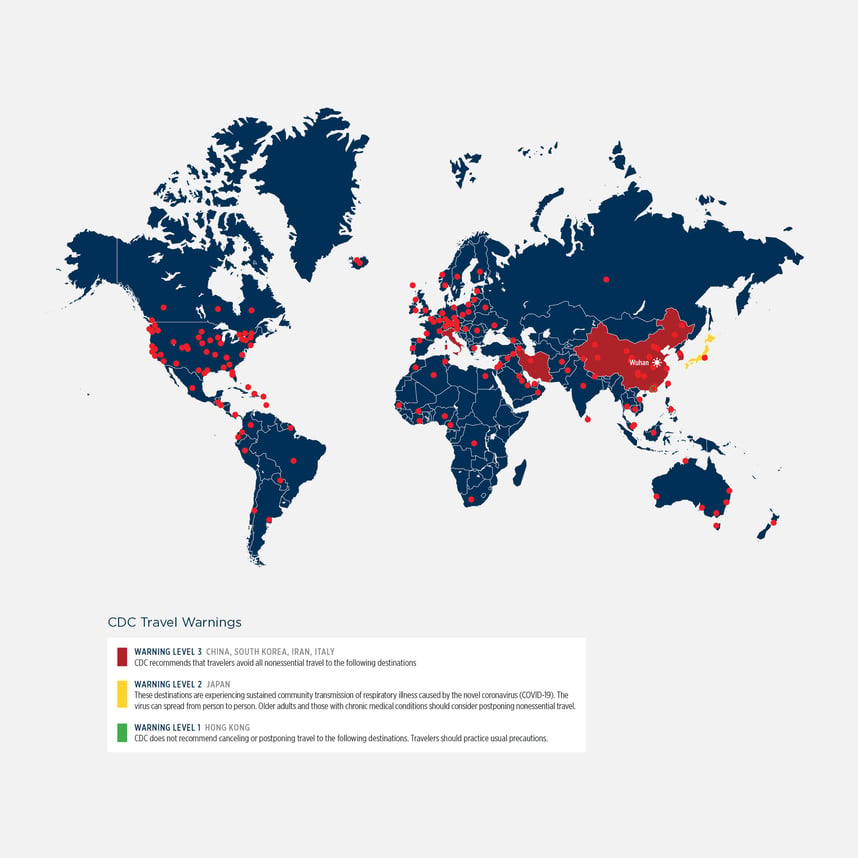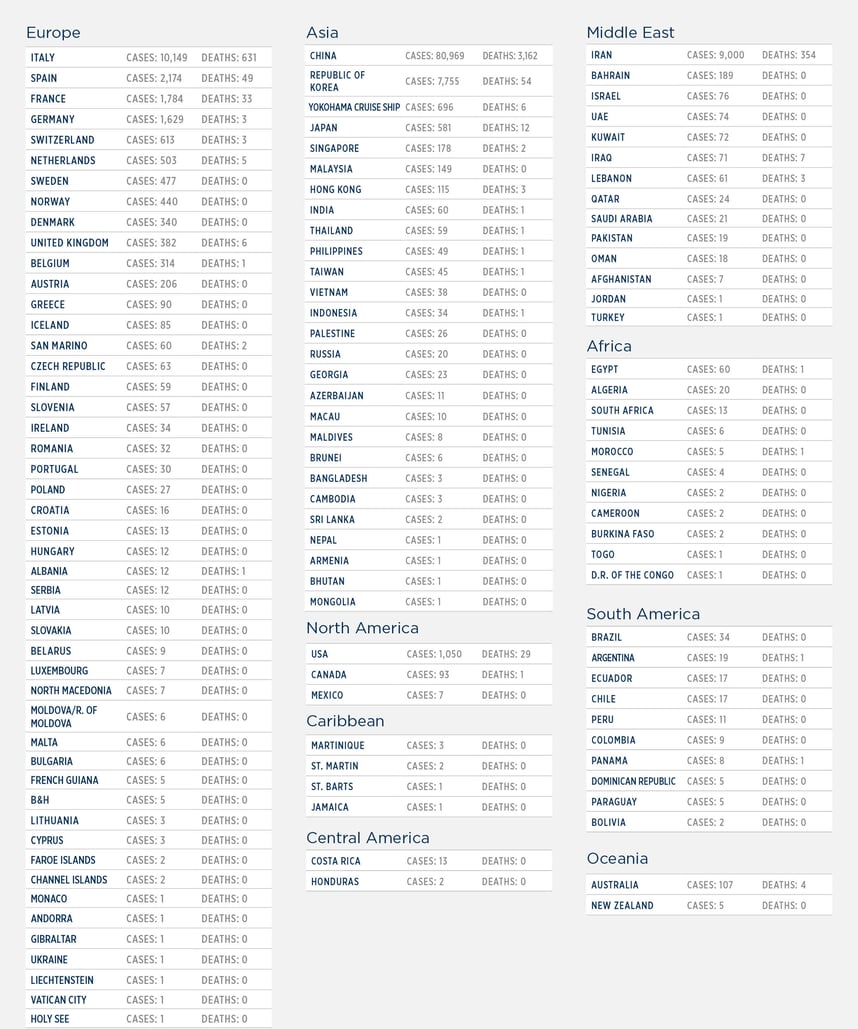 TRAVEL ADVICE
The U.S. State Dept. has issued Level 4: Do not travel guidance for China, Iran, and parts of Italy and South Korea due to the outbreak. In addition, Global Guardian recommends the following:
Avoid all travel to

mainland

China, Iran, Italy, and South Korea.

Reconsider non-essential travel to

Qatif in Saudi Arabia, Japan, Hong Kong, Haro, La Rioja in Spain, Heinsberg district, North Rhine-Westphalia in Germany, and Oise Department in France.

Do not go on a cruise if you are elderly or have underlying health conditions, per new U.S. State Department guidelines.

Practice advanced careful hygiene measures, including frequent hand washing and sanitizing.

Practice "social distancing" while in public spaces.
OUTLOOK
The experience in Italy may serve as a glimpse of what is to come in the rest of Europe and eventually the U.S. if the virus continues to spread. The U.S. and Europe need to be prepared for significant strain on healthcare resources in the coming months.
See below graphs from Worldometers highlighting rapid growth of cases outside China: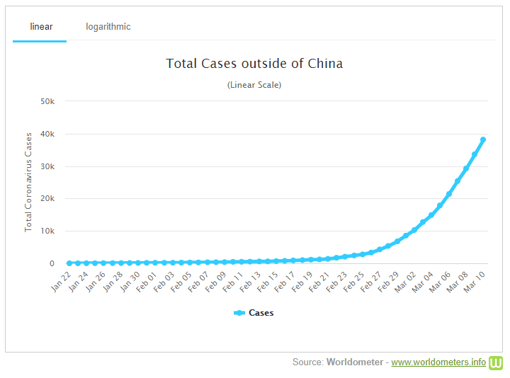 Support
Global Guardian is closely monitoring the situation. To request additional support or learn more about pricing on customized daily, weekly, or monthly intelligence reports tailored to your organization's interests, please reach out to our security analysts by clicking below.