On 05 March, the South Korean government declared Gyeongsan in North Gyeongsang Province, which borders Daegu, as a new 'Special Care Zone', given the steep rise in COVID-19 infections in the area.
There are now more than 6,500 confirmed cases in the country. Health authorities have tested nearly 150,000 people in the last month and recorded only 309 new cases in the last 24-hours, despite having the most active cases behind China. This is an indication that actions taken by South Korea are having a positive impact on infection rates in the country.
Major case growth continues in Iran and Italy, which combine for the vast majority of new daily cases globally. Iran has nearly 5,000 reported cases while Italy is nearly over 4,000. There have been approximately 1,000 new cases reported per day in each country. Global cases have topped 100,000.
First cases have been reported in Peru, Togo, Slovakia, Cameroon, Serbia, Vatican City, Bhutan, Costa Rica, Palestine, South Africa, Bosnia Herzegovina, and Hungary. The majority of these cases were imported from regions of ongoing community outbreak such as Iran, Italy, Japan, and South Korea.
In the U.S., COVID-19 testing lags behind other countries with cases due to rigid testing criteria set down by the CDC and lack of accurate test kits. The CDC has now stopped disclosing the number of people tested in the U.S. As community spread occurs in the U.S., the CDC may relax testing criteria, allowing for a better understanding of the situation in the U.S.
What we know:
100,625 confirmed cases worldwide
3,410 deaths
55,753 recovered
Major spread areas are now in Iran, Italy, and South Korea. Continental Europe is likely to be the next "hot zone" for community transmission.
CURRENT STATUS
Multiple airlines and countries have instituted travel restrictions on China, Hong Kong, Japan, South Korea, Italy, Singapore, Thailand, Iran and other countries with recorded community spread (not strictly imported cases). This list is changing constantly as governments and airlines act out of an abundance of caution.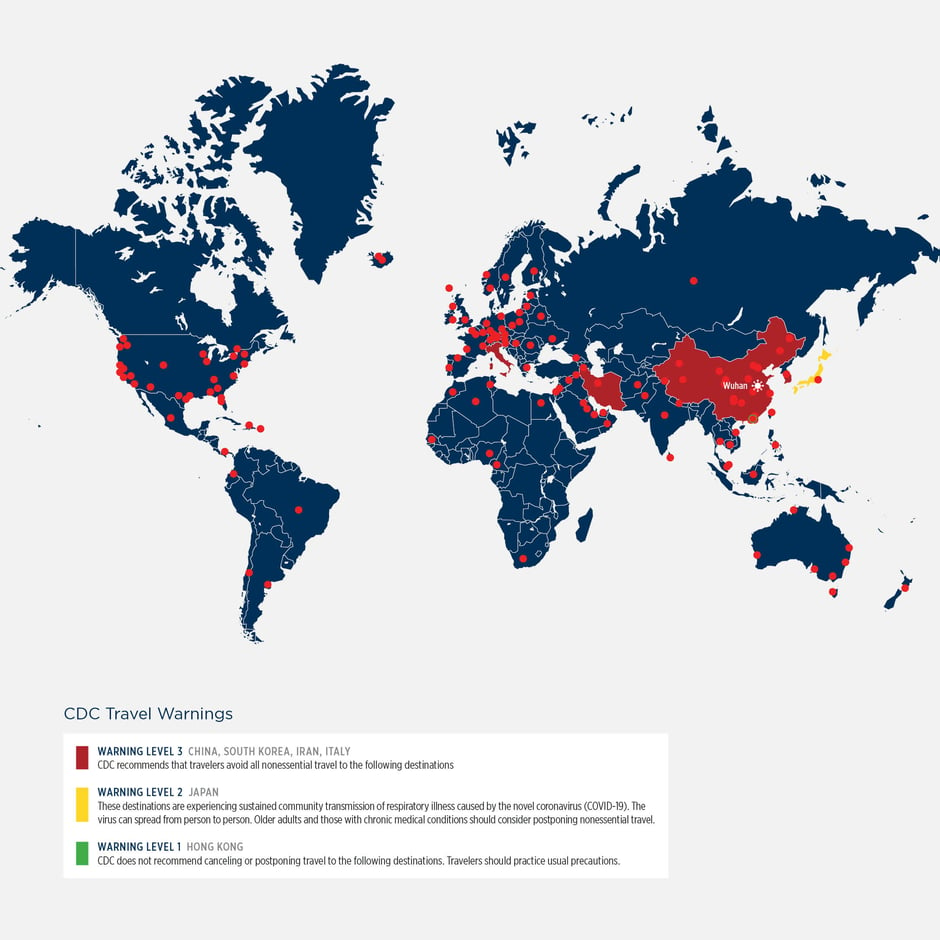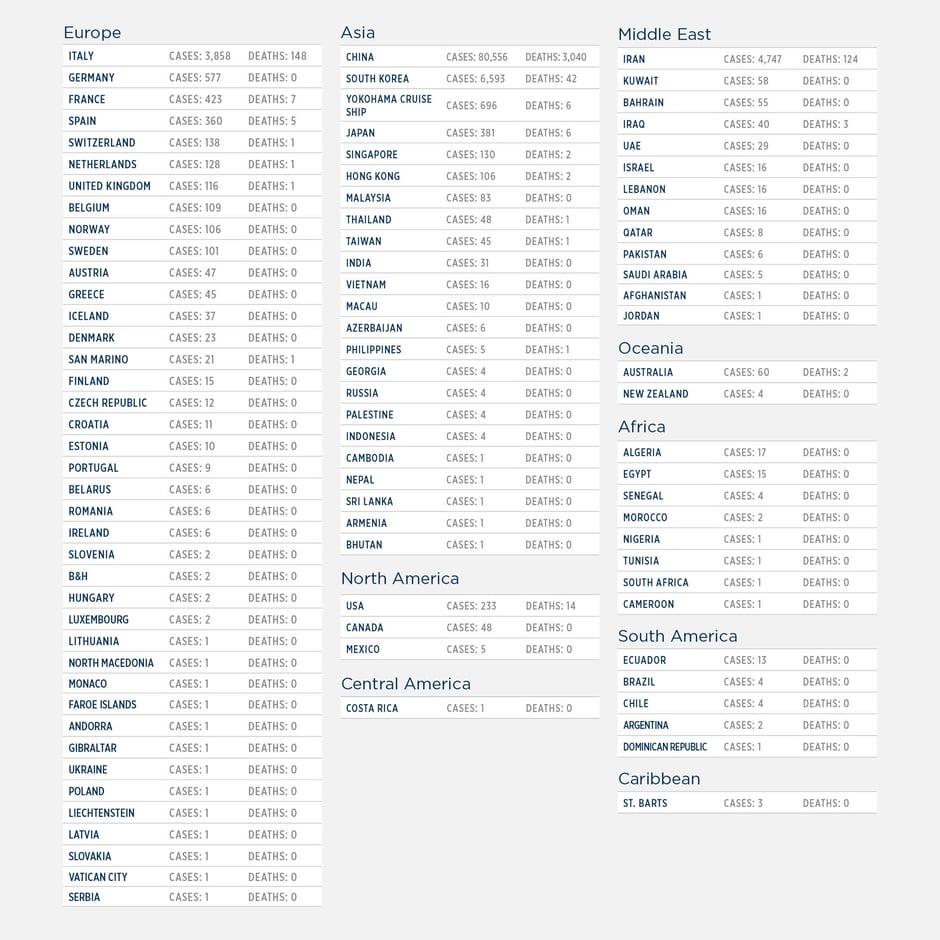 TRAVEL ADVICE
The U.S. State Dept. has issued guidance not to travel to China, Iran, and parts of Italy and South Korea due to the outbreak. In addition, Global Guardian recommends the following:
Avoid all travel to mainland China and Iran.
Avoid non-essential travel to South Korea, Japan, and Italy.
Reconsider non-essential travel to other countries with known community outbreaks.
Do not go on a cruise in the APAC region.
If remaining in a city with known COVID-19 cases, practice advanced careful hygiene measures, including frequent hand washing and sanitizing.
OUTLOOK
International business travel has dropped significantly, and economic contraction is likely if warmer summer weather does not curb the spread of COVID-19 in Europe, China, and the U.S. The lack of serious spread in Indonesia and other countries near the equator is at least circumstantial evidence that environmental factors can help slow the spread of the virus.
See below graphs from Worldometers highlighting rapid growth of cases outside China: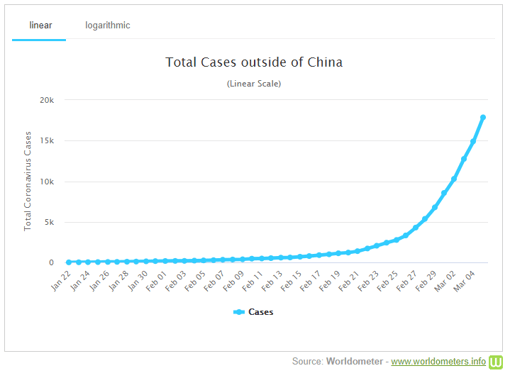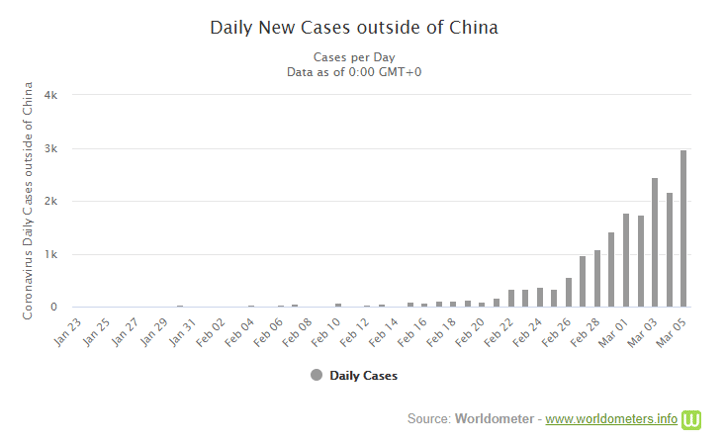 Support
Global Guardian is closely monitoring the situation. To request additional support or learn more about pricing on customized daily, weekly, or monthly intelligence reports tailored to your organization's interests, please reach out to our security analysts by clicking below.