Johnson & Johnson's single-dose vaccine received Emergency Authorization Approval (EUA) from the U.S. Food and Drug Administration (FDA). In an effort to increase production, the Biden administration brokered a deal in which Merck would help manufacture J&J's vaccine.
As a result of the approval and increased production of J&J's vaccine, along with continued production of the Moderna and Pfizer vaccines, President Biden announced on 01 March that the U.S. was on track to supply enough COVID-19 vaccines for every adult in the country by the end of May. Previous estimates put this date at the end of July. Emphasis will be placed on vaccinating teachers as quickly as possible.


Nearly two million shots were administered on average in the last seven days. This compares with just over 1.7 million doses administered per day on average two weeks ago. So far, around 52 million people have received at least one vaccine dose.


At current pace, 50% of the population will have been at least partially vaccinated by mid-June, with herd immunity, estimated around 70%, reached in late August. These projections do not take into account individuals who have recovered from COVID-19 and have some level of natural immunity.



Texas and Mississippi have lifted all COVID-19 restrictions, including their statewide mask mandates. Businesses will be able to operate at 100% capacity from 10 March in Texas and 03 March in Mississippi. Masks are still required at airports and on flights.
For the latest United States case counts, click here.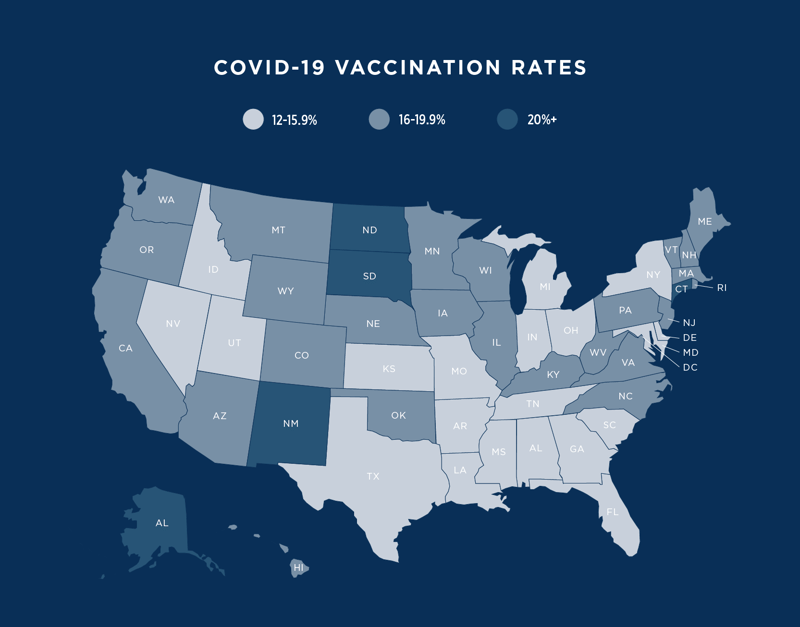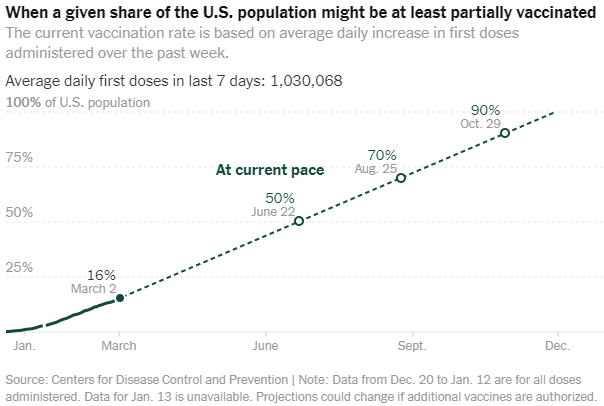 Latest global updates:
Internationally, Israel, the UAE, UK, Serbia, Chile, and Bahrain respectively have the highest vaccination rates. Israel has vaccinated over 93 percent of it's population while the UAE is at 63 percent.


China's CanSino Biologics vaccine reportedly provides protection for up to two years. The initial dose protects for six months at which point a booster shot extends protection to two years.


The European Commission announced that an EU-wide vaccine passport plan would be revealed sometime in March, possibly paving the way for increased travel between European states.


Colombia became one of the first countries to receive vaccine doses through the UN-backed COVAX program. The program is expected to deliver 237 million doses to 142 lower-and-middle-income countries by the end of May.


For the latest Global case counts, click here

.



RESOURCES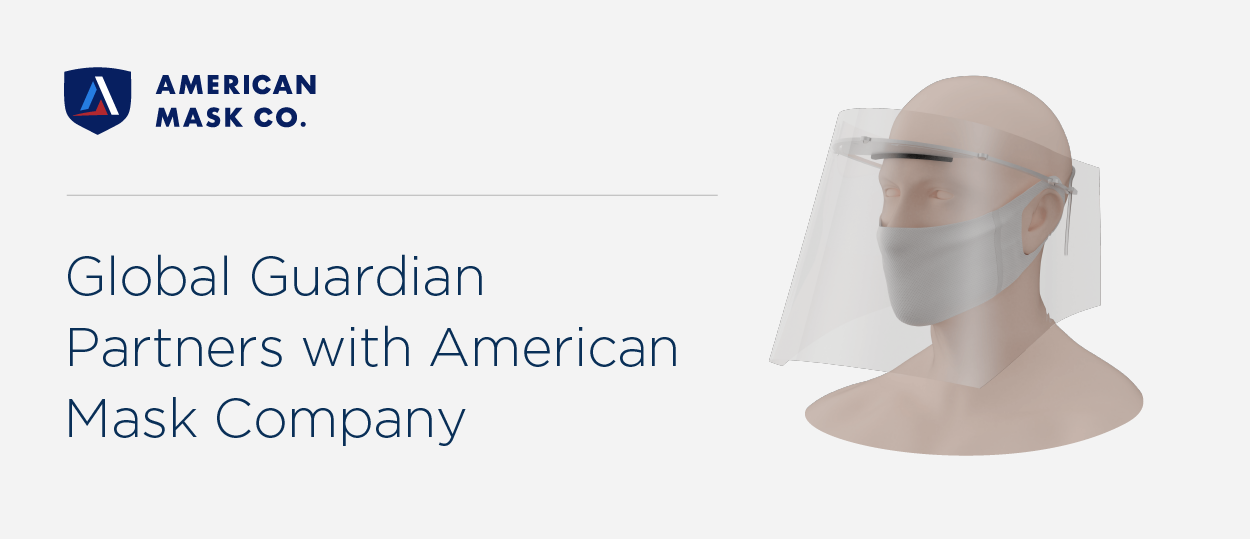 As COVID-19 cases continue to surge, high quality PPE remains an ongoing need. Global Guardian is pleased to partner with American Mask Company to support our client base and deliver high-quality PPE to businesses and organizations of all sizes and industries.
The American Mask Company was created to address the shortage and quality issues the U.S. has faced in securing protective face gear. Driven by the mission to deliver high-quality products that also support American jobs, all AMC products are proudly 100% made in the U.S. with American materials, by American workers.
All products meet government regulations and have been rigorously tested prior to distribution. To learn more about the products, including the face shield, medical mask, and half mask respirator, click below.
Protecting Your Workplace and Employees: COVID-19 and Duty of Care Solutions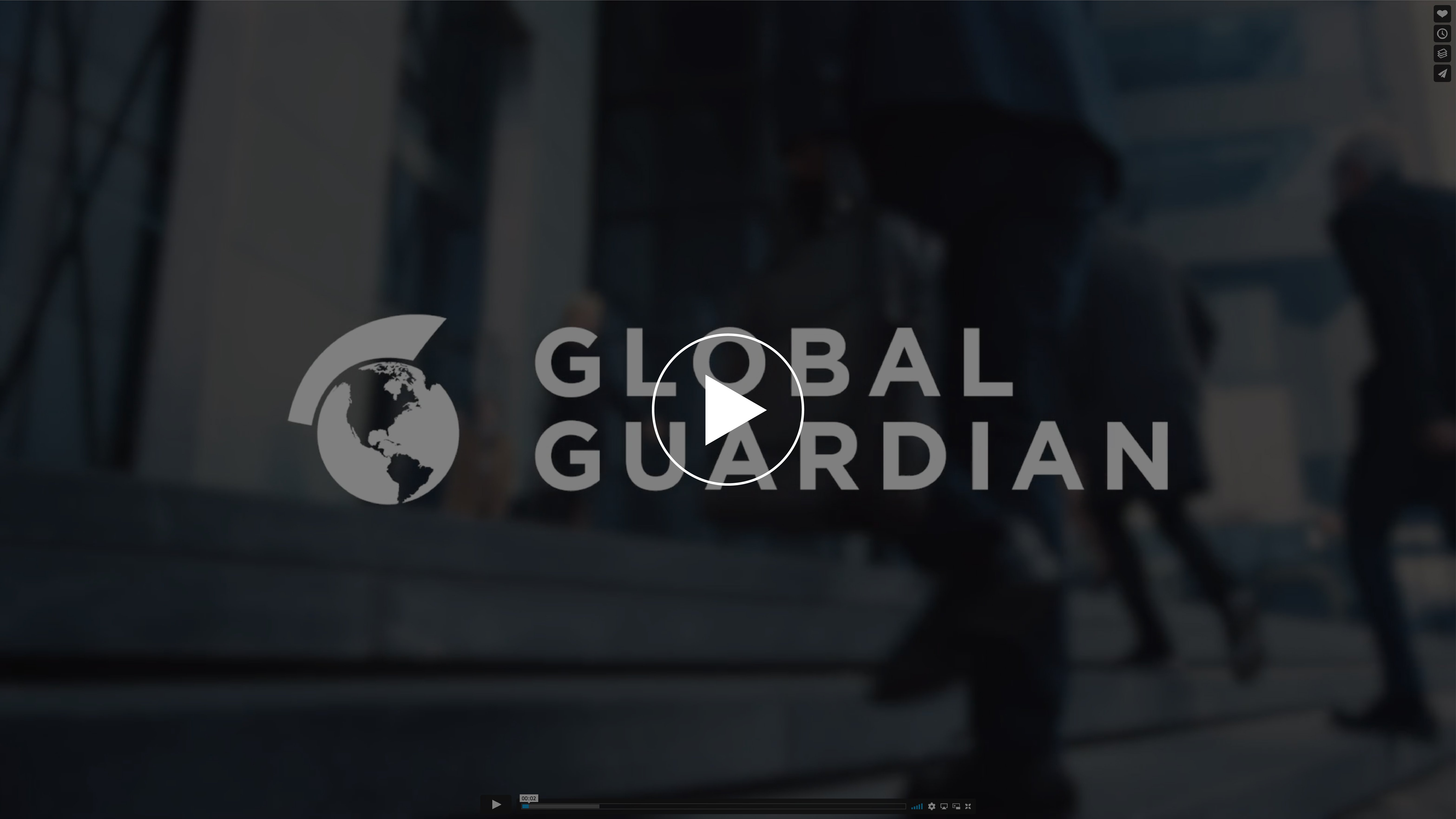 Ensuring the health and safety of employees is accounted for is crucial for employers as offices reopen amid COVID-19. Global Guardian is now providing Facility Duty of Care and Contact Tracing solutions to provide clients with turn-key technology needed to alert employees in real-time of potential infection and prevent further spread should a colleague test positive for COVID-19. Watch our quick introduction video to learn more.