In response to the COVID-19 pandemic, the U.S. has declared a national state of emergency and multiple states have taken drastic steps to stop the spread of the novel coronavirus.
These include a mandatory shelter-in-place order in San Francisco, California, postponement of primary elections in Ohio, closing of all non-essential businesses such as bars in Austin, Texas and local curfews in Palm Beach, Florida, and Portland, Oregon, and the entire island of Puerto Rico. Contact Global Guardian for customized, state-by-state updates in the U.S., as these are changing daily.
Millions of people began working remotely in the U.S. this week, driving home the seriousness of the situation amid an effort to "flatten the curve" by practicing social distancing. This combined with bans on group gatherings and mandatory closures of non-essential businesses, the negative economic snowball effect is beginning to be felt. Airlines, restaurants, coffee shops, hotels, casinos, bars, gyms, clubs, and meeting venues are all seeing immediate major declines in revenue and have started laying off or furloughing workers. Only grocery stores and pharmacies have seen a spike in sales as people stock up on essentials, and in some cases, the panic buying of things like toilet paper. Without government intervention, every airline in the world could go bankrupt by May due to the near global shutdown of air travel.
U.S. Treasury Secretary Steve Mnuchin said that unemployment could hit 20 percent in the coming months, and the government is considering a massive stimulus and aid package to individual Americans and entire industries alike in order to avert a severe recession. In the UK, the government announced a £330 billion financial package for businesses. Global stock markets have already seen major drops in recent weeks, wiping out trillions of dollars of market value.
Hospitals in the U.S. are gearing up for a spike in COVID-19 cases and there is concern over shortages of masks and other personal protective equipment for nurses and doctors, and ventilators for critical patients. The U.S. is beginning to roll out drive-through testing sites and there is hope that millions of tests will become available in the coming days and weeks.
Iran is facing a national catastrophe and satellite imagery shows them excavating massive 100-yard-long burial trenches in a Qom cemetery to handle the number of deaths caused by COVID-19.
Latest global updates:
European Union authorities suspended arrivals from outside the EU to Schengen Area countries for 30 days. Long-term residents, family members of EU nationals and diplomats, cross-border and healthcare workers and people transporting goods are exempt from the ban.
Belgium joined France, Spain, and Italy on 18 March as the EU countries under total lockdown.
The U.S. and Canada agreed to mutually close the border to all non-trade related travel.


Cameroon closed its land, sea and air borders to all foreign visitors on from 18 March until further notice.


Tunisia ordered a nationwide lockdown, including closing of its land borders and suspension of international flights starting 18 March. In addition, an overnight curfew begins 18 March, from 18:00 to 06:00 local time.


Bolivia announced it is closing all land borders except for Bolivian nationals and residents, and long-distance transport is suspended as of 19 March. All flights were also suspended. Similar restrictions were also in place in Colombia, as of 17 March and Ecuador, as of 16 March. Curfews were also in place to varying degrees in all three countries.


Spain announced on 17 March that is is closing its land borders to entry of non-residents but it will remain open to Spanish nationals and residents, cross-border workers and those travelling for essential purposes.
What we know:
208,184 confirmed cases worldwide

8,272 deaths

82,889 recovered

Major ongoing spread areas are now in Iran and Europe but the rest of the world is catching up.
CURRENT STATUS
The focus in the U.S. is now on mitigation strategies to limit the spread of COVID-19, rather than strict quarantine measures as seen in China. Working from home, closing of schools, and social distancing in public are all part of an effort to "flatten the curve" of cases to help hospitals and clinics deal with sick patients over a longer period of time, instead of in a sudden spike, overwhelming healthcare systems.
As COVID-19 spreads, more and more countries will institute travel restrictions both externally and internally. These policies are changing constantly as the pandemic evolves. The International Air Transport Association maintains a list of airline travel restrictions.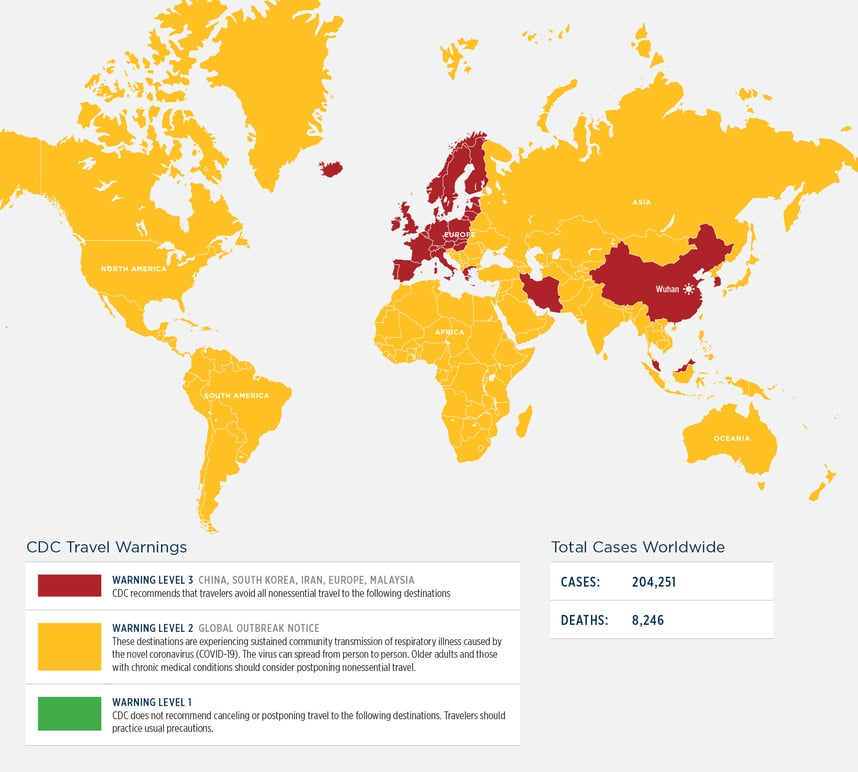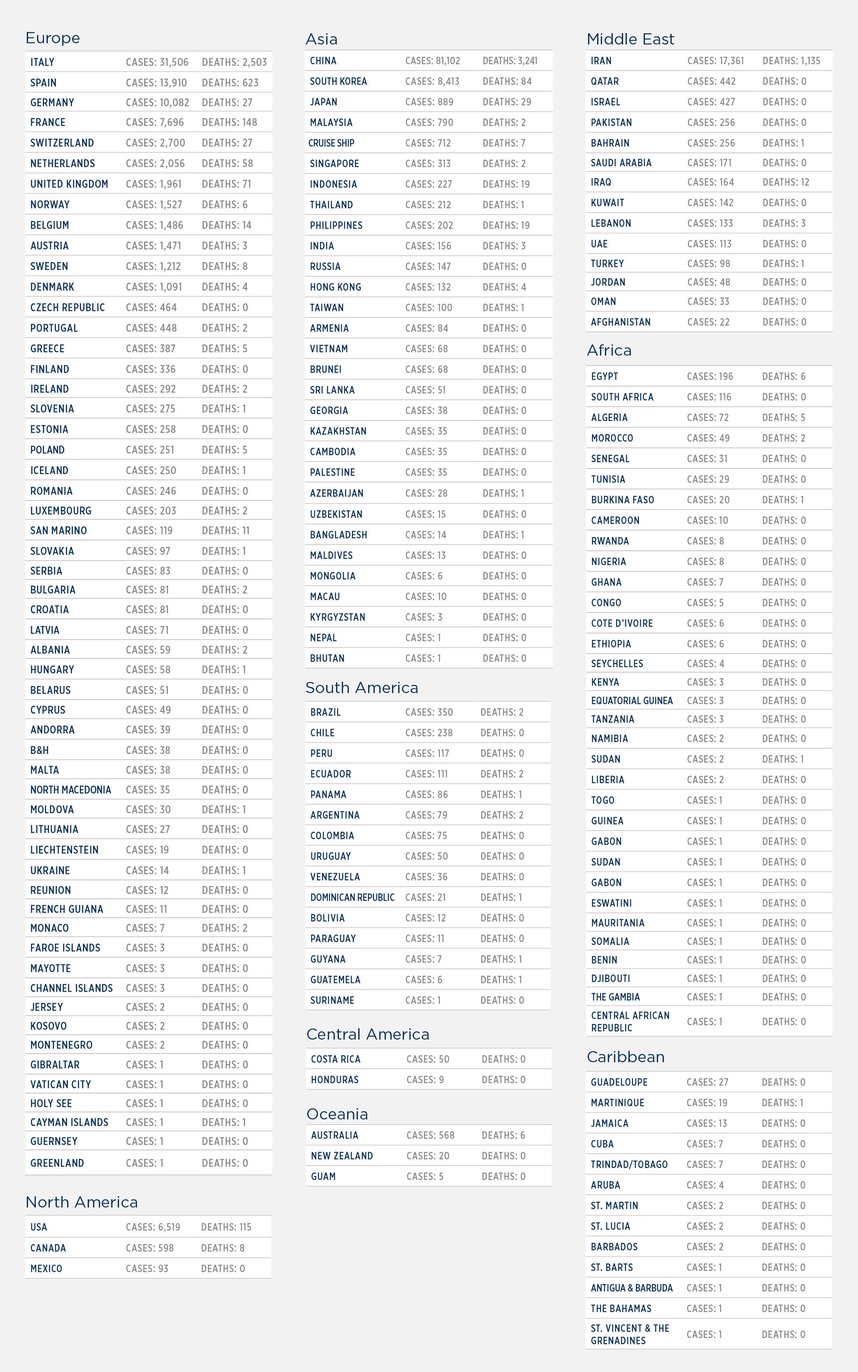 TRAVEL ADVICE
The U.S. State Dept. has issued Level 3: Reconsider Travel guidance for the entire world amid the COVID-19 pandemic. In addition, Global Guardian recommends the following:
Avoid all travel to

mainland

China, Iran, Italy, South Korea, Kuwait, Lebanon, Israel, and any other countries with global travel restrictions.

Avoid

all travel to continental Europe.

Reconsider all travel to the rest of the world due to ever changing travel restrictions and border closures.
Do not go on a cruise. Several cruise lines have already canceled all planned cruises.

Practice advanced careful hygiene measures, including frequent hand washing and sanitizing.

Practice "social distancing" while in public spaces.
OUTLOOK
The experience in Europe may serve as a glimpse of what is to come in the North America if the virus continues to spread. The U.S. and Europe need to be prepared for significant strain on economic and healthcare resources in the coming months.
See below graphs from Worldometers highlighting rapid growth of cases outside China: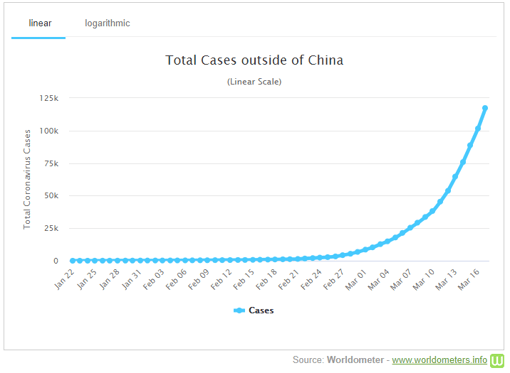 Support
Global Guardian is closely monitoring the situation. To request additional support or learn more about pricing on customized daily intelligence reports tailored to your organization's interests, please reach out to our security analysts by clicking below.