Over the last three days, multiple countries have declared states of emergency and implemented travel restrictions and border closures.
It should be anticipated that every country that declares a domestic state of emergency will also take steps to limit travel in or out of their territory, including suspension of visas, travel bans from impacted countries, border closures, and airport shutdowns. Additional steps are likely in the form of local and national lockdowns, including closures of restaurants, bars, cinemas, and other non-essential shops and stores.
The following list comprises updates since 13 March but as the situation is evolving rapidly, new restrictions are likely to be put in place in the coming days.
The United States extended its travel ban on flights from Europe to include the UK and Ireland from 16 March.
Germany announced the reintroduction of border screening measures due to the spread of the outbreak.
Argentina and Panama closed their borders as of 16 March and barred all foreign visitors from entering the country until at least 31 March. Local residents will be allowed entry but must self-isolate for 14 days upon arrival.
Peru

announced that all border crossings into the country will be closed for 15 days beginning at 11:00 PM local time on March 16 due to COVID-19. The border closures include the suspension of international passenger transport by air, land, sea, and river. The transport of cargo and merchandise is not included.

France announced the closure of non-essential business and public offices after a sharp rise in cases; further quarantine measures and cutbacks to public transportation are expected in the near-term to encourage "social distancing" among the public.
Malaysia declared an emergency lockdown and border closures from 18 March until the end of the month, all but essential stores are closed.
The first cases of COVID-19 were reported in Venezuela, which imposed a partial quarantine in Caracas and six other states while suspending most international flights and closing the border with Colombia.
Estonia, Latvia and Lithuania announced the imposition of international border closures and international flight suspensions, following similar actions taken by Poland, Norway, Denmark, Slovenia, Slovakia, Czech Republic, Albania, Serbia, Kosovo, North Macedonia, Greece, Austria, Ukraine, Moldova and other European countries.
Qatar instituted controls on local public transport and Saudi Arabia ordered the closure of non-essential businesses and public offices to limit the spread of the outbreak; similar measures were also extended by the governments of Lebanon, Iraq and Kuwait.
International flights arriving to China's Beijing will be forced to land at Beijing Capital International Airport (PEK/ZBAA) in order to quarantine all arriving passengers for 14 days starting on 16 March.
Spain placed the Murcia region on lockdown and began to close non-essential business nationwide to limit the spread of the outbreak in Madrid, Galicia, Catalonia, Valencia and other regions. Ceuta and Melilla were also placed on partial lockdown due to travel restrictions imposed by Morocco.
What we know:
174,562 confirmed cases worldwide

6,685 deaths

77,867 recovered

Major ongoing spread areas are now in Iran and Europe.




CURRENT STATUS
In the U.S., state and local governments are taking drastic steps to curb the spread of COVID-19, including shutting down bars, restaurants, and other non-essential stores and shops. Cities have ordered curfews and bans on gatherings of 50, 100, or 200 or more people.
As COVID-19 spreads, more and more countries will institute travel restrictions both externally and internally. These policies are changing constantly as the pandemic evolves. The International Air Transport Association maintains a list of airline travel restrictions.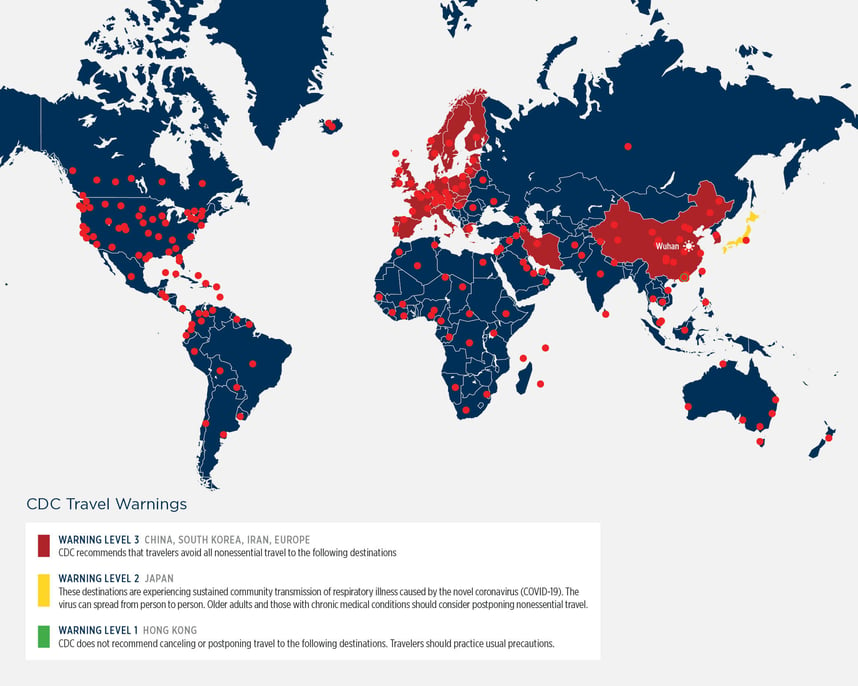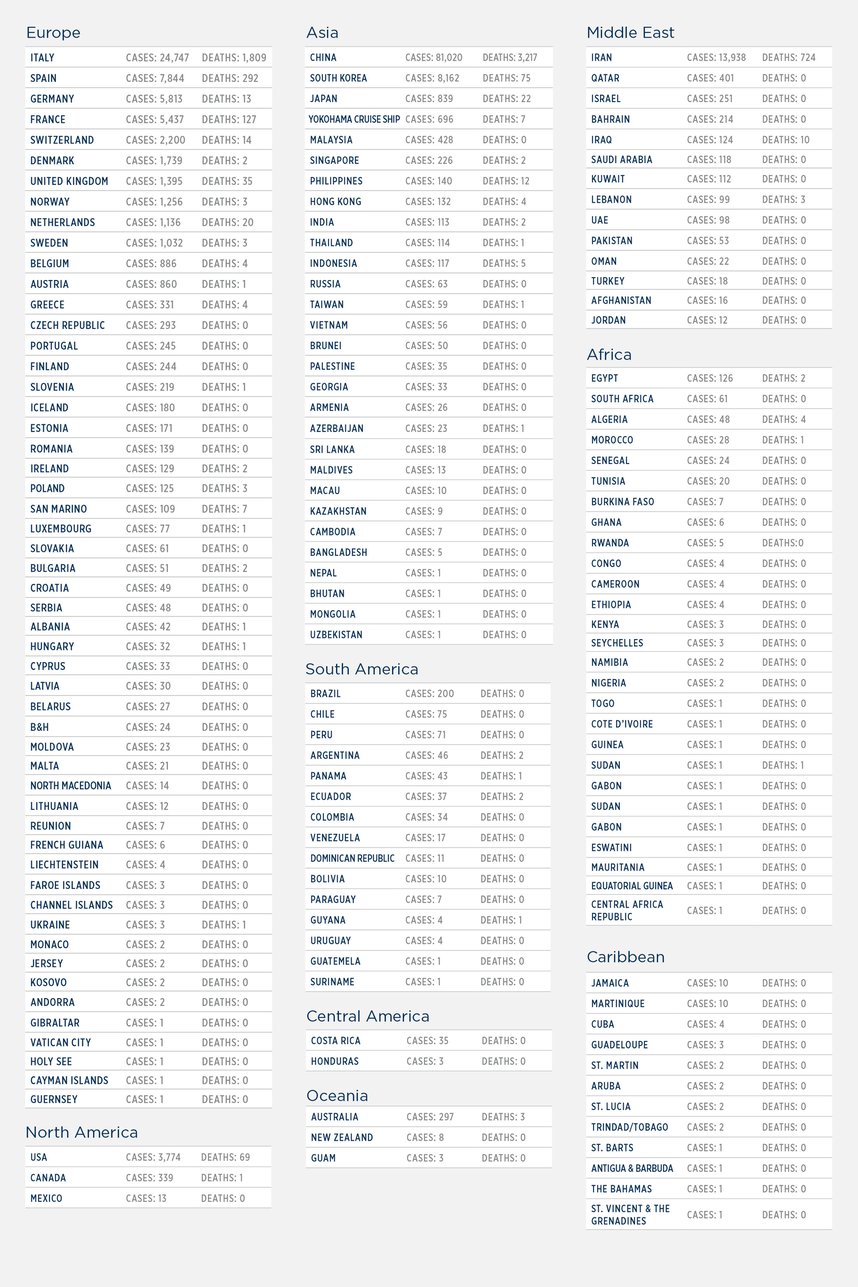 TRAVEL ADVICE
The U.S. State Dept. has issued Level 3: Reconsider Travel guidance for the entire world amid the COVID-19 pandemic. In addition, Global Guardian recommends the following:
Avoid all travel to

mainland

China, Iran, Italy, South Korea, Kuwait, Lebanon, Israel, and any other countries with global travel restrictions.

Avoid

all travel to continental Europe.

Reconsider all non-essential travel to the rest of the world.
Do not go on a cruise. Several cruise lines have already canceled all planned cruises.

Practice advanced careful hygiene measures, including frequent hand washing and sanitizing.

Practice "social distancing" while in public spaces.
OUTLOOK
The experience in Europe may serve as a glimpse of what is to come in the North America if the virus continues to spread. The U.S. and Europe need to be prepared for significant strain on economic and healthcare resources in the coming months.
See below graphs from Worldometers highlighting rapid growth of cases outside China: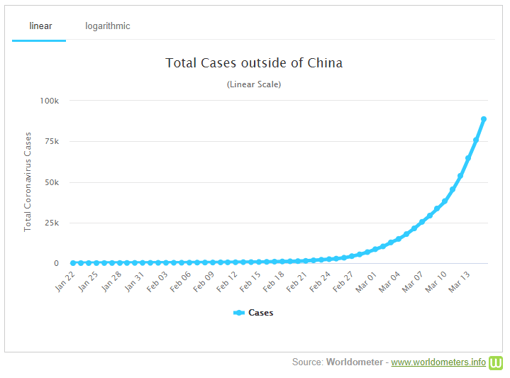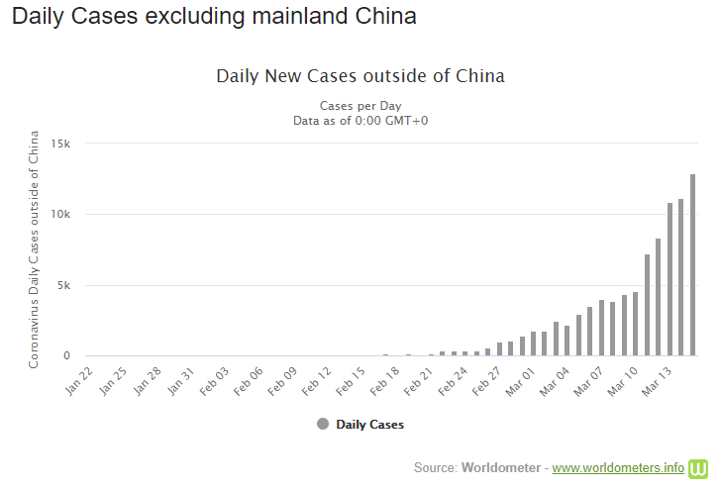 Support
Global Guardian is closely monitoring the situation. To request additional support or learn more about pricing on customized daily intelligence reports tailored to your organization's interests, please reach out to our security analysts by clicking below.