Update
As of 28 January, both the U.S. Centers for Disease Control (CDC) and U.S. State Department had issued "Level 3: Reconsider Travel" advisories for China based on the spread of the novel coronavirus (2019-nCoV) throughout the country. This is an escalation from previous warnings, which advised only against travel to the city of Wuhan and all of Hubei province, the epicenter of the outbreak.

What we know:


4,474 confirmed cases - nearly doubling in a 24-hour period

At least 107 deaths, all in China

Over 450 military doctors flown into Hubei province

New cases have been confirmed in Sri Lanka and Ivory Coast
CURRENT STATUS
Multiple countries have instituted travel restrictions with China, both at border crossings and at airports for visa-on-arrival Chinese nationals. Most major international airports have implemented thermal screenings for travelers from China. Several countries have halted flight into China. Hubei province remains on lock down, with nearly 60 million people under effective quarantine. Airports, buses, trains, metro, and inter-city travel are shutdown.
Some intercity travel has been suspended in Beijing, Tianjin, Xi'an, Guangdong, Shandong and Hainan while entry restrictions were also imposed by authorities in Hong Kong and Macau.
The Shanghai government has said companies in the city are not allowed to resume operations before Feb 9, an extension of the Chinese New Year holiday. Only businesses the government deems vital to the operation of the city -- such as gas stations, pharmacies and supermarkets -- will be allowed to remain open.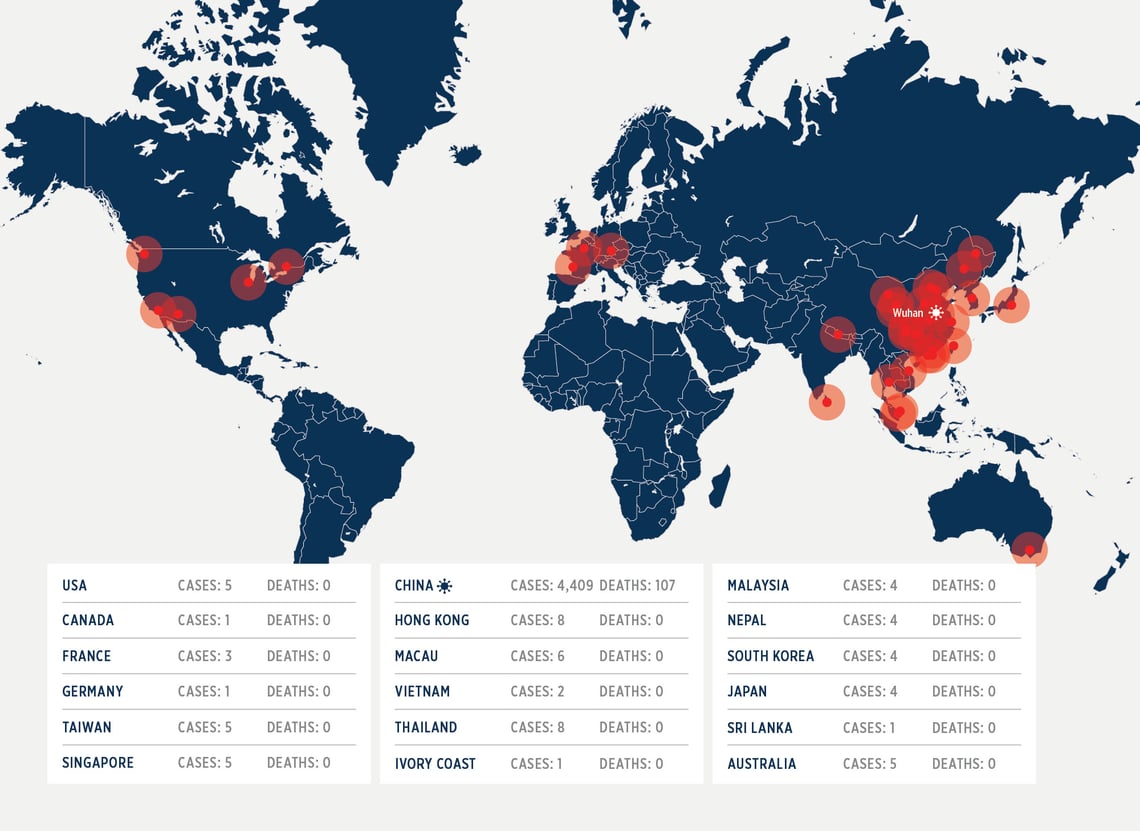 TRAVEL ADVICE
The U.S. State Dept and CDC have issued guidance to RECONSIDER TRAVEL to China on the whole due to the outbreak. In addition, Global Guardian recommends the following:
Avoid all travel to Hubei province as it is under lock down by Chinese authorities.
Practice advanced careful hygiene measures, including frequent hand washing and sanitizing.
Wear a face mask or respirator in public if traveling in Chinese cities with reported infections.
OUtLook
The number of confirmed cases has effectively doubled every 24-hours, a troubling statistic which emphasizes the high epidemiological risk of the novel coronavirus. So far, Chinese and international health authorities have been unable to agree on how long the outbreak could last, with estimates ranging from 7-10 days to 6-12 months.
Support
Global Guardian is closely monitoring the situation. For additional support or to request a special report, please reach out to our security analysts by clicking below.