Update
On 30 January, the World Health Organization (WHO) convened an emergency committee meeting and declared a public health emergency of international concern due to the outbreak of novel coronavirus (2019-nCoV). Their primary concern is the spread of the virus in less developed nations with weaker health institutions that are unable to adequately deal with the coronavirus outbreak. The WHO indicated that there is no reason for measures that unnecessarily interfere with international travel and trade.

What we know:


8235 confirmed cases - a slight slowdown in rate of spread
At least 171 deaths, all in China
Multiple airlines have suspended or limited flights to/from China
New cases have been confirmed in India, UAE, Finland, & Philippines
Human to human transmission outside China is extremely limited, with just four cases outside China.
CURRENT STATUS
Multiple airlines and several nations (Egypt, Georgia, Kazakhstan, Palau, Maldives, Israel) have implemented bans on flights to/from China, in effect through the immediate future:
Egypt Air
British Airways
Lufthansa
United Airlines
American Airlines
Air Canada
Air France
Air Asia
Finnair
Ethiopian Airlines
KLM
SWISS
SCAT Airlines
Ural Airlines

Austrian Airlines
Lion Air
Air Seoul
Jeju Air
Eastar Jet
IndiGo
Air India
Aeroflot
Iberia
Cathay Pacific
Air Astana
Azerbaijan Airlines
JC

Air Macau
Azur Air
iFly
Nordwind
China Eastern Airlines
China Southern Airlines
Myanmar National Airlines
Myanmar Airways International
Air KBZ, SkyUp Airlines
Ukraine International
9 Air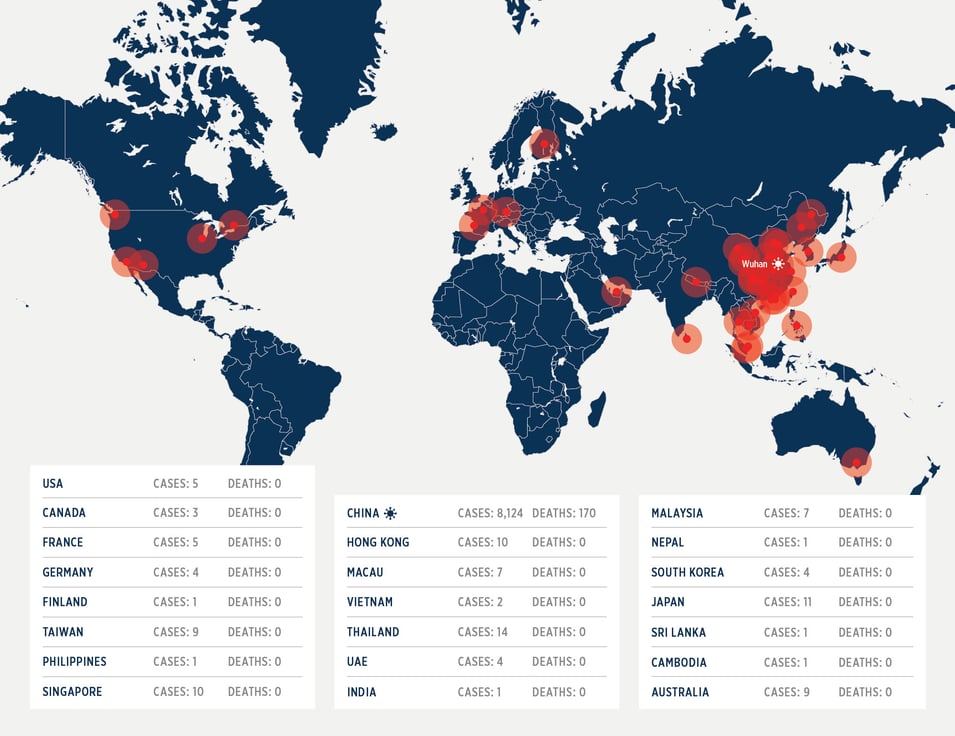 TRAVEL ADVICE
The U.S. State Dept and CDC have issued guidance to RECONSIDER TRAVEL to China on the whole due to the outbreak. While the WHO has declared the outbreak to be a global emergency, they indicated that there is no reason for measures that unnecessarily interfere with international travel and trade. In addition, Global Guardian recommends the following:
Avoid all travel to Hubei province as it is under lock down by Chinese authorities.

Practice advanced careful hygiene measures, including frequent hand washing and sanitizing.

Wear a face mask or respirator in public if traveling in Chinese cities with reported infections.
OUtLook
The number of confirmed cases has started to spread more slowly, though still at a high rate. This indicates quarantine measures may be working to slow the spread of 2019-nCoV. According to the WHO, China's response to the outbreak has been extraordinary and their primary concern is spread to less developed countries that are unable to deal with such an outbreak.

Support
Global Guardian is closely monitoring the situation. For additional support or to request a special report, please reach out to our security analysts by clicking below.