Update
As of 27 January, the novel coronavirus (2019-nCoV) outbreak jumped to nearly 3,000 confirmed cases, with over 98% of those cases in mainland China. The World Health Organization has not declared a global emergency. China continues to lock down all cities in Hubei, effectively quarantining the entire province.

What we know:


2,886 confirmed cases

At least 81 deaths, all in China

Over 450 military doctors flown into Hubei province

New cases have been confirmed in Australia, Malaysia, France, Cambodia, Canada, and Nepal




CURRENT STATUS
In an ongoing effort to stop the spread of novel coronavirus, Chinese authorities have effectively quarantined all cities in Hubei province by locking down airports, buses, trains, metros, and long-distance travel. Nearly 60 million people are impacted by this lock down.
Some intercity travel has been suspended in Beijing, Tianjin, Xi'an, Guangdong, Shandong and Hainan while entry restrictions were also imposed by authorities in Hong Kong and Macau.
The Shanghai government has said companies in the city are not allowed to resume operations before Feb 9, an extension of the Chinese New Year holiday. Only businesses the government deems vital to the operation of the city -- such as gas stations, pharmacies and supermarkets -- will be allowed to remain open.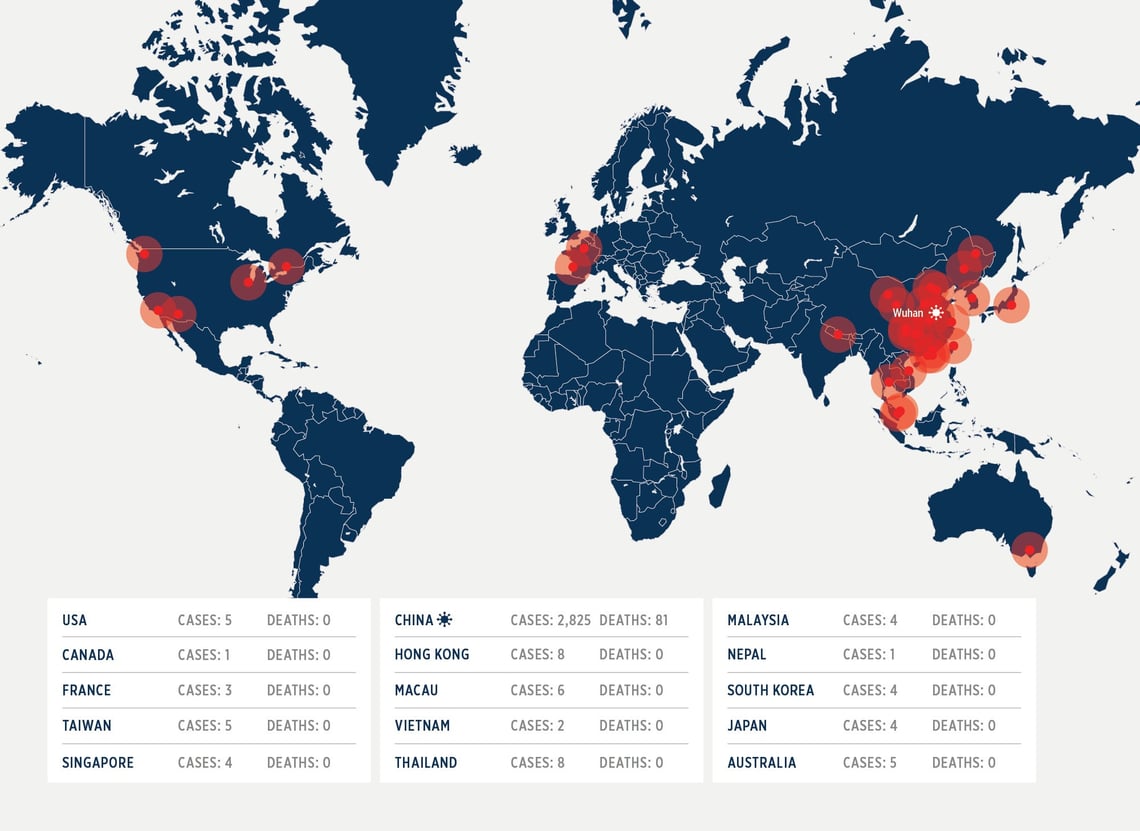 TRAVEL ADVICE
While there are no changes to official travel guidelines to China or other parts of Asia, Global Guardian recommends the following:
Avoid all travel to Hubei province as it is under lock down by Chinese authorities.
Practice advanced careful hygiene measures, including frequent hand washing and sanitizing.
Wear a face mask in public if traveling in Chinese cities with reported infections.
OUtLook
The 2019-nCoV has no known cure or vaccine and has spread to multiple countries since it was first reported in the city of Wuhan. The most at risk for severe complications or death are those under two years old, over 65 years old, and with weakened immune systems.
Support
Global Guardian is closely monitoring the situation. For additional support or to request a special report, please reach out to our security analysts by clicking below.