Travel Advice
As of 22 January, neither the World Health Organization (WHO) nor the U.S. Centers for Disease Control (CDC) have issued special recommendations to change travel plans. However, the WHO has issued the following advice for travelers to China to reduce the general risk of acute respiratory infections while traveling in or from affected areas (currently Wuhan City)
Avoid close contact with people suffering from acute respiratory infections;
Frequent hand-washing, especially after direct contact with ill people or their environment;
Avoid close contact with live or dead farm or wild animals;
Travelers with symptoms of acute respiratory infection should practice cough etiquette (maintain distance, cover coughs and sneezes with disposable tissues or clothing, and wash hands).
Current Status
To date, nearly 450 cases of novel coronavirus (2019-nCoV) have been reported with at least 17 deaths.The outbreak originated in December 2019 at a wholesale seafood market in Wuhan, Hubei province, China. So far, cases have been reported in China (441), Thailand (2), Japan (1), Taiwan (1), South Korea (1), and the United States (1). No deaths have been reported outside China.
Airports around the world have implemented advanced screening procedures, including in the U.S. at New York's John F. Kennedy (JFK/KJFK), San Francisco (SFO/KSFO), Los Angeles (LAX/KLAX), Chicago O'Hare (ORD/KORD) and Atlanta Hartsfield-Jackson (ATL/KATL) airports for all passengers arriving from Wuhan, China.
On 22 January, Chinese authorities suspended public transportation in Wuhan, including the airport, in an effort to contain the spread of the virus. Buses, subways, ferries, and long-distance travel will stop on 23 January at 10AM local time. This is a significant step and effectively a quarantine of the city.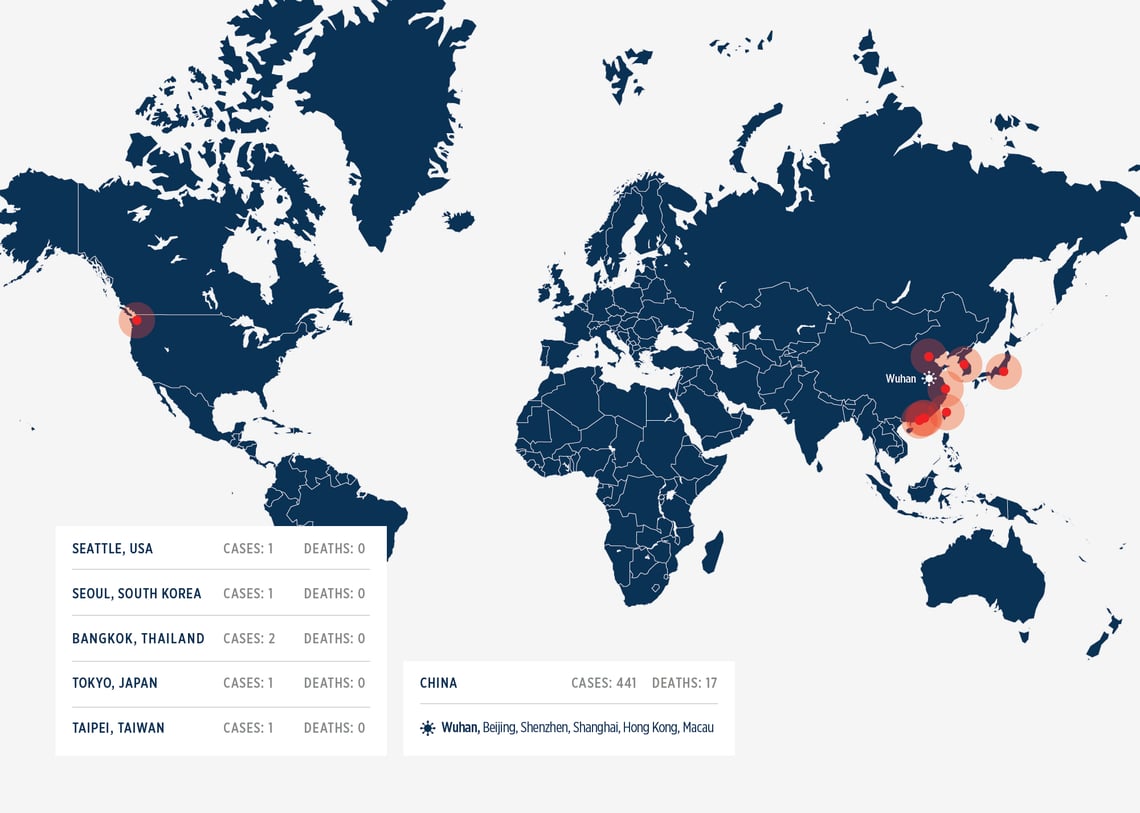 Wuhan Coronavirus
The Wuhan Coronavirus (2019 n-CoV) is an unknown viral illness that originated from an animal source at a seafood market.
Person-to-person spread is occurring, although it is unclear how easily the virus spreads between people.
Preliminary information suggests that older adults and people with underlying health conditions may be at increased risk for severe disease from this virus.
It causes severe respiratory problems in humans, similar to Severe Acute Respiratory Syndrome (SARS).

Symptoms include fever, shortness of breath, and cough. Severe complications, including pneumonia and kidney failure are possible.
The majority of deaths due to 2019 n-CoV are from pneumonia complications in elderly or already-compromised patients.
The incubation period is averaging five to six days, but can range from two to 14 days
Outlook
The 2019-nCoV has no known cure or vaccine and has spread to multiple countries since it was first reported in the city of Wuhan. With the traditional mass migration of people in China over the Lunar New Year holidays between 23 January and 7 February 2020, health authorities believe that the number of cases could rise rapidly within a matter of weeks.
The WHO convened an emergency meeting on 22 January to discuss the 2019-nCoV outbreak but did not declare it a global emergency or issue updated travel guidance. There is an additional meeting planned for 23 January to discuss whether to declare the outbreak a global emergency.
Support
For additional support or to request a special report on the situation, please reach out to Global Guardian team at 703.566.9463 or by clicking below.