SITUATION UPDATE
Moscow and Kyiv are seriously discussing a ceasefire as part of a wider deal to end the conflict. Russia now claims that it will begin to draw down its forces from the Kyiv area, which comes after the Russian Ministry of Defense declared that the first phase of the invasion is complete and that its objective is now to "liberate" the Donbas. While there is now a more credible peace process and a path toward an agreed settlement, Russia will use this time to regroup (reorganize and resupply) and use the threat of force (as it has from April 2021) to maintain bargaining leverage over Kyiv, especially now that the West has already exhausted its financial leverage.
Diplomatic Progress
According to a report, Russia is willing to drop its initial demands of "de-nazifying" and "demilitarizing" Ukraine. The report also mentioned that Russia is willing to let Ukraine join the European Union, so long as it provides constitutional assurances that it will not join NATO or host NATO troops in the future. In return for committing not to join NATO, Ukraine's security would be guaranteed by other international powers.
Over the last 48 hours, there has been a marked change of tone from Russian state-affiliated media outlets, indicating that the Kremlin may actually be serious about changing its objectives.
Over the weekend, President Zelensky told independent Russian media outlets that Ukraine is pushing for security guarantees and ready to codify Ukraine's neutrality and non-nuclear status while signaling that he was open to negotiating the "complex question of Donbas."
So far, the major sticking point in negotiations has been the future of Crimea, the southern peninsula that Russia seized in 2014 and annexed into Russia.
Tactical Update
The past 72 hours have seen Ukrainian forces continue to conduct localized counterattacks in the Kyiv area, Sumy Oblast, and around Kharkiv & Izium. Ukraine's counterattacks have come as major Russian offensives have mostly stalled, with Russian troops largely regrouping and trying to consolidate territory taken in the opening weeks of the invasion.
Ukrainian forces recaptured the Kyiv suburb of Irpin on March 28. Ukrainian forces will likely take advantage of ongoing Russian force rotations and drawdowns to retake further territory northwest of Kyiv.
According to the Ukrainian General Staff, a battalion tactical group (BTG) of the Russian 1st Guards Tank Army withdrew from Ukraine, marking the first major Russian unit to leave the theatre of operations.
Russian forces continue to advance block-by-block in central Mariupol.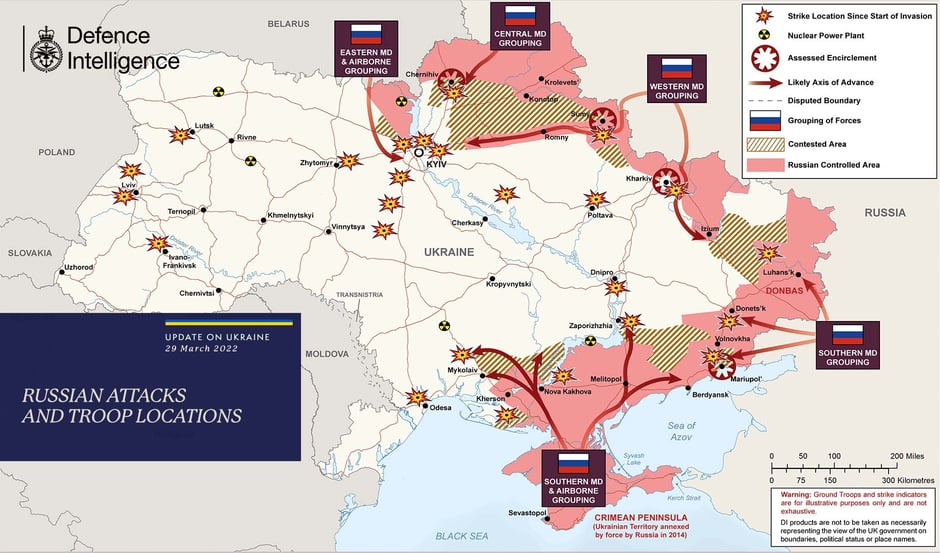 Transportation
On 28 March, Russian officials announced plans to bar entry into Russia for nationals of countries who have leveled sanctions on Russia. These countries include EU member states, the UK, Canada, the U.S., Australia, New Zealand, South Korea, Japan, and others. The exact details and implementation date were not provided.
Finnish authorities halted Allegro train services between St. Petersburg and Helsinki. Allegro was the only rail service connecting Russia with the EU.
Support
Our team can respond immediately with the following capabilities:
Bespoke intelligence reports and briefings
Armed or unarmed security personnel
Satellite communications (phone and wireless internet)
Emergency medical and tele-medical support
Logistical support
Evacuation by ground where feasible
Click below to contact Global Guardian's 24/7 Operations Center or call us directly at +1 (703) 566-9463.