SITUATION UPDATE
The Battle for Kyiv has ended. Russian forces around Kyiv have accelerated their retreat, as Ukrainian forces conducted several local counterattacks disrupting this process. Despite the rhetoric of de-escalation, Russia is still conducting artillery and airstrikes around Kyiv but did not conduct any offensive operations around the city in the past 48 hours. U.S. officials have confirmed that Russia has withdrawn 20 percent of its troops from the Kyiv area into Belarus for likely redeployment to the Donbas in the future.
Tactical Update
On 01 April, Russian officials reported that two Ukrainian Mi-24 attack helicopters carried out strikes against an oil depot in Belgorod, Russia—a major logistics hub for the eastern axis of Russia's invasion. This alleged attack comes only days after an ammunition depot exploded in Belgorod. Taken together, these purported attacks point to a more proactive approach by the Ukrainian General Staff, understanding that it will need to slow down Russia's resupply efforts before Russia launches its second, and likely better planned, invasion of the east.
Russia is reportedly deploying more than 1,200 troops from Georgia to Ukraine in an effort to reinforce efforts in the country. Hundreds of mercenaries from Syria and Russia's Wagner group are also being deployed in Ukraine. With these numbers, the infusion of foreign fighters will have little effect on the battlefield but does point to Russia's critical need for fresh combatants. Russia faces continuing morale and supply issues, including contract servicemen requesting to terminate their contracts and many anecdotal accounts of insubordination.
Diplomatic Progress
Russia agreed to open a humanitarian corridor out of the besieged city of Mariupol. Buses with civilians began leaving the city on 01 April.
While peace talks resumed on 01 April, little substantive progress has been made or appears likely in the near term. Russia is keen to focus on cementing control of the Donbas as its forces regroup. Ukraine is unlikely to give up this territory in an official capacity.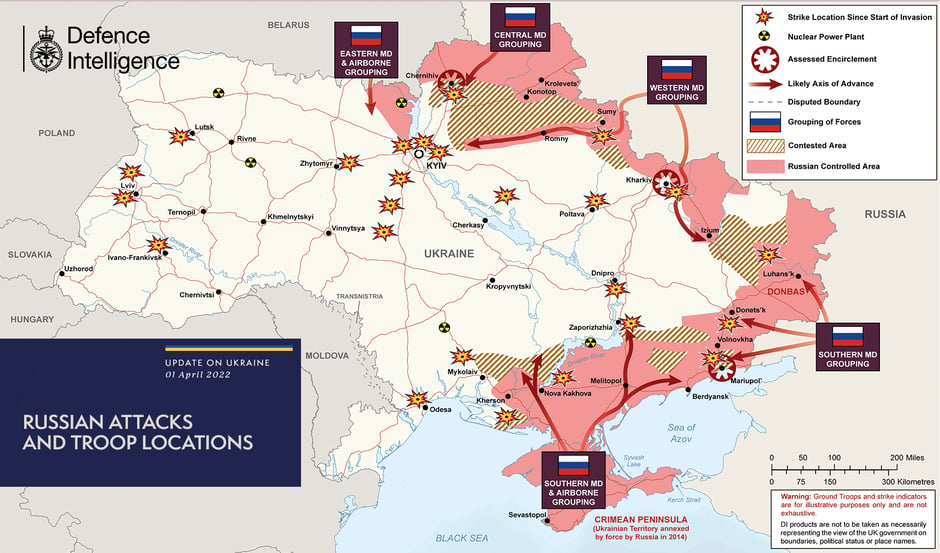 Support
Our team can respond immediately with the following capabilities:
Bespoke intelligence reports and briefings
Armed or unarmed security personnel
Satellite communications (phone and wireless internet)
Emergency medical and tele-medical support
Logistical support
Evacuation by ground where feasible
Click below to contact Global Guardian's 24/7 Operations Center or call us directly at +1 (703) 566-9463.