SITUATION UPDATE
NATO and the U.S. warned Russia against turning to chemical or nuclear weapons as Russian forces continue to be pushed back around Kyiv. In the south, Russian forces have entered central Mariupol; local Ukrainian political leaders have already left the city to regroup. The fall of Mariupol is likely only a few days away.
NATO's Vague Red Line
At the NATO summit in Brussels on 24 March, President Biden cautioned that NATO would respond proportionately to Russian chemical weapons use, later qualifying the red line by stating that "the nature of the response would depend on the nature of the use."
Biden's comment is the first to suggest a clear path to conflict between Russia and NATO, amid concerns that Russia may turn to weapons of mass destruction to "escalate to de-escalate" now that it is becoming clear that enveloping Kyiv will not be possible.
The issue of chemical, biological, radiological, and nuclear (CBRN) defense was brought to the fore on 22 March when Kremlin Press Secretary Dmitry Peskov stated that Russia will consider using its nuclear capabilities in the face of an "existential threat." NATO CBRN defense elements were activated this week, increasing the alliance's readiness to respond to CBRN attacks that may spill over Ukraine's border.
Russia's Shifting Priorities
While at first, regime change appeared to be an objective for Moscow, this no longer seems to be a realistic aim after running into serious challenges in northern Ukraine. In the south, however, Russia is nearing the capture of Mariupol, the one roadblock to Russia creating a land bridge between the Crimean Peninsula and the Donbas, assuming complete control of the Sea of Azov region. Not only would contiguous territory provide depth to defend Russian logistics from Ukrainian counter-attacks, the securing of the land bridge also would provide Russia with a small political victory.
If Mariupol is captured, Russia (and its proxies) will be able to devote more resources to encircling Ukrainian forces in the Donbas.
Trouble in Minsk?
On 23 March, Ukrainian-Belarusian relations further deteriorated as the Belarusian Foreign Ministry expelled all but five members of Ukraine's diplomatic mission, causing the Ukrainian consulate in Brest to close. Ukraine retaliated the following day, reducing Belarus' diplomatic mission in Kyiv to five people and closing its consulate in Lviv.
The widening of the rift comes as four to five Belarusian battalion tactical groups moved to the Ukraine-Belarus border region of Volyn on 24 March despite no Russian offensive in the area. Ukraine has accused Belarus of mobilizing to support Russia's offensive, yet the Belorussian political and military establishments have been hesitant to join the war despite strong pressure from Moscow.
At this time, it does not appear that there is sufficient combat power to open a new axis of advance into Western Ukraine. Though this could change as Russian reinforcements have been seen moving into Belarus.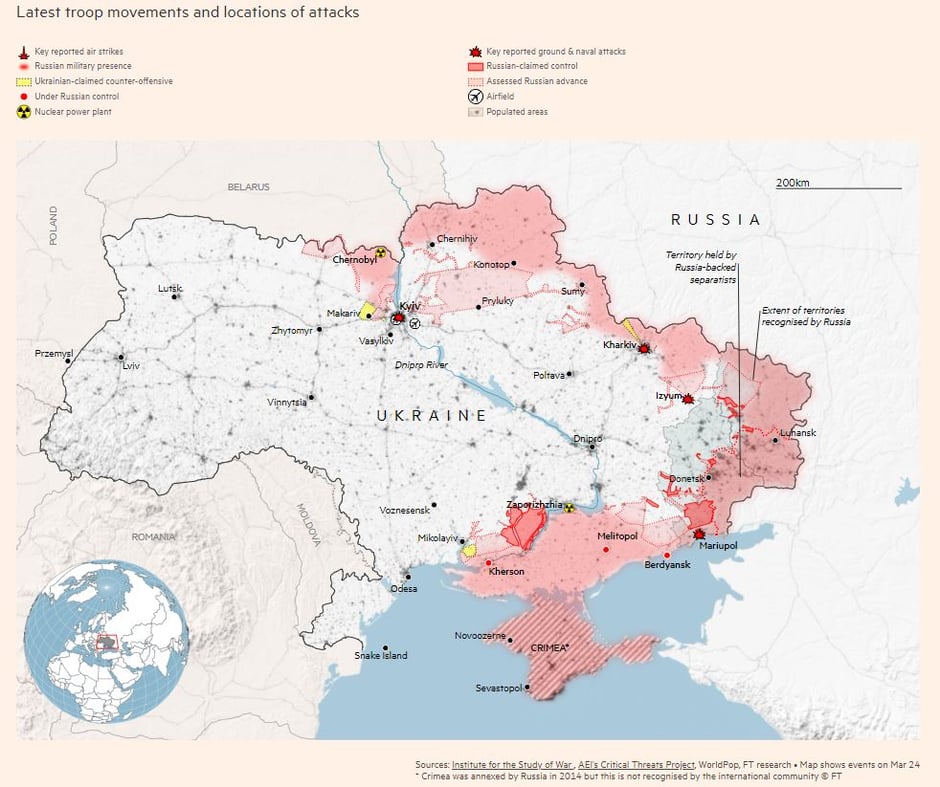 Cyber Updates
The FBI is warning all organizations in the U.S. energy sector of hostile network reconnaissance activity stemming from multiple Russia-based IP addresses. These malicious actors are believed to be associated with previous destructive cyber activity against foreign critical infrastructure.
A cyberattack against Ukraine telecommunications providers on 23 March left Ukrainian Railways online ticketing and telephone services offline. Transportation out of Ukraine has become more complicated than usual due to disruptions from Russian cyber threat groups.
Support
Our team can respond immediately with the following capabilities:
Bespoke intelligence reports and briefings
Armed or unarmed security personnel
Satellite communications (phone and wireless internet)
Emergency medical and tele-medical support
Logistical support
Evacuation by ground where feasible
Click below to contact Global Guardian's 24/7 Operations Center or call us directly at +1 (703) 566-9463.