SITUATION UPDATE
Russia's assault on Kyiv continues to be stalled as Ukraine continues limited but effective counter-attacks west and north of the capital. The prospect of S-300 weapons shipments from Slovakia may soon be realized as Russia warns against materiel support for Ukraine.
According to a report, the U.S. will be sending Ukraine old Soviet SA-8 surface-to-air missile systems (SAMs). The SA-8 is a tactical, air defense system that is highly mobile and will be used to provide cover for ground forces.
This report comes as NATO partner countries have provided Slovakia with the Patriot air defense system, meeting Slovakia's condition for it to, in turn, send its S-300 SAMs to Ukraine. The S-300 is much more advanced than the SA-8 and would constitute a game-changing weapons transfer to Ukraine, diminishing Russia's ability to conduct airstrikes and possibly even intercept some of Russia's missiles. Russia has stated it will prioritize targeting suspected weapons shipments if the S-300s enter Ukraine, both increasing the risks of an escalation with NATO, and decreasing the overall safety levels of Western Ukraine.
On 19 March, Russia's Ministry of Defence announced the first operational use of the nation's new Kh-47M2 Kinzhal hypersonic missile in a strike against a weapons depot in Ukraine's western Ivano-Frankivsk region. The use of this new weapon system can be seen either as a final warning against potential S-300 transfers or it may be an indication that Russia is running low on the precision-guided missiles it has been using to strike targets in western Ukraine.
On 19 March, Belarus' embassy staff left Kyiv, mirroring the departure of Russian diplomats just days prior to the invasion. This evacuation, along with Russia's freezing repayment of Belarus's loans to Russia may point to more direct Belarussian involvement in the conflict.
Kyiv has renewed its curfew. The curfew began at 8:00 PM (local time) on 21 March and will last until 07:00 AM on 23 March. During the curfew, movement through the city without special passes is prohibited.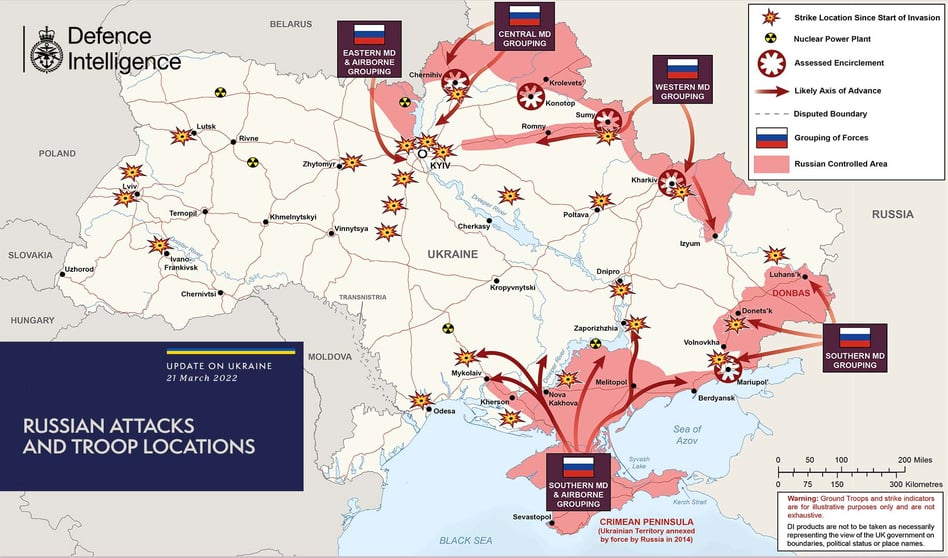 In the south, Mariupol remains under siege as Russian troops slowly advance into the city while seeming to abandon near-term plans to assault Odesa. According to (unverified) local sources some 80% of the city's infrastructure is damaged or destroyed as the humanitarian situation becomes increasingly dire. Reports have emerged that Russian forces have detained thousands of civilians with some being transferred to Russia.
The question remains if Mariupol is being made an example of in order to add credence to the impending threat to Kyiv, or if this brutality is only meant for Mariupol, a city that saw intense battles in 2014. The alleged actions of Ukraine's far-right Azov Battalion in Mariupol serve as a key component to Russia's "denazification" narrative and its stated political objective.
Negotiations between Russia and Ukraine continue to progress slowly. Stalling from Ukraine is making a comprehensive ceasefire agreement unlikely in the short term, while Russia seeks to impose higher costs on Ukrainian cities to force serious negotiations. Meanwhile, the Ukrainian General Staff has reported that Moscow is preparing its population for a long war scenario, which would include mass mobilization.
Support
Our team can respond immediately with the following capabilities:
Bespoke intelligence reports and briefings
Armed or unarmed security personnel
Satellite communications (phone and wireless internet)
Emergency medical and tele-medical support
Logistical support
Evacuation by ground where feasible
Click below to contact Global Guardian's 24/7 Operations Center or call us directly at +1 (703) 566-9463.