Situation update
Now on day two, Russia's blitzkrieg into Ukraine is continuing after meeting some resistance. It is clear that a regime change in Kyiv and the rapid destruction of the Armed Forces of Ukraine are Moscow's immediate objectives.
After a night of heavy bombardment, Russian forces entered Kyiv on 25 February and have engaged Ukrainian defenses. Russian forces are now between 10-15km from the city center. U.S. intelligence is concerned Kyiv could fall under Russian control within days. Ukraine conveyed that it is willing to negotiate Ukraine's neutrality in exchange for security guarantees but Russia has dismissed the offer.
Thousands of Russian troops in Western Belarus are being mobilized to possibly open up another front in Western Ukraine. Should this occur, then it will be a sign that Russia does seek to fully occupy Ukraine and control its Western borders.
In the East, Kharkiv, and Sumy—while surrounded—have still not fallen and the needle has barely moved in the Donbas.
In the South, Russian forces are trying to capture Melitopol and intense fighting is being reported in Kherson.
Ukraine has banned males aged 18 to 60 from leaving the country and is calling on civilians of all ages to join the fight. Weapons depots have begun to open their stores to the public.
According to Ukrainian intelligence, in the coming days, Russia will commence a psychological operation to sow panic in Kyiv by cutting electricity and communications to create the conditions for a mass refugee exodus.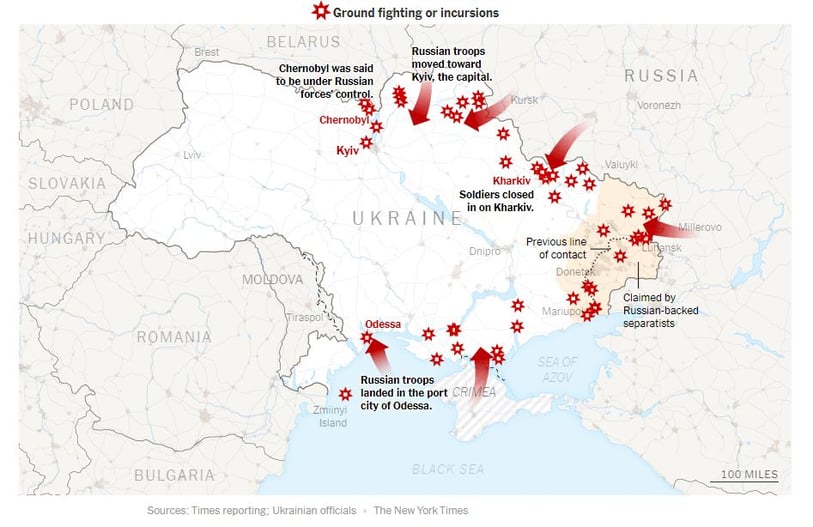 Sanctions
Western nations, along with Japan, introduced a new tranche of sanctions in response to Russia's invasion.
The U.S. instituted export controls on Russian entities, barring the transfer of technology (semiconductors, telecommunication, encryption security, lasers, sensors, navigation, and avionics). The U.S. will also block 13 Russian state-owned enterprises, including Gazprom and Sberbank, from accessing U.S. capital markets.
The EU announced export controls and trade financing bans, targeting Russia's financial, energy, and transport sectors.
The UK is freezing the assets of 100 Russian elites and entities, blocking all Russian companies from raising capital in the UK, and banning Aeroflot aircraft, Russia's national air carrier, and all other carriers, in its airspace. The UK also plans to emulate U.S. bans on technology transfers to establish a special law enforcement unit to target sanctions evasion and hidden Russian assets in the UK.
In response to the UK's Aeroflot ban, Russian authorities announced that all aircraft affiliated with the UK, including transit flights, were subject to a blanket ban, prohibiting flight in Russian airspace.
Poland and the Czech Republic both banned Russian-affiliated aircraft from operating in their airspace. Similar bans by other countries are likely, as are equivalent responses from Russia.
By now, it is clear that sanctions will not be an effective diplomatic tool by the West to shape outcomes or influence Russia's behavior, at least in the near-term.
Advice
Contact Global Guardian to enquire about evacuation requirements.

Those who remain in-country must carry valid identification at all times.

Those who remain in-country should follow their evacuation plans or shelter in place depending on their location and circumstances.
Support
Our team can respond immediately with the following capabilities:
Bespoke intelligence reports and briefings
Armed or unarmed security personnel
Satellite communications (phone and wireless internet)
Emergency medical and tele-medical support
Logistical support (food, water, generators, fuel)
Evacuation by ground, air, or sea
Click below to contact Global Guardian's 24/7 Operations Center or call us directly at +1 (703) 566-9463.