Situation update
Around 06:00 local time, Russia commenced a full-scale assault against Ukraine, involving air and missile strikes, as well as a ground invasion from the north, south, and east. Russian President Vladimir Putin stated that the goal of the operation was to "demilitarize" and "de-nazify" Ukraine. Ukraine has declared martial law and called on its citizens to resist.
The opening act of the conflict involved Russia degrading Ukraine's ability to mount an effective defense. Russia has targeted military sites across Ukraine, including airbases, air defense batteries, command and control sites, and critical infrastructure (ports, bridges, airports, power plants).
Ukrainian airspace has been completely closed since 04:00 (local time) and Russia has closed the airspace on its borders with Ukraine. No civilian aircraft are allowed to access this airspace.
Gridlock on the highways leaving Kyiv, long queues at gas stations and ATMs have been reported.
Martial law was imposed nationwide, allowing authorities to impose curfews and restrict movement. Carrying ID is mandatory at all times.
While air and missile strikes have hit over 200 targets across the country, including in western cities, the majority of the fighting is currently occurring in the east and south with Russian ground troops reaching Nova Kakhovka (south) and Kharkiv (northeast). Dog fights have been reported in the skies above Kyiv.
The U.S. State Department has urged nationals in the country to seek cover and shelter in place, avoiding critical infrastructure that may be targeted by Russian forces.
The Russian military has seized control of Antonov International Airport (GML) in Hostomel, on the outskirts of Kyiv. This is primarily a cargo airport. Russia will likely fly in troops and attempt to cut off Kyiv from this position.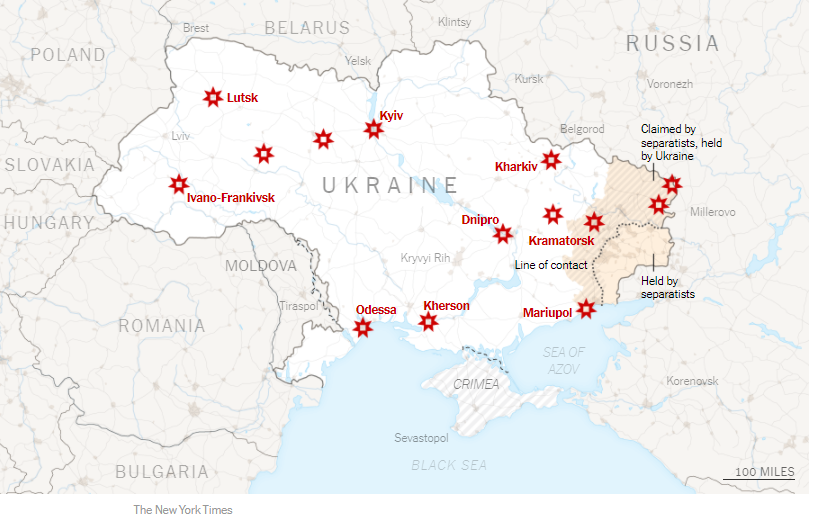 Advice
Contact Global Guardian to enquire about evacuation requirements.

Those who remain in-country must carry valid identification at all times.

Those who remain in-country should follow their evacuation plans or shelter in place depending on their location and circumstances.
Support
Our team can respond immediately with the following capabilities:
Bespoke intelligence reports and briefings
Armed or unarmed security personnel
Satellite communications (phone and wireless internet)
Emergency medical and tele-medical support
Logistical support (food, water, generators, fuel)
Evacuation by ground, air, or sea
Click below to contact Global Guardian's 24/7 Operations Center or call us directly at +1 (703) 566-9463.