Three powerful earthquakes devastated southern Turkey and northern Syria on 06 February 2023. The death toll is rapidly rising with 1,500 deaths recorded so far in Turkey and over 800 in Syria as rescuers race to pull survivors from beneath the rubble.
A magnitude 7.8 earthquake located 14 miles (23 kilometers) east of Nurdağı, Turkey struck at approximately 3:17 AM local time. Another earthquake, reportedly magnitude 7.7, occurred approximately 60 miles (100 kilometers) north of the initial quake at 1:43 PM local time. At 4:15 PM local time, a magnitude 6.0 earthquake struck in the northwestern quadrant of Kahramanmaraş Province.
Turkey estimates over 7,000 injuries and the United States Geological Services (USGS) estimates that up to 10,000 casualties are possible. The initial earthquake was followed by up to 78 aftershocks, the largest of which had a magnitude of 6.7 and was located 14 miles (23 km) west-southwest of Osmaniye, Turkey. The quake was reportedly felt in Egypt, Lebanon, Iraq, northern Cyprus, Greece, and Syria. Flight operations have been suspended at Kahramanmaraş (KCM), Hatay (HTY) and Gaziantep Oğuzeli (GZT) airports. Unrelatedly, hundreds of flights to Sabiha Gokcen International Airport (SAW) in Istanbul have been canceled due to inclement weather. The UK, Israel, and Pakistan are sending search and rescue teams to Turkey as recovery operations continue. Fatalities and casualties are expected to rise as more people are identified in the rubble.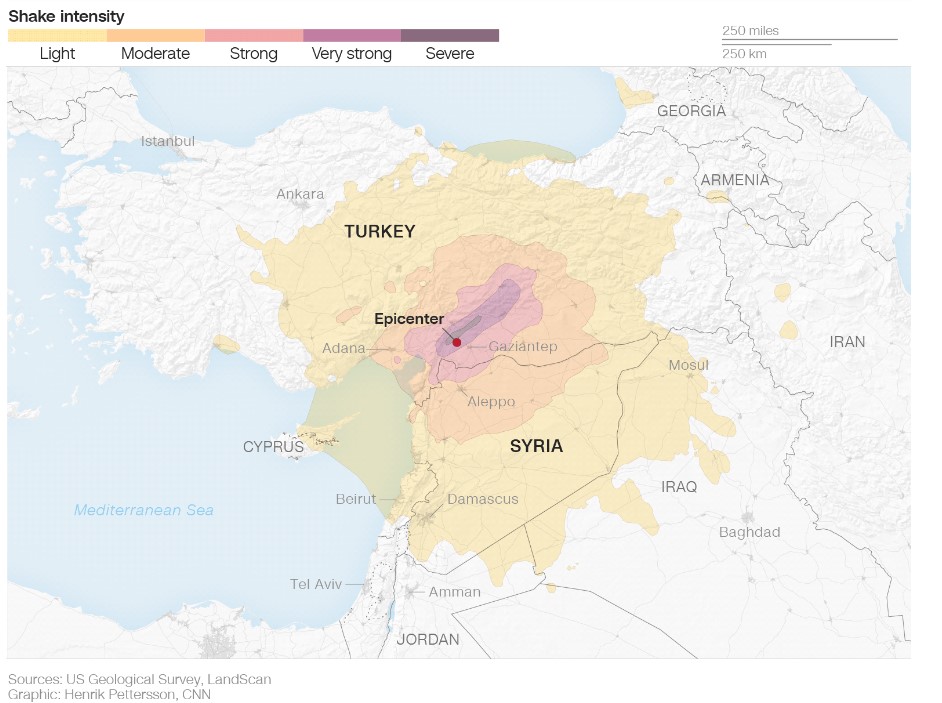 Impact
The earthquake has affected Gaziantep, Kahramanmaras, Hatay, Osmaniye, Adiyaman, Malatya, Sanliurfa, Adana, Diyarbakir, and Kilis provinces in Turkey and Aleppo, Hama, and Latakia governorates in Syria.
Turkey
A gas pipeline explosion and fire have been reported in Topbogazi and operations at Ceyhan BTC oil pipeline terminals have been temporarily suspended.
The runway at Hatay Airport (HTY) has been severely damaged.
Building collapses were reported in Osmaniye (34+), (Malatya 130), Hatay (two hospitals, unspecified other buildings), and an unspecified number in Gaziantep, Kahramanmaras, and Diyarbakir provinces.
Due to the possibility of further damage by possible aftershocks, all individuals in the areas are urged to evacuate from buildings that have been affected by the earthquakes. Further disruptions to the affected areas are expected as emergency services respond and more infrastructure fails.
Support
Our team can respond immediately with the following capabilities:
Bespoke intelligence reports and briefings

Armed or unarmed security personnel

Satellite communications (phone and wireless internet)

Emergency medical and tele-medical support

Logistical support

Evacuation by air and ground where feasible
Click below to contact Global Guardian's 24/7 Operations Center or call us directly at +1 (703) 566-9463.