Outbreak of Hostilities in Nagorno-Karabakh Region:
On 27 September, armed conflict between Armenia and Azerbaijan ignited at the Line of Contact (LoC) in the disputed Nagorno-Karabakh region. Fighting has since centralized in the Tartar and Fizuli regions with unconfirmed but significant numbers of military and civilian casualties on both sides. Present-day conflict between former-USSR countries Armenia and Azerbaijan dates back to 1988 as the culmination of unresolved ethnic land disputes in a region of strategic importance to regional and international powers.
Martial Law in Azerbaijan
Following the outbreak of hostilities, Azerbaijan's president Ilham Aliyev declared martial law. Unauthorized public gatherings and industrial actions are prohibited; internet restrictions are in place. Curfews are in effect across the country. Members of the public must carry identification documents. Additionally, authorities suspended all commercial flights except those to and from Turkey. Despite the declaration of martial law, the U.S. State Department has not issued evacuation orders for personnel or American citizens in Azerbaijan, including Baku. This is likely because there is no significant military threat to Baku at the moment.
Geopolitical Impact
The Nagorno-Karabakh region, while internationally recognized as Azeri territory, is predominantly controlled by ethnic-Armenians who declared the area an independent state. As the deadliest clashes in the region since 2016, contemporary efforts towards reclaiming the region were likely catalyzed by nationalist rhetoric and accumulated economic frustrations due to the impact of COVID-19. Turkey, Russia and Iran are the most interested outside actors in the conflict. Traditionally, Russia has acted as the main security guarantor and mediator in the region and it provides arms to both countries. Though it is treaty-bound per the Collective Security Treaty Organization (CSTO) to back Armenia should the current situation continue to escalate. Turkey is supplying the Azeri government with arms – including advanced drones – and militants from Syria and has hinted at possible direct intervention. So far, Iran is being used as a supply corridor for Russian weapons en-route to Armenia.
While Azerbaijan has the qualitative edge, Armenians maintain a topographical advantage because of control over the mountainous terrain. Both countries possess short range ballistic missiles capable of inflicting considerable damage to critical infrastructure and civilian areas, increasing the risks of miscalculation should the conflict continue to escalate.
Azerbaijan is a major oil and gas producer and its pipelines are a growing source of energy security for Europe, especially for Turkey who receives around 35 percent of its natural gas imports from Azerbaijan. Intense fighting around the line of contact (LoC) is taking place less than 40km from the Baku-Tbilisi-Ceyhan (BTC) crude pipeline and the Caucasus gas pipeline (SCP). While there is an abundance of spare of oil and gas production capacity globally, a significant military escalation involving severe disruptions to the main pipelines or the direct military intervention from outside actors, including Turkey and Russia, could fuel market uncertainty and help prompt a commodity price spike.
Assessment
While there is no serious threat of military action in Baku at this time, today's
clashes in the Nagorno-Karabakh region represent the most significant conflict to occur between both countries in decades. Azerbaijan's military edge gives it the upper hand in this conflict and Armenia and Republic of Artsakh (Nagorno-Karabakh) do not have the capacity to significantly degrade Azerbaijan's military or launch a counter-offensive into Azeri territory. Both sides have rejected international calls for a cessation of hostilities and nationalist fervor will drive both sides to try to achieve a change in the status quo through force. The key escalation triggers are twofold: escalation via proxy and miscalculation.
In the event of a stalemate, Azerbaijan may request direct support from Turkey, which could prompt Russian intervention. Conversely, if Armenia feels that its sovereign territory is under threat, it may request Russian involvement, increasing the likelihood of Turkish intervention. Tensions between Turkey and Russia are already running high as they are fighting on opposite sides (directly and indirectly) in Syria and Libya.

In a worst-case scenario, one side will inadvertently cross the others' red lines which could include: high civilian casualties, attacks on critical infrastructure including pipelines, or cross-border fighting outside the disputed region.




Intense domestic pressure could provoke retaliation that could transform a geographically limited conflict into full blown war between the two countries involving support from Russia and Turkey.
The longer the fighting persists, the greater the chances of escalation. Outside intervention could also promote spillover across the region in Syria, Libya and inside Iran.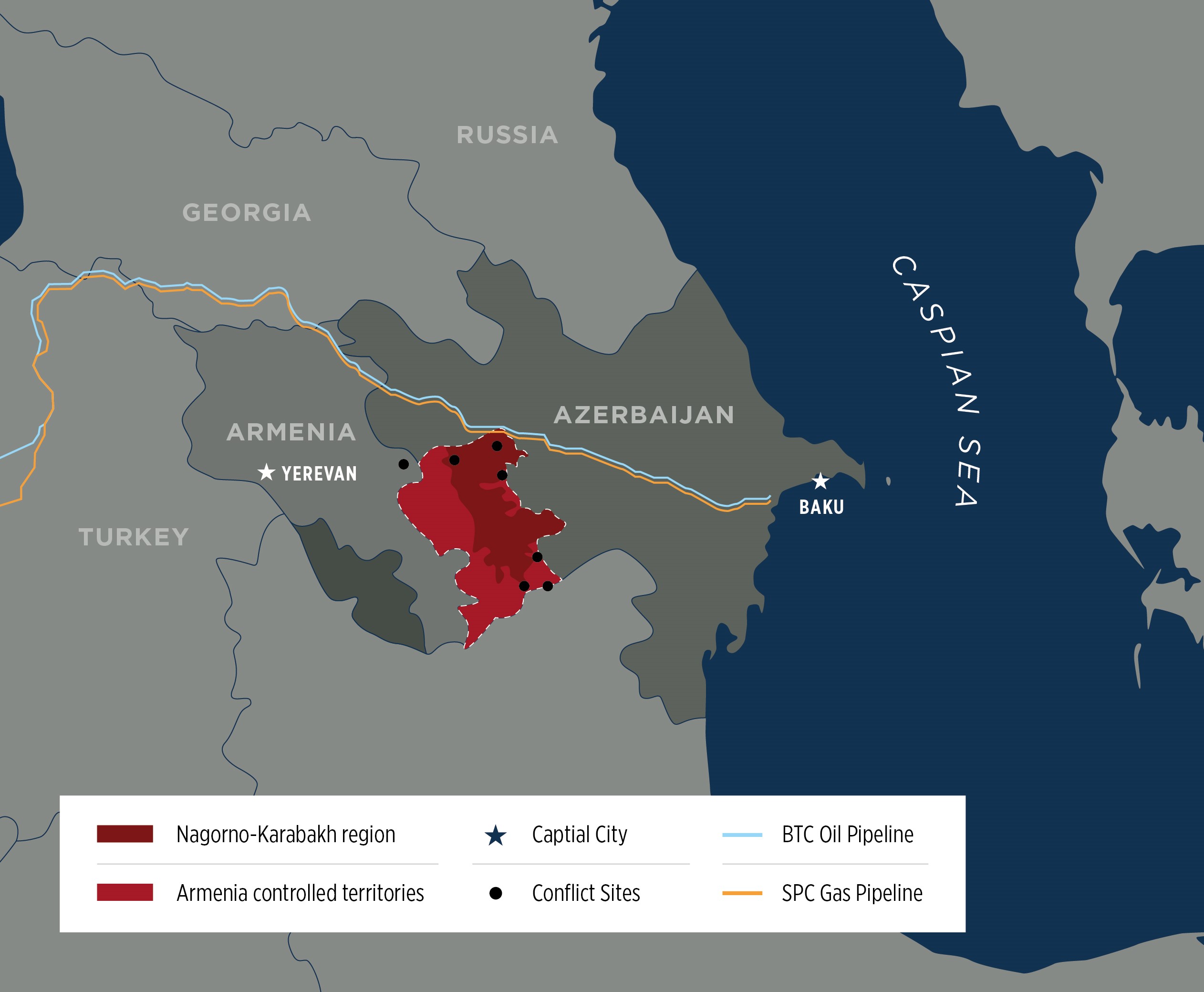 Support
Contact Global Guardian's 24/7 Operations Center for assistance with evacuations, emergency response, or ongoing intelligence support related to this incident.