The following analysis is part of Global Guardian's 2023 Risk Assessment Map. To explore and download the map, click here.
IMPACT
While there are current humanitarian and health impacts resulting from the violence in eastern Congo, an expansion of the conflict could disrupt the global supplies of cobalt and coltan which are vital for battery production. There are over 5.5 million internally displaced persons in the Democratic Republic of the Congo (DRC), with an additional 160,000 new refugees since June 2022. Further destabilization could also lead to severe disease outbreaks, including Ebola.
State Actors
The Democratic Republic of the Congo (DRC)
Uganda
Burundi
Rwanda
Non-State Actors
The March 23 Movement (M23) is a Congolese ethnic Tutsi insurgent group founded to hunt down Hutu genocidaires and to oppose the Democratic Forces for the Liberation of Rwanda (DFLR) and other Congo-based Hutu groups. It is also currently fighting the Congolese military.
The Allied Democratic Forces (ADF) is an anti-Ugandan government insurgent group with Salafi-Jihadist ideological elements that has been operating in eastern DRC since 1995. In 2019, the main faction of the ADF pledged allegiance to ISIL.
Resistance for Rule of Law in Burundi (RED-Tabara) is an armed Burundian opposition group based in eastern Congo. Many of its members are ethnic Tutsi.
The Democratic Forces for the Liberation of Rwanda (DFLR) is an ethnic Hutu group with ties to the 1994 Génocidaires that seeks to overthrow the Tutsi-led government in Rwanda.
There are over 120 other armed groups operating in eastern Congo.
CONTEXT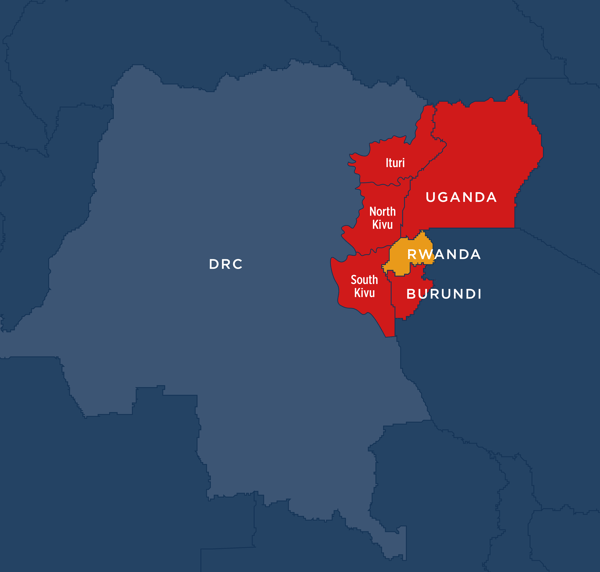 There is not one singular conflict in eastern Congo but rather a web of interconnected conflicts with roots in the 1994 Rwandan Genocide and other post-colonial ethnic dynamics. The Rwandan Genocide created a mass refugee crisis in the African Great Lakes Region with over 1.5 million ethnic Tutsis and over 1 million ethnic Hutus fleeing to eastern Zaire (currently the DRC) and forming opposing armed groups in Congo's North Kivu, South Kivu, and Ituri provinces.
Ethnic conflict in the DRC is exacerbated by the area's vast resource wealth, as well as by regional interstate competition. Rwanda, Burundi, and Uganda all maintain spheres of influence in the portion of eastern DRC that they border. The region's instability, the weakness of the central government, and conflicting external interests helped foment the First and Second Congo Wars.
In November 2021, the Ugandan army deployed to North Kivu and Ituri provinces with the stated intention of aiding Congolese forces rout ADF forces. The Ugandan intervention is also aimed at protecting its commercial interests in the DRC. In addition to securing oil deposits and creating a security environment conducive to expanding the market for its goods, Uganda aims to create a buffer zone to prevent cross-border attacks into Uganda. In December 2021, Burundi intervened in DRC to target Burundian RED-Tabara rebels.
Congo has accused Rwanda of sponsoring M23; Rwanda has accused the DRC, Uganda, and Burundi of supporting the DFLR; and Uganda has also accused Rwanda of support for the ADF. While none of the insurgent groups are under the direct control of their patrons, proxy conflict has not ceased since 1993 despite various peace agreements and the presence of a United Nations peacekeeping force.
CURRENT STATE
After being defeated in 2013, M23 reemerged and began launching attacks against the Congolese government in November 2021. M23's revival coincides with events contributing to Rwanda's growing isolation and a deterioration in its zero-sum competition with its neighbors. Uganda and Burundi – who Kigali considers hostile – are being allowed to pursue their security, economic, and political interests in DRC while it cannot. In addition, plans for a new road linking Goma, DRC to Kampala, Uganda, will also bypass Rwanda which will minimize Kigali's central role in regional commerce.
In March and April 2022, M23 fighters took control over key parts of Rutshuru territory, bordering Uganda and Rwanda in North Kivu, raided a Congolese military camp, and allegedly downed a UN helicopter. The offensive escalated in May with the capture of the Congolese military's main headquarters in North Kivu and its march towards the regional hub, Goma.
These attacks prompted Congolese President, Felix Tshisekedi to bar M23 from the most recent round of peace talks with the DRC's various rebel groups and give it a terror designation. In June, a Congolese soldier crossed the Rwandan border and fired at Rwandan soldiers, escalating tensions between the neighboring countries. Earlier in the year, Rwandan President Kagame warned that Rwanda may intervene in DRC without Kinshasa's consent, the specter of another Great Lakes Region proxy war now loom large.
ESCALATION TRIGGERS
Anti-Tutsi sentiment from Kinshasa ahead of the December 2023 elections
Regime collapse in Kinshasa
Major cross-border attack by a rebel group in a neighboring country
M23 Successfully Captures the City of Goma
Rwandan intervention in DRC to combat ethnic Hutu rebel groups
Sectoral Impact
Minerals (Cobalt, coltan, industrial diamonds)
Precious metals
Metals
Coffee and Tea
*Analysis last updated September 2022
Support
The Global Guardian team is standing by to support your security requirements. To learn more about our Duty of Care membership and emergency response capabilities, click below to contact Global Guardian's 24/7 Operations Center or call us directly at +1 (703) 566-9463.