Prior to February 2022, many experts, politicians, pundits, and business executives thought that major wars were a thing of the past.
Indeed, one of the main takeaways from the ongoing war in Ukraine is that the liberal democratic worldview pervasive in boardrooms in the West is not as universal as was once thought. War, hard power, and geopolitics are now back to a place of prominence in global affairs. It is therefore incumbent on business leaders and board members to protect their employees and insulate their firms from the varying security and economic impacts that current and future conflicts may produce.
Small and large wars alike do not start overnight. The underlying root causes and political grievances are there in plain sight for those paying attention. Conflict is not about the "where," but rather, it is about the "when." What catches people off guard is not paying attention to the warning signs and changing dynamics that transform a conflict from an abstract concept to a current reality.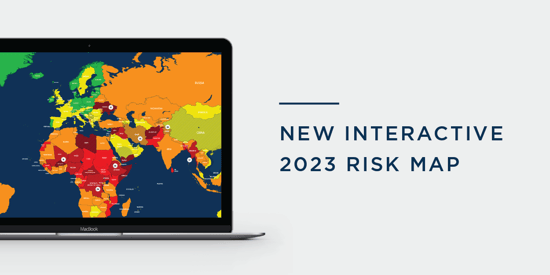 Here, in Global Guardian's 2023 Risk Map, our intelligence team highlights:
Country security risk rankings based on a series of indicators including crime, health, natural disasters, infrastructure, political stability, civil unrest, and terrorism

25 areas

of geopolitical tension and evaluates the prospects of escalation and their possible impacts
Five prominent geopolitical issues, identifying how they may devolve and whom they might impact
To explore this year's interactive Risk Assessment Map and download your copy, complete the form below.
View and Download the 2023 Risk Map