In Global Guardian's monthly Risk Barometer, our Intelligence Team highlights current global hotspots with the potential to impact your business operations and travels. Read below for analysis on the threats we are closely monitoring this month and click here to subscribe for regular intelligence updates, including this monthly report.

West Bank, Jerusalem Heating Up amid Raid, Terrorist Attack
Israel is currently on high alert after a string of deadly attacks, including the attack on a synagogue in an East Jerusalem neighborhood on 27 January that killed at least seven people. The attack marked the deadliest terror incident in over a decade. It comes as tensions have increased dramatically in the West Bank and the Gaza Strip following an Israeli security raid in Jenin which led to the death of seven suspected Palestinian militants who were reportedly planning an attack.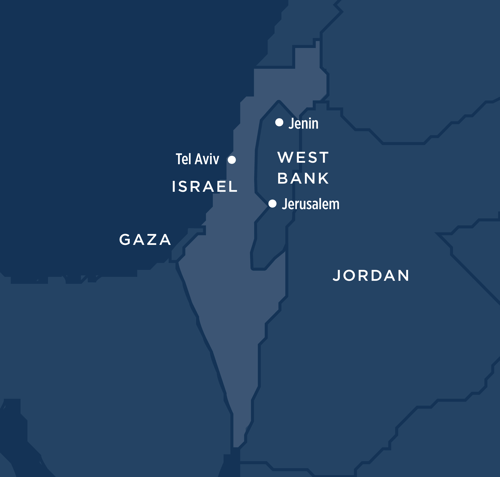 The root of this is that the Palestinian Authority has lost control over the northern West Bank, including the city of Jenin. Israel is filling the security gap, which in turn is increasing the hostility and sense of desperation on the part of Palestinian youth.
Palestinian Authority has paused security cooperation with Israel.
All the terrorists have been "lone wolves," no terror organizations have claimed responsibility. Hence these attacks are organic and a reflection of the overall political situation.
Israel has conducted numerous security operations to detain possible accomplices.
Israeli police have increased their presence throughout Jerusalem. They are working to disperse potential rioters and those already becoming violent in various locations throughout Jerusalem.
The Israeli Knesset is looking to fast track legislation to strip the residency and citizenship of terrorists and removing them to the territory of the Palestinian Authority.
The recent violence highlights the need for secure transportation in Israel, and to take extra security precautions when traveling to Jerusalem and the West Bank in the near-term.
Despite widespread support among Palestinians for armed resistance, they have not yet mobilized on a large scale. However, two key factors have the potential to bring the Palestinian community together and ignite a new uprising: the Temple Mount and the situation of security prisoners. A significant visit by Israeli officials to the Temple Mount or a coordinated hunger strike by Palestinian prisoners could spark widespread mobilization for armed struggle.
Separately, the IDF is on high alert following the alleged Israeli attack in Isfahan, Iran on 28 January. The targeted Isfahan facility is a munitions depot that could be connected to Iran's growing missile production.
Iran and Israel are engaged in a "War Between Wars," a shadow conflict where Israel seeks to limit the development of Iran's advanced military capabilities (nuclear program, ballistic missile production, drone program, precision guided munitions) through clandestine and other non-attributable actions. Instead of responding directly, Iran uses its proxies in the Middle East to attack Israel or it attacks Israeli interests abroad, including plots on tourists, diplomats, and maritime attacks on Israeli-owned shipping companies.
Iran is Prime Minister Benjamin Netanyahu's primary foreign and security policy concern, and the attack on Isfahan comes on the heels of the largest ever joint U.S.-Israeli military exercise which simulated a joint attack on Iranian nuclear facilities. Together, these events foretell increased military actions against Iran to establish the credibility of the military option now that a revised nuclear agreement appears to be off the table. As these operations increase, so does the potential for blowback and escalation.
Iran response options:
Cyber attacks
Drone or missile attacks against Israeli interests in countries like Iraq, Syria, Lebanon, and Yemen
Attacks on U.S. interests in the Middle East (military forces Iraq and Syria or U.S. commercial interests in Iraq)
Provoking Hamas and Palestinian Islamic Jihad attacks against Israel
KEY TAKEAWAYS
Jerusalem is a major flashpoint and further violence in the city is likely.
Israeli demolitions of the terrorists' homes and further high-profile raids have the potential to further inflame the situation.
A high-profile visit by members of the Israeli government to the Temple Mount or a hunger strike orchestrated by any Palestinian prisoners has the potential to spark another "uprising."
Iranian proxy attacks against Israeli interests are likely in the near term, including attempts to instigate further terror attacks in Israel.

Risk of all out conflict rising
Tensions are flaring between the Democratic Republic of the Congo (DRC) and Rwanda amid recent rebel and militant group violence in the border regions and could lead to an expansion of the conflict. Such a conflict could disrupt the global supply of cobalt and coltan which are vital for battery production. In addition, there are over six million internally displaced persons in the DRC. Further destabilization could also lead to a worsening humanitarian crisis and severe disease outbreaks, including Ebola.
There have been dozens of clashes, attacks, and battles in eastern and northeastern DRC since the M23 rebel group launched a renewed campaign in October 2022. They made significant gains in the DRC's North Kivu province that prompted Congolese officials to expel Rwandan ambassador Vincent Karenga on 29 October. In response, Rwandan officials increased troop deployment to the border in anticipation of Congolese retaliatory attacks.
The situation in eastern DRC highlights the need for proper travel and business continuity planning.
All border regions in the DRC should be avoided.
Rwanda is accused of providing material support to the M23 group. At the same time, the Armed Forces of the Democratic Republic of the Congo (FARDC) faces allegations of providing similar support to the Democratic Forces for the Liberation of Rwanda (FDLR), a group fighting the Rwandan government. There are over 100 other groups operating in the region, further complicating the situation.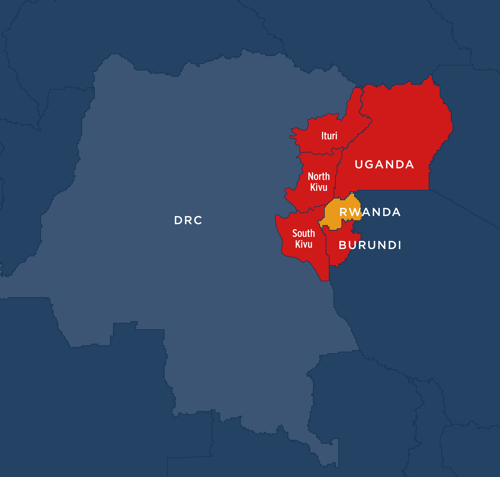 Recent Escalation
28 January 2023 - the Rwandan navy shot several rounds at a Congolese lake police post in Ibinja in the territory of Kalehe, South Kivu, on the Congolese-Rwandan border, during late evening hours on 28 January. No casualties were reported.
24 January 2023 - a Congolese fighter jet was hit by a Rwandan missile while flying over Goma, North Kivu – which is situated on the DRC-Rwanda border. The jet landed at Goma Airport (GOM/FZNA) without reports of casualties. Rwandan authorities indicated they took defensive measures after the Congolese jet allegedly violated its airspace.

28 December 2022 - An explosive device targeted a Congolese fighter jet over Lake Kivu, at the Rwanda border. No group claimed immediate responsibility for the attack.


29 November 2022 - At least 272 people were killed in Kishishe, Rutshuru territory, North Kivu, in a suspected M23 militant attack amid clashes among M23 militants, FARDC soldiers, Mai-Mai militia, and Democratic Forces for the Liberation of Rwanda (FDLR) rebels.
Context
There is not one singular conflict in eastern Congo but rather a web of interconnected conflicts with roots in the 1994 Rwandan Genocide and other post-colonial ethnic dynamics. The Rwandan Genocide created a mass refugee crisis in the African Great Lakes Region with over 1.5 million ethnic Tutsis and over one million ethnic Hutus fleeing to eastern Zaire (currently the DRC) and forming opposing armed groups in Congo's North Kivu, South Kivu, and Ituri provinces.
Ethnic conflict in the DRC is exacerbated by the area's vast resource wealth, as well as by regional interstate competition. Rwanda, Burundi, and Uganda all maintain spheres of influence in the portion of eastern DRC that they border. The region's instability, the weakness of the central government, and conflicting external interests helped foment the First and Second Congo Wars.
Current State
After being defeated in 2013, M23 reemerged and began launching attacks against the Congolese government in November 2021. M23's revival coincides with events contributing to Rwanda's growing isolation and a deterioration in its zero-sum competition with its neighbors. Uganda and Burundi – who Kigali considers hostile – are being allowed to pursue their security, economic, and political interests in DRC while it cannot. In addition, plans for a new road linking Goma, DRC to Kampala, Uganda, will also bypass Rwanda which will minimize Kigali's central role in regional commerce.
In March and April 2022, M23 fighters took control over key parts of Rutshuru territory, bordering Uganda and Rwanda in North Kivu, raided a Congolese military camp, and allegedly downed a UN helicopter. The offensive escalated in May with the capture of the Congolese military's main headquarters in North Kivu and its march towards the regional hub, Goma.
These attacks prompted Congolese President, Felix Tshisekedi to bar M23 from the most recent round of peace talks with the DRC's various rebel groups and give it a terror designation. In June 2022, a Congolese soldier crossed the Rwandan border and fired at Rwandan soldiers, escalating tensions between the neighboring countries. Earlier in the year, Rwandan President Kagame warned that Rwanda may intervene in DRC without Kinshasa's consent.
A 25 November 2022 ceasefire brokered between DRC and Rwandan officials was accepted by M23, however the group has continued to take territory and clash with the Congolese military.
KEY TAKEWAYS
While still improbable, the risk of open conflict between the DRC and Rwanda rises with every rebel group attack and incident involving official military personnel. The DRC has many security issues occupying its resources and Rwanda would risk further regional isolation if it invaded its neighbor. Yet both presidents are using increasingly belligerent language, possibly intended to prepare the populations for military action. Given the tension and current ground setting taking place, an errant Congolese rocket that falls in Rwanda or an intentional attack on a Rwandan arms transfer to M23 could be used to justify a Rwandan military operation within a hostile DRC.
CUSTOM INTELLIGENCE
Our intelligence analysts provide in-depth custom reports—including critical insight from on-the-ground resources—for clients and organizations in need of real-time analysis of world events with the potential to impact business operations. To learn more—and start building your report—complete the form below.