As of this morning, Hurricane Isaias is a Category 1 storm with wind speeds in excess of 75MPH. It is currently tracking northward towards the Bahamas, where a Hurricane Warning is in effect. A Hurricane Watch has just been issued for portions of the Florida east coast from Deerfield Beach northward to the Volusia-Brevard County Line. A Tropical Storm Warning is in effect for the Dominican Republic and Turks & Caicos Islands.
Primary Threats - Caribbean
Heavy rains

Potentially life-threatening flash flooding and mudslides in the following areas over the next 12-24 hours:

Bahamas

Dominican Republic

Northern Haiti

Turks & Caicos
Forecast predictions show the storm tracking along the east coast of Florida, where it could bring tropical-storm-force winds and heavy rains through the weekend. While storm surge warnings are not in effect for the coast of Florida, this may change if the forecast track shifts closer to the coastline. The storm will be felt from south Florida all the way up to northeast Florida.
Primary Threats - Florida
Isolated flash and urban flooding, especially in low-lying areas

Isolated river flooding possible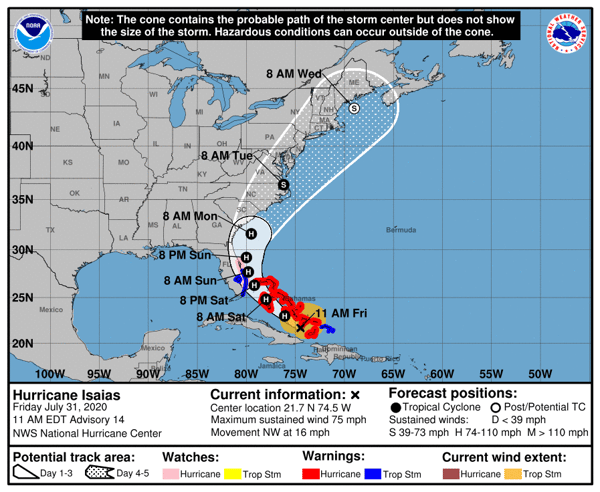 In response to Hurricane Isaias, Global Guardian is standing by to deploy helicopters, rescue boats, experienced security and medical personnel, and communications gear – satellite telephones, Broadband Global Area Network (data/internet) – to support our clients in the affected path. To read our in-depth report on Preparing for Hurricane Season 2020, click here.
If you are in need of assistance, please call or email our 24/7 Operations Center by clicking below.