The Gulf Coast is facing an unprecedented threat in the coming days - back to back storms that could make landfall within 48 hours of each other. Tropical Storm Marco and Tropical Storm Laura will impact Louisiana and Texas, bringing heavy rains and storm surge to coastal areas. Global Guardian is standing by to support emergency response and support requirements,

including power generators, personal protective equipment, and communications systems. To learn about our full capabilities, click here.
Tropical Storm Marco
Downgraded from Cat. 1 hurricane after losing strength in the Gulf of Mexico.
Maximum sustained winds of 50 MPH
Gusty winds, storm surge, and heavy rainfall expected along the Louisiana Gulf Coast starting later today.
Storm Surge Warning in effect:
Morgan City, LA to Ocean Springs, MS.
Lake Borgne
Tropical Storm Warning in effect:
Intracoastal City to MS/AL border
Lake Pontchartrain, Lake Maurepas, and Metropolitan New Orleans
While New Orleans is under a Tropical Storm Warning, it is not at risk of significant storm surge or wind damage.
Tropical Storm Laura
Currently located off the coast of Cuba.
Expected to strengthen to a Cat 1. hurricane by early Tuesday and may become a Cat. 2 hurricane when it makes landfall near the Texas-Louisiana border sometime on late Wednesday.
From late Wednesday into Friday, Laura is expected to produce 5-10 inches of rain across portions of the west-central Gulf Coast.
While details of the long-range track and intensity forecasts remain uncertain, there is increasing risk of dangerous storm surge, heavy winds, and flood-producing rains along the Texas and Louisiana Gulf Coasts, compounding impacts from Tropical Storm Marco.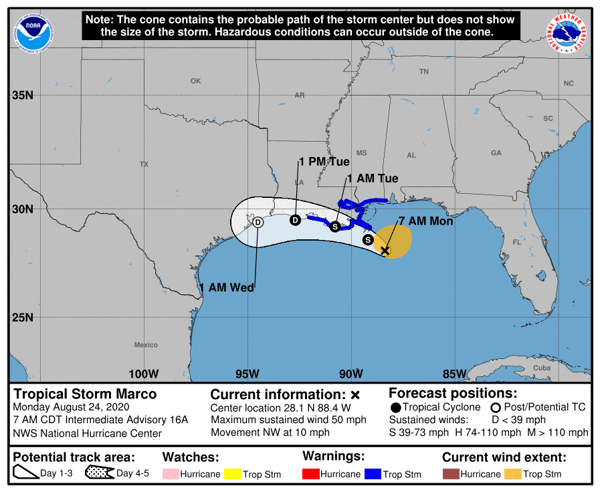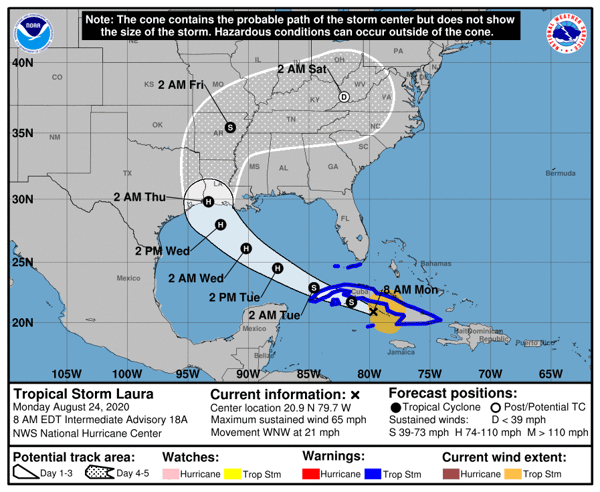 Support
In response to these threats, Global Guardian is standing by to deploy helicopters, rescue boats, experienced security and medical personnel, and communications gear – satellite telephones, Broadband Global Area Network (data/internet) – to support our clients in the affected path.
If you are in need of assistance, please call our 24/7 Operations Center at +1 (703) 566-9463 or email us by clicking below.