In the morning hours of 18 August, soldiers loyal to Colonel Assimi Goita, Colonel Diaw, Colonel Sadio Camara, General Cheick Fanta Mady Dembele, and Colonel Mama Sekou Lelenta took over a large military base on the outskirts of the capital Bamako before descending on the city. Coup leaders arrested President Keita, Prime Minister Boubou Cissé, and members of the Malian cabinet.
Unconfirmed reports indicate that gunfire was heard in multiple Bamako districts in the evening hours. At midnight (local time), President Keita announced his resignation and the dissolution of the government. On 19 August, the coup leaders issued a statement identifying themselves as the National Committee for the Salvation of the People (CNSP) with the aim of establishing a caretaker government until free and fair elections are held.
Colonel Assimi Goita has emerged as the leader of the military coup and held talks with opposition leaders. The transitional government will be in power for nine months, act with full executive and legislative powers, and appoint a new Prime Minister. The CNSP announced that elections for a new civilian government will then be held in April 2021, and that no member of the transitional government will be permitted to run for office.
A nationwide curfew from 9:00 pm to 5:00 am local time has been declared. Mali's air and land borders have been sealed until further notice and the Modibo Keita International Airport (BKO) in Bamako is closed, with all commercial flights suspended. The U.S. Embassy has issued a warning and is recommending for expats to shelter-in-place if possible, avoid gatherings, and maintain a low profile.
Analysis
The current political crisis began in March over the country's contested parliamentary election. Mali's constitutional court intervened in the election to tilt the scale in favor of the incumbents and an opposition politician was kidnapped, sparking mass protest. Last month, security forces killed at least 11 protesters as tensions continued to rise.
The corrupt war economy that has emerged from the central government's mismanagement of Mali's jihadist insurgency is at the root of the conflict. Mali has a long history of coups d'état, with this week's coup sharing many similarities to the nation's last one in 2012. Both coups began at the Kati military base outside Bamako in response to escalating jihadist violence.
The porous Mali-Burkina Faso border serves as the nexus of jihadist activity in the Sahel region. So far in 2020, over 1,800 people have been killed in clashes between government and international forces, jihadists, and ethnic militias. The 15,000 strong peacekeeping force and French military support has been unable tamp down the violence. With elections in neighboring Burkina Faso, Ivory Coast, and Ghana – which have also seen recent protests – there are fears that jihadist movements could take advantage of regional political instability and existing grievances as they did in 2012.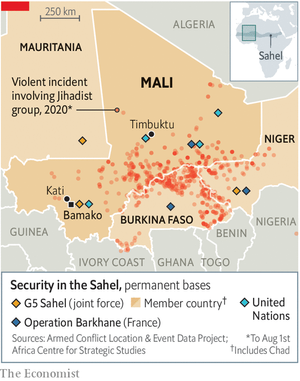 Support
Contact Global Guardian's 24/7 Operations Center for assistance with evacuations, emergency response, or ongoing intelligence support related to this incident.