Total confirmed cases in the U.S. have exceeded 400,000 after more than 33,000 new cases were recorded in the last 24hrs.
More than two million tests have been performed in the U.S. to date. Among the worst affected states are New York, New Jersey, Louisiana, Massachusetts, Michigan, and Connecticut when looking at cases per capita.
California governor Gavin Newsom announced the state had secured nearly 200 million masks per month for health care workers amid a global shortage. Los Angeles mayor Eric Garcetti reiterated guidance for anyone in the city to wear a face mask while out in public such as in grocery stores or pharmacies where social distancing is difficult.
The U.S. is approaching peak daily deaths after 1,970 were recorded in the last 24hrs. Data models show daily deaths will peak on 12 April at just over 2,200 deaths. Models are now projecting fewer total deaths due to COVID-19 in the U.S., down to 60,000 deaths after initial projections showed 94,000 deaths just a week ago. This indicates the social distancing and non-essential movement restrictions are working. While daily new cases and daily deaths continue to rise, they should plateau in the next 5-7 days and then slowly decline.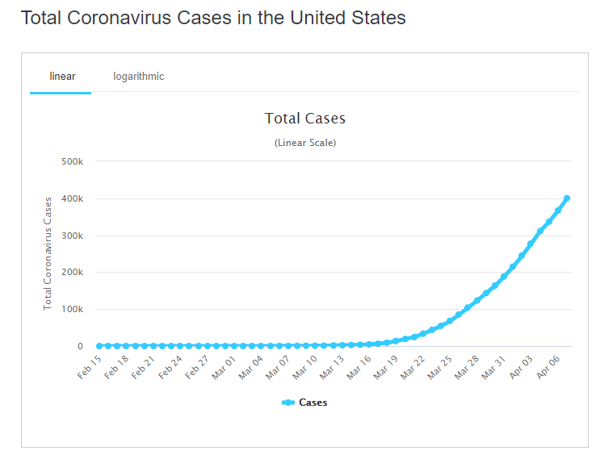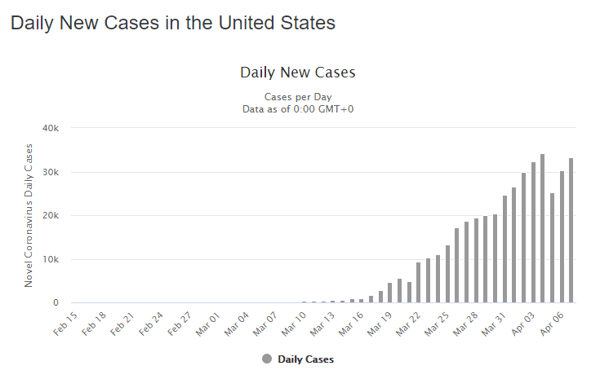 Latest Global Updates:
Austria became the first European country to announce a relaxation of restrictions; smaller stores will reopen on 14 April while all other shops, shopping centers, hairdressers will open from 1 May and restaurants, hotels will open in mid-May.
Singapore will enact a partial one-month lockdown on 7 April. All non-essential businesses were ordered to close and social gatherings of any kind are prohibited.
Chinese officials reported no new deaths related to the virus for the first time since January. On 8 April, authorities lifted a 76-day lockdown on Wuhan, the epicenter of the outbreak, allowing healthy residents and visitors to leave the city; trains and flights resumed and highway entrances were reopened.
Hong Kong

is barring non-residents who arrive by flight from any location outside of mainland China, Macau, or Taiwan. Non-Hong Kong residents arriving from mainland China, Macau, or Taiwan are barred from entering if they have been to any other countries in the past 14 days. All residents and non-residents that arrive in Hong Kong will be subject to a 14-day quarantine. These restrictions will be in place until further notice.

Sri Lanka

has closed all international airports and suspended visa-on-arrival.

Kenya has suspended all outbound international flights until 5 May. All travelers are barred from entering the country except Kenyan nationals and residents.
Jordan is barring all foreigners from entering with the exception of residents, people bringing aid, and diplomats. All arriving travelers are subject to quarantine upon arrival. These policies will be in place until at least 27 April.
Thailand has banned all commercial flights from landing in the country until at least 18 April. Phuket province has closed all land and sea borders.
The United Arab Emirates has suspended all inbound international flights. All inbound and outbound passenger and transit flights are temporarily suspended. Cargo operations are exempt.
What we know:
Nearly 1.5 million confirmed cases worldwide

85,000 deaths

316,254 recovered
CURRENT STATUS
The focus in the U.S. remains on shelter-in-place measures to limit the spread of COVID-19, while ramping up the production of ventilators and personal protective equipment such as masks and gowns. Working from home, closing of schools, and social distancing in public are all part of an effort to "flatten the curve" of cases to prevent the sudden overwhelming of the country's healthcare system.
As COVID-19 spreads, more and more countries will institute domestic and international travel restrictions. These policies are changing constantly as the pandemic evolves. The International Air Transport Association maintains a list of airline travel restrictions.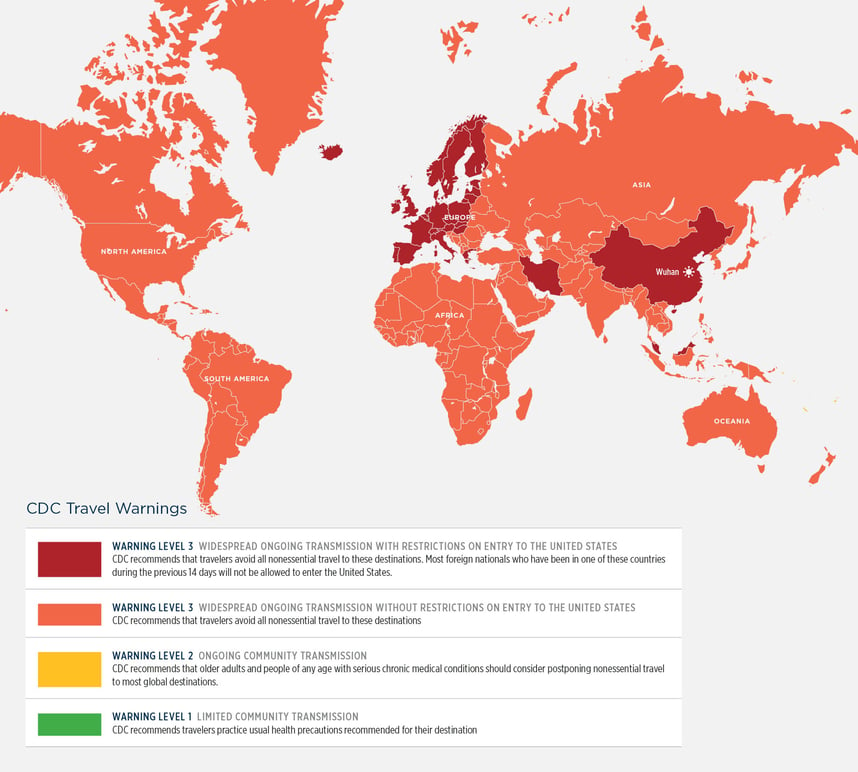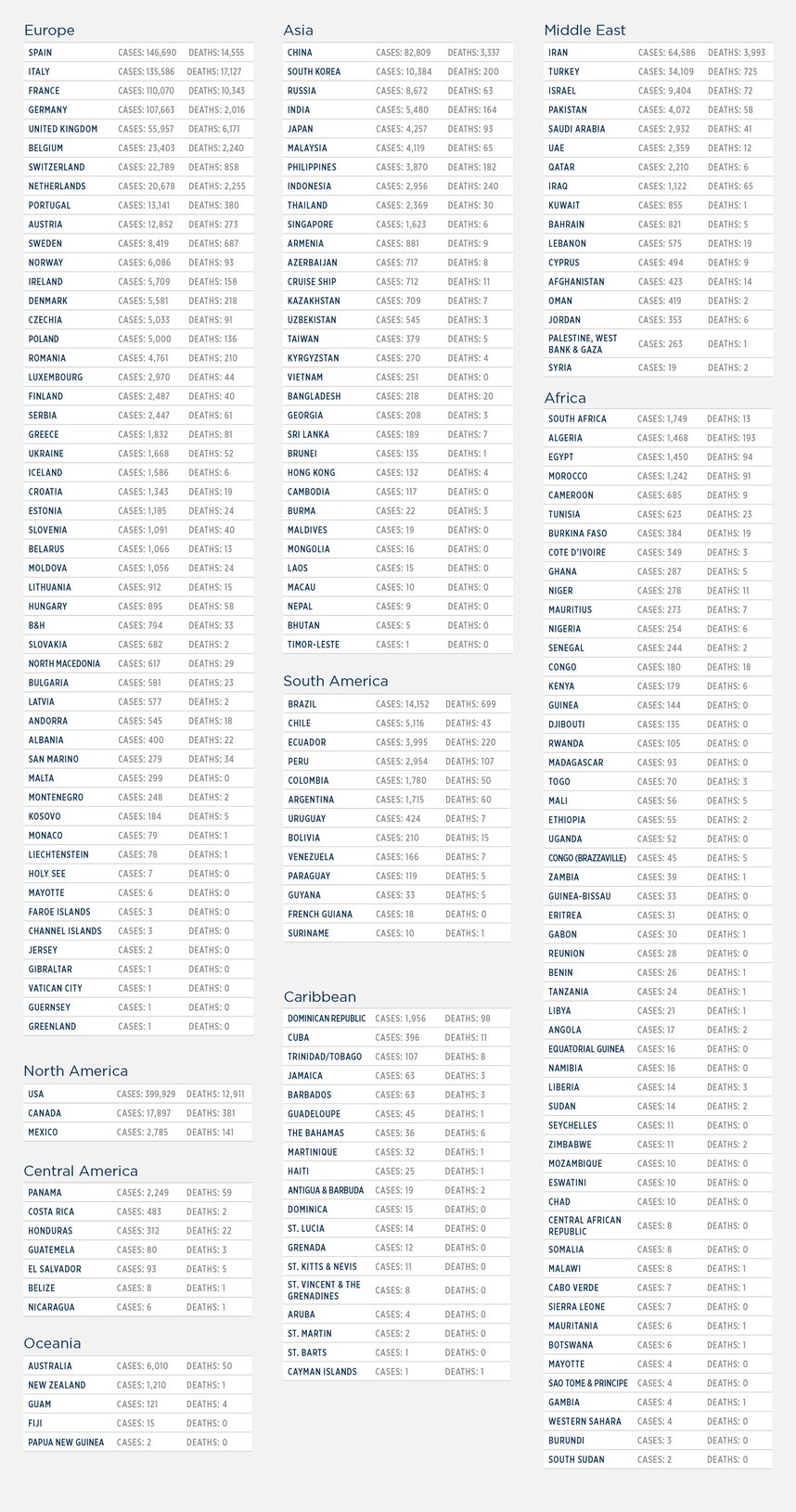 TRAVEL ADVICE
The U.S. State Dept. has issued Level 4: DO NOT TRAVEL guidance for the entire world amid the COVID-19 pandemic. The U.S. CDC has issued a Domestic Travel Advisory for New York, New Jersey, and Connecticut. It urges residents of these states to refrain from non-essential domestic travel for 14 days.
In addition, Global Guardian recommends the following:
Return to the U.S. if currently abroad while commercial means are still available. Otherwise, prepare to remain abroad for an indefinite period.
Avoid all international travel.

Practice advanced careful hygiene measures, including frequent hand washing and sanitizing.

Practice "social distancing" while in public spaces.
OUTLOOK
The outlook is cautiously optimistic as several European countries start to see a flattening of the curve in new cases 14-20 days after instituting aggressive lockdown measures. Italy is starting to see sustained positive effects on case growth after more than 20 days of nationwide lockdown and quarantine. New cases are declining significantly and daily deaths are flattening out.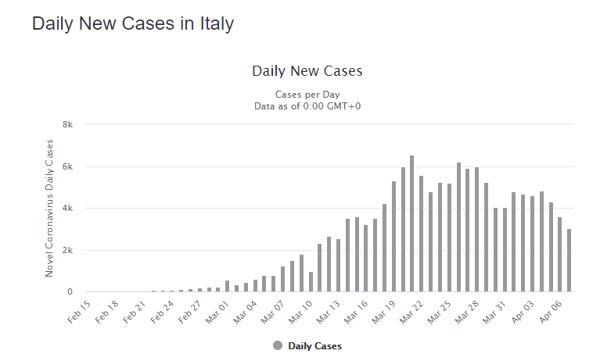 Support
Global Guardian is closely monitoring the situation. To request additional support or learn more about pricing on customized daily intelligence reports tailored to your organization's interests, please reach out to our security analysts by clicking below.