Global confirmed cases are nearing 1.3 million while deaths in the U.S. approach 10,000.
Data shows that 05 April saw the first dip in new confirmed cases in the U.S., from 32,000 the day before to 25,000, indicating social distancing and lockdown measures are starting to have an effect after just over two weeks of implementation. The next 7-10 days will show more clearly if the trend will hold. Adjusted projections show peak daily deaths in the U.S. at 3,130 on 16 April. Previous modeling showed a peak daily death rate of 2,600; however, the total number of deaths is projected lower from last week, at 81,766 vs 94,000 in a previous model.
Other countries are starting to see a "flattening of the curve" of both new cases and daily deaths, including Italy, Spain, France, and Germany. The UK and Turkey are on continued upward trends for both new cases and daily deaths. Prime Minister Boris Johnson remained in the hospital on Monday after being admitted the day before for tests under his doctor's advice, more than a week after he tested positive for the virus.
In the U.S., the CDC issued guidance recommending the use of cloth face coverings or masks while in public places such as pharmacies and grocery stores where social distancing is difficult to maintain. This comes after health experts estimated that 25-50% of all people infected with the virus may not have any symptoms.
There are now just five states without any statewide orders for residents to stay-at-home unless necessary. These are Arkansas, Iowa, South Dakota, North Dakota, and Nebraska. It is likely that governors of these states will all issue similar stay-at-home orders in the coming week as the outbreak continues to worsen.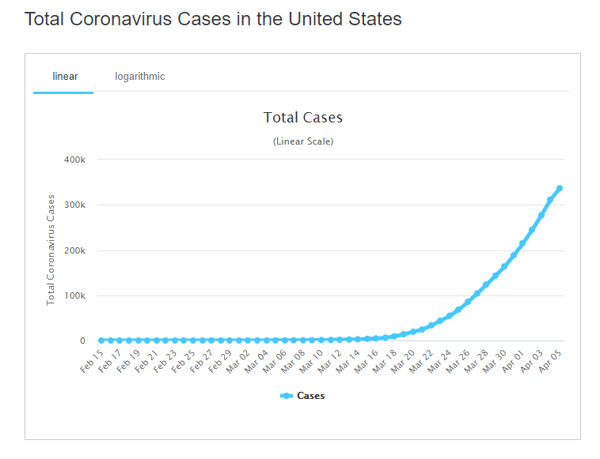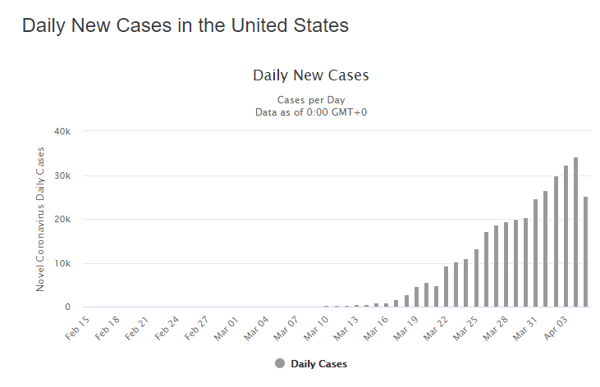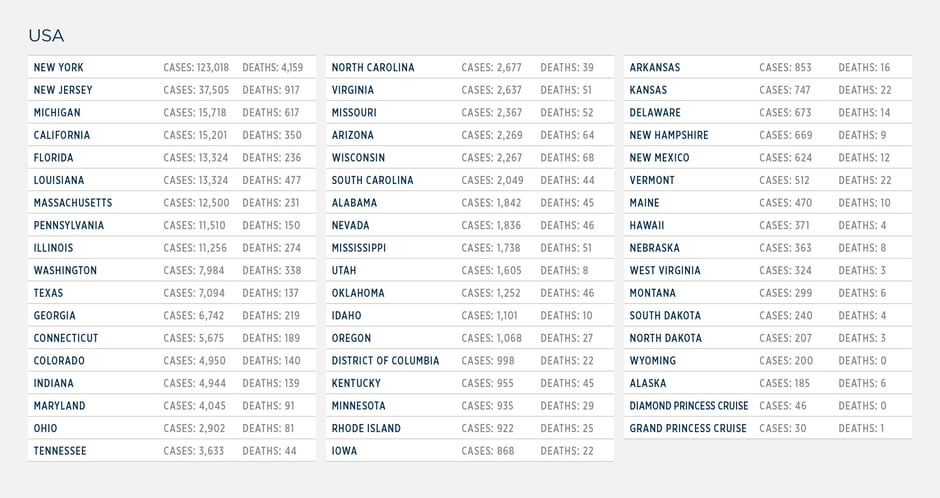 Latest Global Updates:
Since 31 March, protests have occurred in Chile, the Philippines, Pakistan,India, Israel, Iraq, Kenya, Colombia, Lebanon, Honduras, the DemocraticRepublic of the Congo and other countries over governments' distribution of food and medical care within communities facing shortages as well as by religious groups demanding to reopen houses of worship to the public.


South Korea reported fewer than 50 daily cases for the first time since February.


Israel will extend COVID-19 lockdown measures in urban areas ahead of the Passover holiday (8-16 April) to limit non-essential movement while security forces are redeployed to more strictly enforce social distancing rules, especially in ultra-orthodox neighborhoods where outbreaks have been concentrated.


Chile is barring all foreigners from entering with the exception of residents, people bringing aid, and diplomats. All arriving nationals and residents of Chile will be quarantined for 14 days.

Turkey has closed Sabiha Gokcen International Airport until at least 30 April.

Russia has suspended all international and domestic flights, effective 05 April. All repatriation flights were suspended starting 03 April.
What we know:
Nearly 1.3 million confirmed cases worldwide

70,000 deaths

272,000 recovered
CURRENT STATUS
The focus in the U.S. is shifting to shelter-in-place measures to limit the spread of COVID-19, while ramping up the production of ventilators and personal protective equipment such as masks and gowns. Working from home, closing of schools, and social distancing in public are all part of an effort to "flatten the curve" of cases to prevent the sudden overwhelming of the country's healthcare system.
As COVID-19 spreads, more and more countries will institute domestic and international travel restrictions. These policies are changing constantly as the pandemic evolves. The International Air Transport Association maintains a list of airline travel restrictions.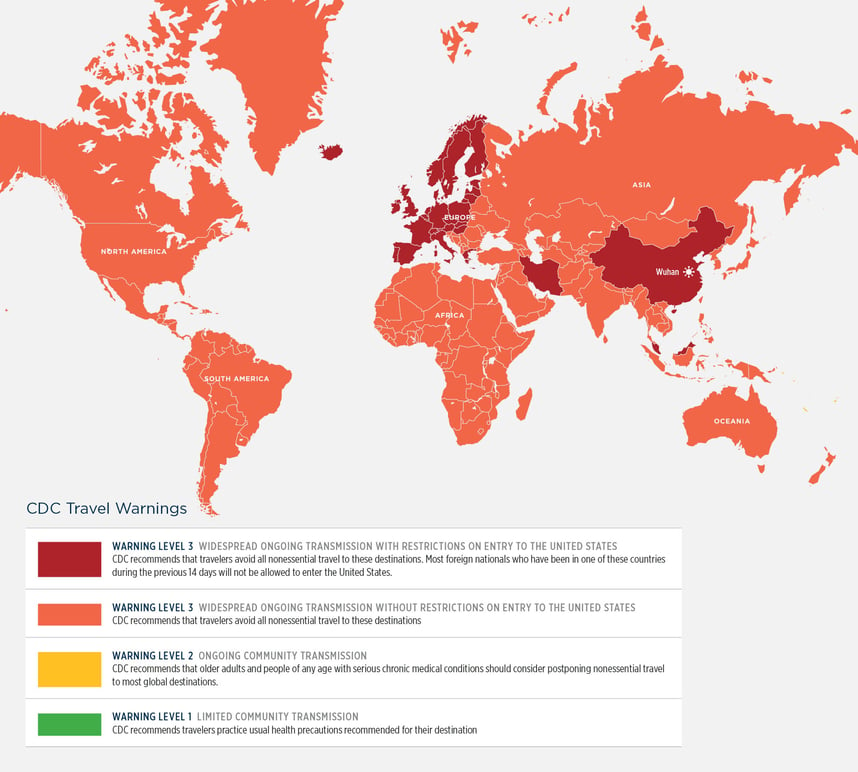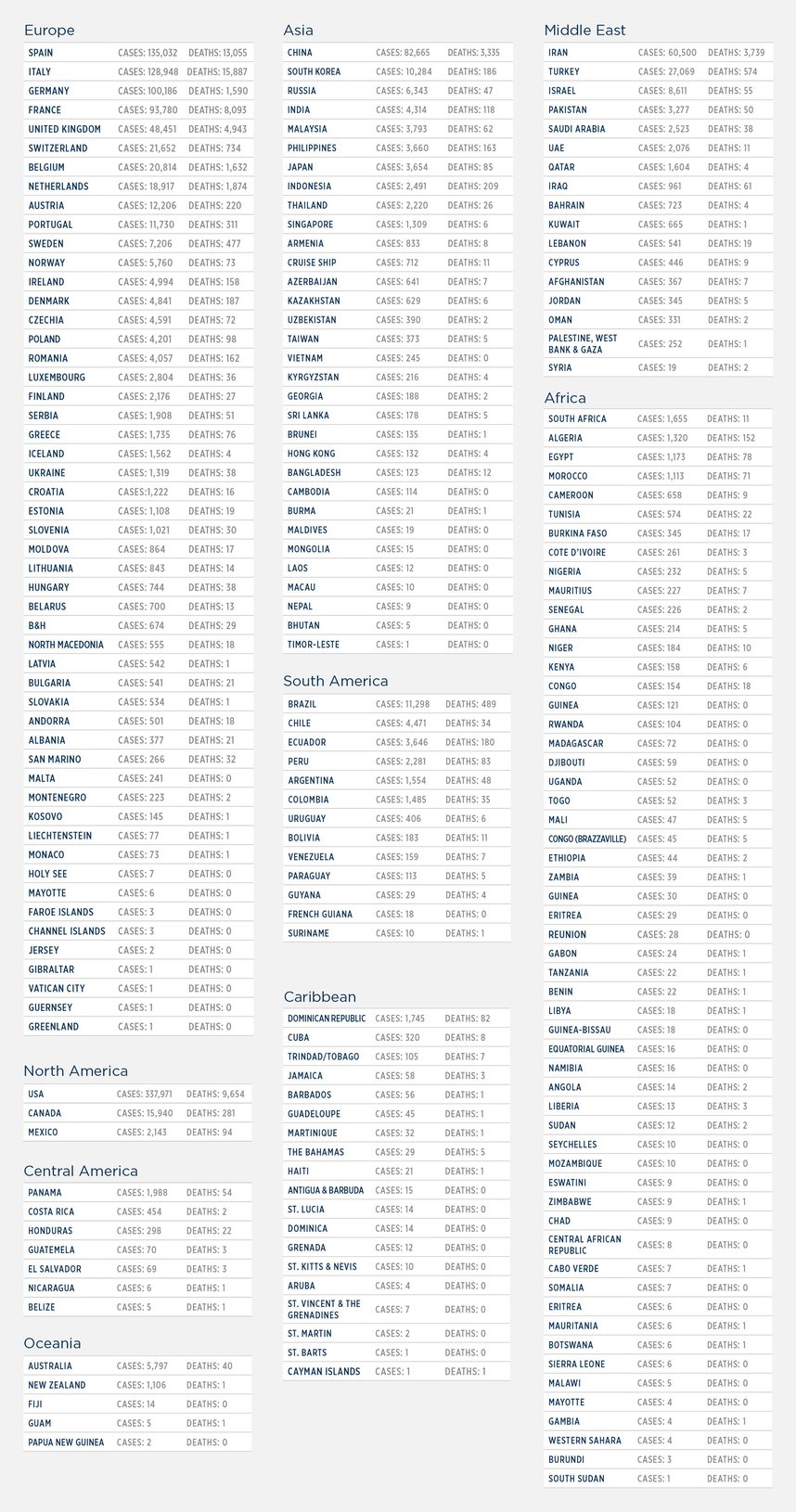 TRAVEL ADVICE
The U.S. State Dept. has issued Level 4: DO NOT TRAVEL guidance for the entire world amid the COVID-19 pandemic. The U.S. CDC has issued a Domestic Travel Advisory for New York, New Jersey, and Connecticut. It urges residents of these states to refrain from non-essential domestic travel for 14 days.
In addition, Global Guardian recommends the following:
Return to the U.S. if currently abroad while commercial means are still available. Otherwise, prepare to remain abroad for an indefinite period.
Avoid all international travel.

Practice advanced careful hygiene measures, including frequent hand washing and sanitizing.

Practice "social distancing" while in public spaces.
OUTLOOK
The outlook is cautiously optimistic as several European countries start to see a flattening of the curve in new cases 14-20 days after instituting aggressive lockdown measures. Italy is starting to see positive effects on case growth after more than 20 days of nationwide lockdown and quarantine. New cases are declining significantly and daily deaths are flattening out.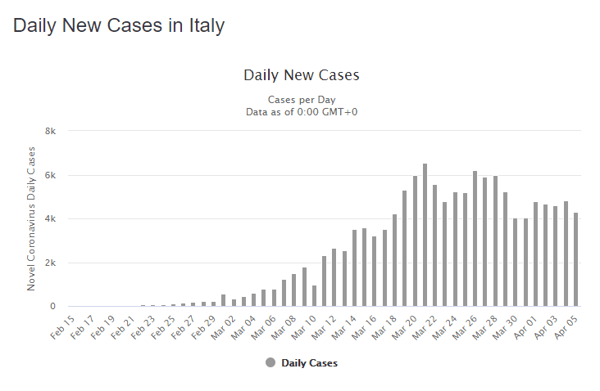 Support
Global Guardian is closely monitoring the situation. To request additional support or learn more about pricing on customized daily intelligence reports tailored to your organization's interests, please reach out to our security analysts by clicking below.