Global cases surpassed one million on 02 April after the U.S. recorded nearly 30,000 new cases. The U.S. now has nearly 250,000 confirmed cases amid community spread in at least 46 states. New York remains the hardest hit state in the country. Cases in the U.S. are doubling every three to four days and there are approximately 1,000 deaths per day. Models predict this number will peak at 2,600 deaths per day on 16 April before starting to slowly decline.
Multiple states have recently issued stay-at-home orders, including; Georgia, Florida, Tennessee, Mississippi, Nevada, and Maine.
There are now just twelve states without any statewide orders for residents to stay-at-home unless necessary. It is likely that governors of these states will all issue similar stay-at-home orders in the coming week as the outbreak continues to worsen.
The vast majority of the U.S. population is under a stay-at-home order and more than 4 billion people around the world are living under some form of lockdown due to the COVID-19 pandemic. In the U.S., an economic demand shock has led to 6.6 million new unemployment claims, double the previous week. A total of 10,000,000 people have filed for unemployment in the last three weeks.
The mayors of New York City and Los Angeles issued recommendations that residents wear masks when out in public doing grocery shopping or making any other essential trip. Similar guidance may be issued by the CDC for nationwide adoption in the coming days.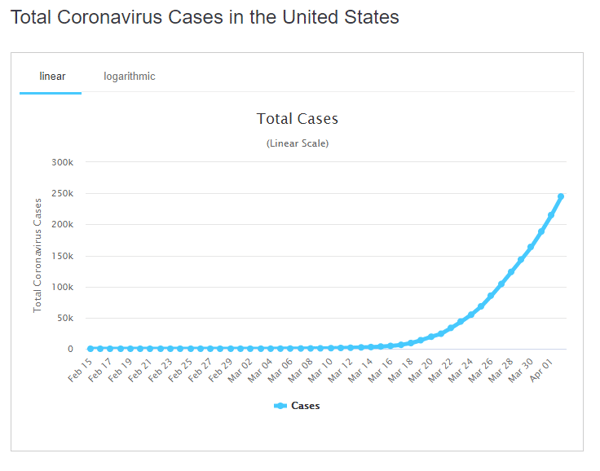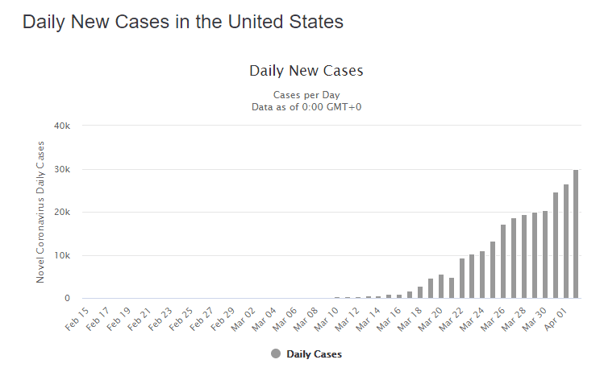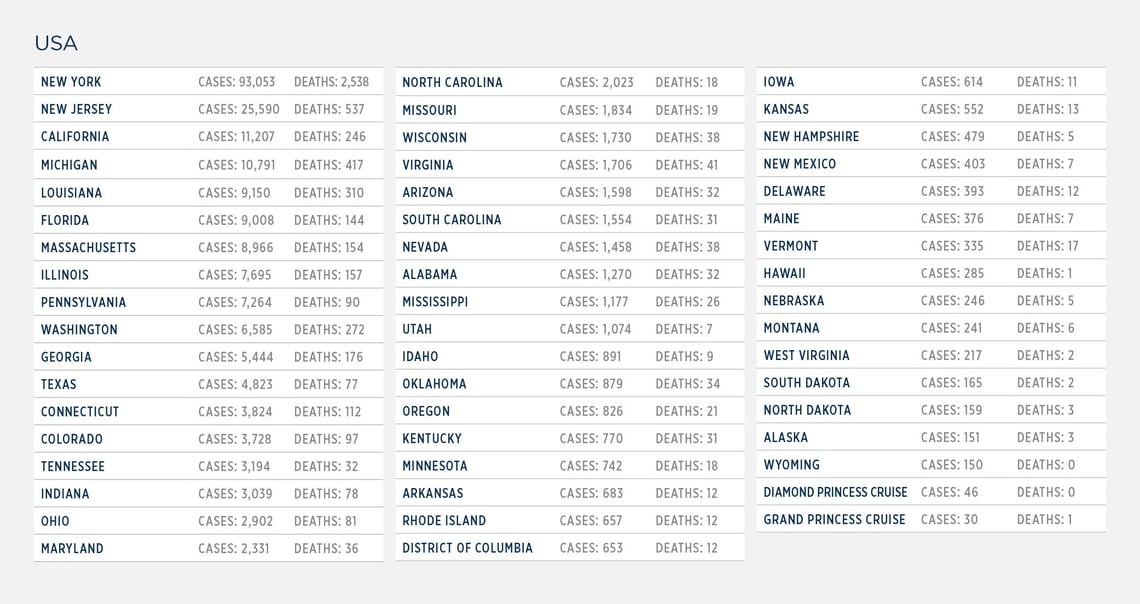 Latest Global Updates:
Portugal will close all of its airports between 9-13 April. The only flights permitted to operate during that timer will be for repatriating citizens and transporting goods.

Vietnam has halted all inbound and domestic flights until 15 April. All travelers are barred from entering. Exceptions to this include individuals traveling for diplomatic, official, or some business purposes; Vietnamese nationals; and residents of Vietnam. Those authorized to enter will be quarantined for 14 days.

Costa Rica has halted all inbound and outbound commercial flights until further notice.

France's Paris Orly Airport has been closed to commercial flights until further notice. Official flights, as well as health-related and emergency flights will still operate. All remaining flights from Orly Airport will operate from Paris Charles de Gaulle Airport (IATA: CDG).
What we know:
1,041,118 confirmed cases worldwide

55,203 deaths

222,332 recovered
CURRENT STATUS
The focus in the U.S. is shifting to shelter-in-place measures to limit the spread of COVID-19, while ramping up of production of ventilators and personal protective equipment such as masks and gowns. Working from home, closing of schools, and social distancing in public are all part of an effort to "flatten the curve" of cases to prevent the sudden overwhelming of the country's healthcare system.
As COVID-19 spreads, more and more countries will institute domestic and international travel restrictions. These policies are changing constantly as the pandemic evolves. The International Air Transport Association maintains a list of airline travel restrictions.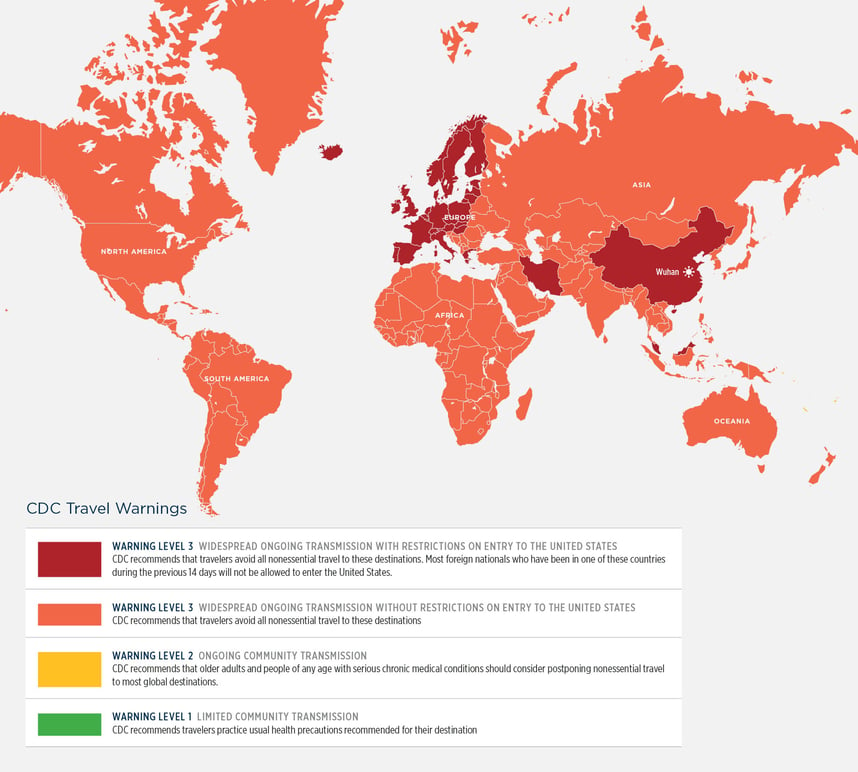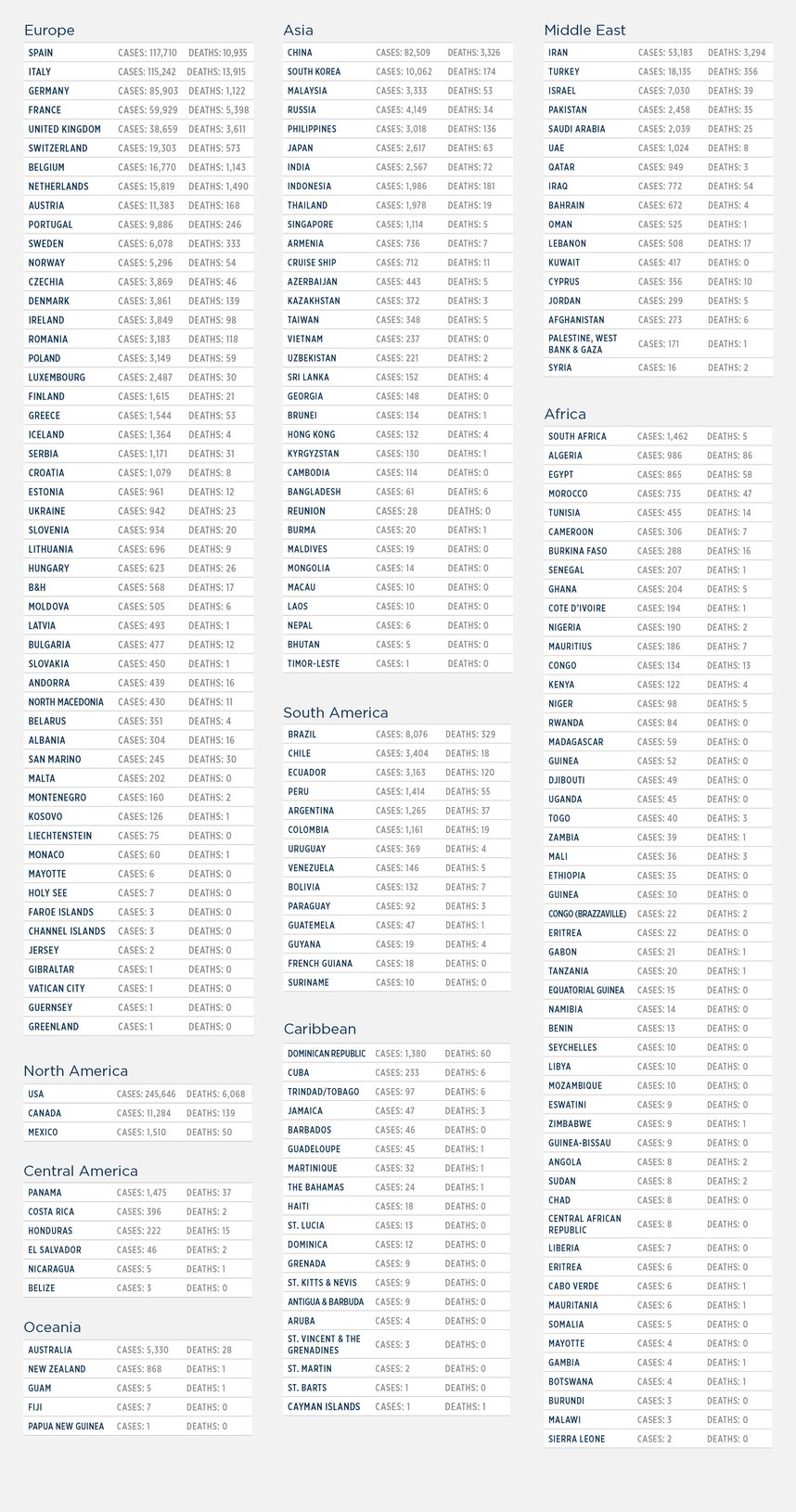 TRAVEL ADVICE
The U.S. State Dept. has issued Level 4: DO NOT TRAVEL guidance for the entire world amid the COVID-19 pandemic. In addition, Global Guardian recommends the following:
Return to the U.S. if currently abroad while commercial means are still available. Otherwise, prepare to remain abroad for an indefinite period.
Avoid all international travel.

Practice advanced careful hygiene measures, including frequent hand washing and sanitizing.

Practice "social distancing" while in public spaces.
OUTLOOK
The outlook is cautiously optimistic as several European countries start to see a flattening of the curve in new cases 14-20 days after instituting aggressive lockdown measures. Italy is starting to see positive effects on case growth after more than 20 days of nationwide lockdown and quarantine. New cases are declining significantly and daily deaths are flattening out.
Support
Global Guardian is closely monitoring the situation. To request additional support or learn more about pricing on customized daily intelligence reports tailored to your organization's interests, please reach out to our security analysts by clicking below.