President Trump warned the American public that the next two weeks could be "very painful" as cases continue to grow across the country.
There were 24,000 new cases recorded in the last day. Dr. Deborah Birx, Coronavirus Response Coordinator for the White House Coronavirus Task Force, released models that predict 100,000-240,000 people could die in the U.S. from COVID-19 over the coming months. New York, New Jersey, California, Michigan, and Florida have the most confirmed cases, respectively.
In NYC, more than 2,000 nurses, 500 paramedics and emergency medical technicians, and 250 ambulances were converging on the city from across the country. This is in addition to the USNS Mercy, a Navy hospital ship that arrived in New York City harbor to assist with non-COVID-19 cases so that hospitals in the city can dedicate all their resources to treating COVID-19 patients.
In Virginia, Governor Ralph Northam issued one of the most stringent stay-at-home orders in the country. It extends to 10 June, far longer than most other states and may be indicative of the true length of extreme social distancing and lockdown measures needed to halt the spread of COVID-19.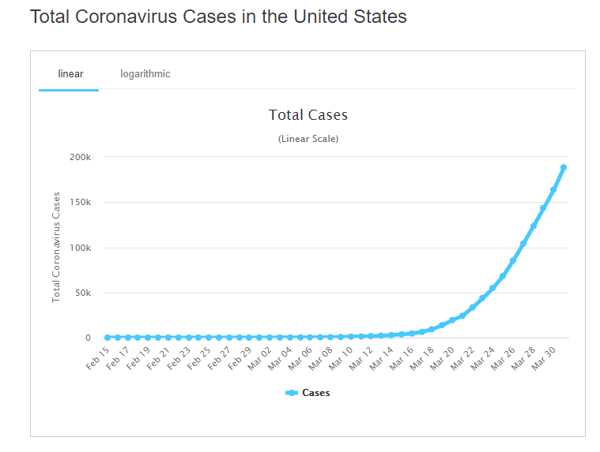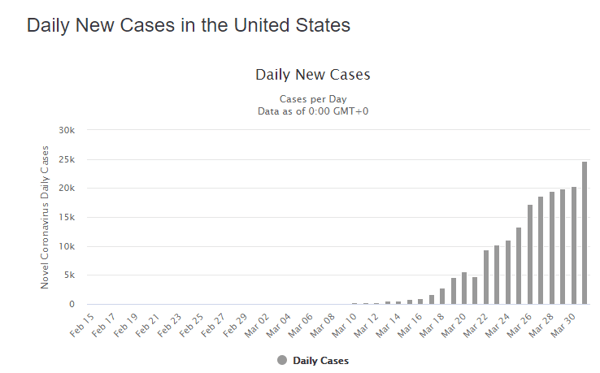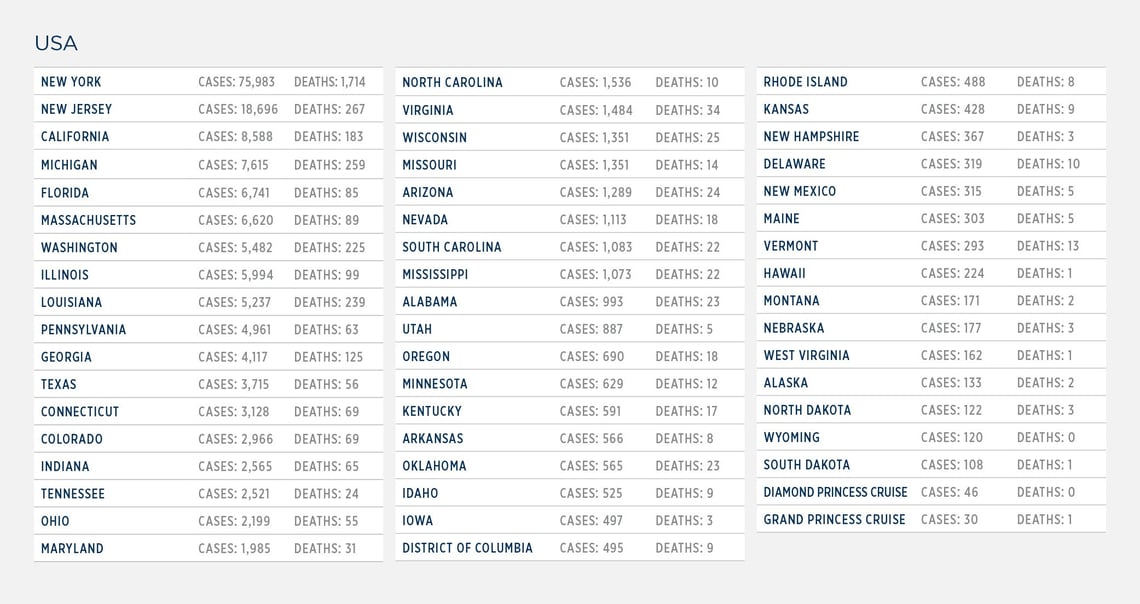 Latest Global Updates:
Turkey imposed quarantine measures, including shelter-in-place orders and entry and exit bans, in parts of 18 provinces. Residents in Istanbul also require a permit to leave the city.

Mexico announced a nationwide state of emergency effective immediately on 31 March, with a nationwide blanket suspension on the operation of all non-essential businesses and activities in public, private and social sectors until at least 30 April.

Authorities in Ethiopia announced on 31 March that the 29 August general election has been postponed until further notice. Officials also banned the operation of public transportation within Afar, Dire Dawa and Addis Ababa, and Amhara and SSNP (State of Southern Nations, Nationalities and Peoples') regions.

Bolivia has barred all travelers from entering with the exception of permanent residents, nationals, and diplomats. All international flights have been suspended and all borders are closed through April 15.

Bulgaria has closed all borders until 17 April.The measure applies to all non-European citizens, as well as travelers from the following European countries: Italy, Spain, France, the United Kingdom and Northern Ireland, Germany, the Netherlands, and Switzerland. There is an exception for Bulgarian citizens, members of their families, and persons with permanent and long-term residence status on the territory of the country.

Indonesia has barred entry of all foreign nationals. Exceptions include residents of Indonesia, diplomats, and those with work permits.

Vietnamese authorities implemented a nationwide lockdown with people ordered to stay at home from 1 April, effective for at least 15 days; going out to buy food, medicine or access health services was permitted. Gatherings of more than two people were banned and public transport suspended.

Albania has closed all land borders to non-cargo traffic. travelers are barred from entering with the exception of nationals and residents of Uzbekistan. Updated reports indicate that all airports in the country have been closed stating Monday, March 30.

Russia has ordered non-essential movement restrictions in dozens of regions, including Moscow.

In Panama, President Nito Cortizo announced that from 1 April for the next 15 days, women can only leave their homes for essential shopping on Mondays, Wednesdays and Fridays and men can leave on Tuesdays, Thursdays and Saturdays, while everyone must stay at home on Sundays.
What we know:
885,221 confirmed cases worldwide

44,212 deaths

185,208 recovered
CURRENT STATUS
The focus in the U.S. is shifting to shelter-in-place measures to limit the spread of COVID-19, with ramping up of production of ventilators and personal protective equipment such as masks and gowns. Working from home, closing of schools, and social distancing in public are all part of an effort to "flatten the curve" of cases to prevent the sudden overwhelming of the country's healthcare system.
As COVID-19 spreads, more and more countries will institute domestic and international travel restrictions. These policies are changing constantly as the pandemic evolves. The International Air Transport Association maintains a list of airline travel restrictions.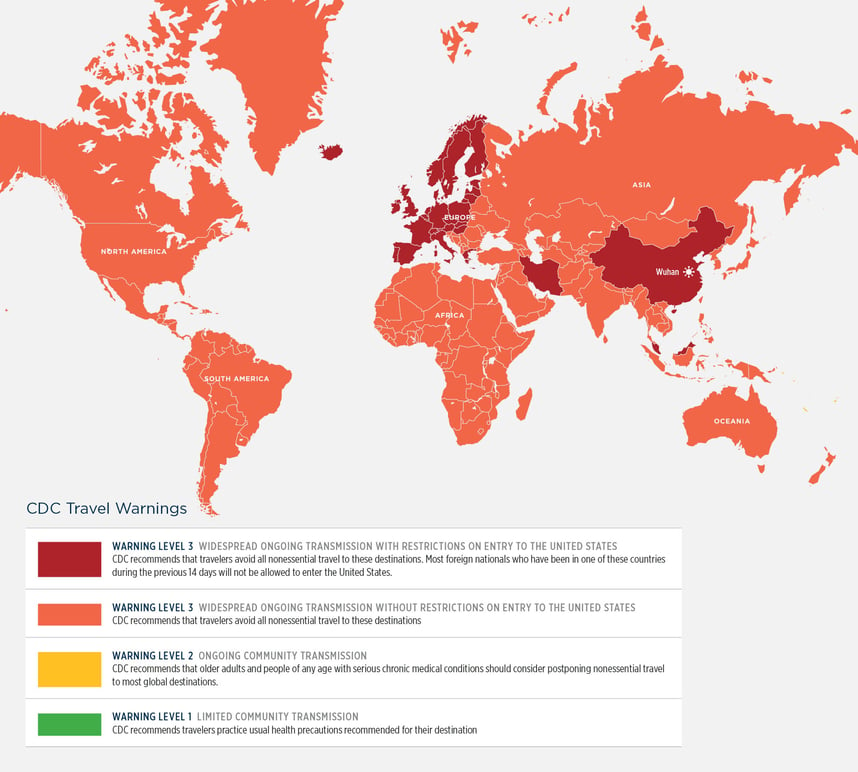 TRAVEL ADVICE
The U.S. State Dept. has issued Level 4: DO NOT TRAVEL guidance for the entire world amid the COVID-19 pandemic. In addition, Global Guardian recommends the following:
Return to the U.S. if currently abroad while commercial means are still available. Otherwise, prepare to remain abroad for an indefinite period.
Avoid all international travel.

Practice advanced careful hygiene measures, including frequent hand washing and sanitizing.

Practice "social distancing" while in public spaces.
OUTLOOK
The outlook is cautiously optimistic as several European countries start to see a flattening of the curve in new cases 14-20 days after instituting aggressive lockdown measures. Italy is starting to see positive effects on case growth after more than 20 days of nationwide lockdown and quarantine.
Support
Global Guardian is closely monitoring the situation. To request additional support or learn more about pricing on customized daily intelligence reports tailored to your organization's interests, please reach out to our security analysts by clicking below.