SPOTLIGHT: INDIA
India has seen near exponential growth in daily new cases and deaths due to COVID-19. The public healthcare system has effectively collapsed, while private hospital systems are also facing resource issues. Nationwide shortages of oxygen have caused hundreds of deaths and hospitals are overwhelmed, turning away patients. The densely populated cites of India already had a low number of hospital beds per-capita compared to Western hospitals. The COVID-19 crisis has exacerbated this issue.

On 27 March, India recorded 62,000 new cases. One month later, the

daily case count stood at 360,000.

The seven-day rolling average for daily deaths continues to rise, and is currently at 2700. Official tallies for new cases and deaths are both

significant undercounts.

Experts estimate the true death count is two to five times higher than reported.

Despite being a major COVID-19 vaccine producer, less than 10 percent of Indians have received even one dose. Amid the surge in cases, the country has halted exports of vaccines to use domestically instead. This will leave major shortfalls to those countries relying on Indian production and export.

A "double mutant" variant known as B.1.617 could possibly be responsible for much of the uncontrolled spread of COVID-19. It contains mutations found in two other strains that may make it more contagious and vaccine-resistant.

Global Guardian is actively assisting clients in India with tele-medicine, security and medical evacuations, and sourcing of oxygen concentrators.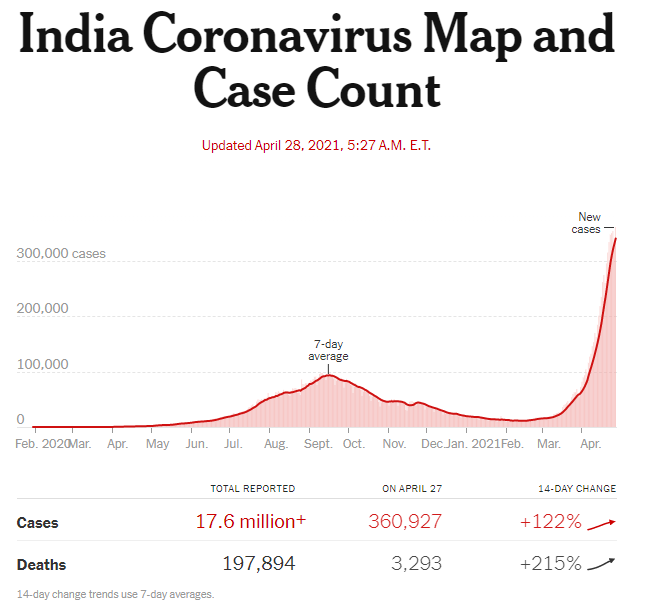 UNITED STATES LATEST DEVELOPMENTS
The European Union announced that during the summer, vaccinated travelers from the U.S. would be able to enter the bloc, a welcome sign for global re-opening of the tourist and business-travel economy. No firm date has been announced for when this could go into effect.

Federal regulators recently ended the pause on the J&J vaccine after studying reported blood clots. Women between 30 and 39 appear to be at greatest risk, with 11.8 cases per million doses given. There have been seven cases per million doses among women between 18 and 49. The FDA will add a warning label to the vaccine.

Nearly 2.75 million shots were administered on average in the last seven days. This is down compared to the 3.3 million doses administered per day on average two weeks ago. The decline is likely due to the pause in use of the Johnson & Johnson vaccine. So far, around 141 million people have received at least one vaccine dose.


At current pace, 70% of the population will have been at least partially vaccinated by mid-July, with herd immunity, estimated between 70-90% reached in mid-August. These projections will likely improve as the J&J vaccine rollout resumes.
For the latest United States case counts, click here.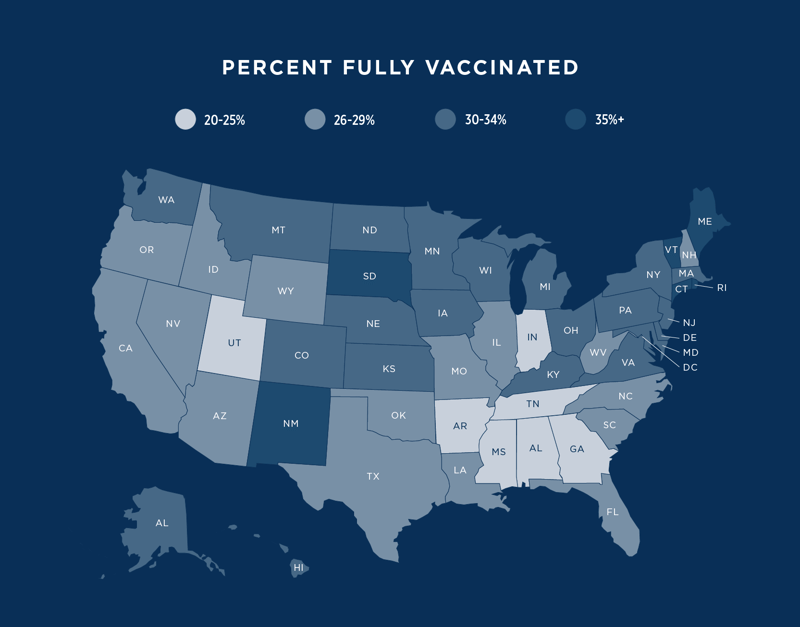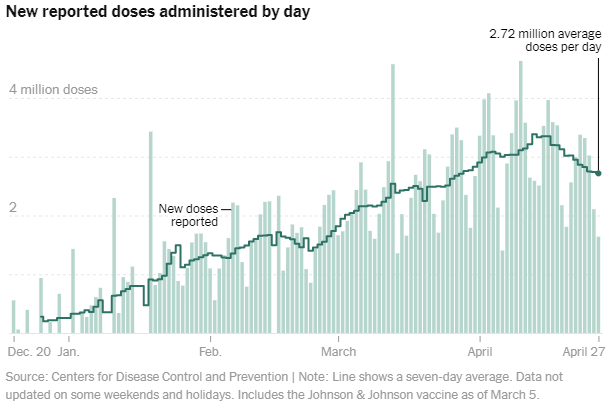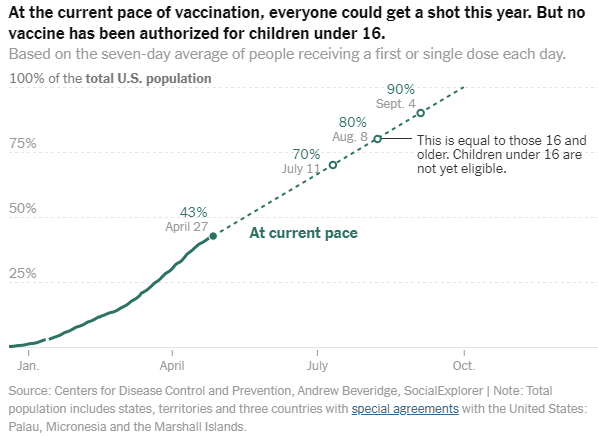 Latest global updates
Hong Kong and Singapore will open their quarantine-free travel bubble on 26 May for residents who have been fully vaccinated and not been outside either city in the past 14 days.
Canada has temporarily suspended passenger flights from India and Pakistan.
The European Union recently locked in a deal for 1.8 billion doses from Pfizer. It will allow the bloc to resell or donate the vaccine to partners.
The United States will share up to 60 million doses of the AztraZeneca vaccine with other countries. The vaccine has not been approved for U.S. use.

Multiple pharmaceutical companies are working to develop "booster" shots that may be required a year or more after being fully vaccinated, especially in the fight against more contagious and vaccine-resistant variants.
For the latest Global case counts, click here.
RESOURCES
Working Safely During COVID-19
In this course you will learn...
How to reduce the exposure and spread of COVID-19 at work, at home, and in public.

What changes you might encounter in the workplace due to COVID-19, and how it might affect your day-to-day activities.

Proactive steps to equip yourself with the resources and knowledge to be better prepared for changes to your work.

About the COVID-19 vaccine and how it is an effective way to stop the spread of COVID-19.
---
Personal Preparedness and resilience during covid-19
In this course you will learn...
How to build resilience, and the ways resilience helps us bounce back from challenging and traumatic events.

The ways we can manage stress, proven ways to build healthy habits and how to support both your well-being and the well-being of those you care about.

How planning and preparedness can lessen the impact of stress, anxiety and uncertainty.

Actions to take, so you, your family, and your household can be better prepared to manage a crisis.
---