Tensions in the Middle East remain high amid recent incidents in the region, and any number of triggers could lead to conflict involving Lebanon, Israel, Iran, and the U.S and their proxies. The possible renegotiation of the abandoned nuclear deal sits at the center of the situation, and all eyes are now turned to the key players to see how it plays out.
SITUATION REPORT
Two key deadlines loom large as conflicting reports emerge over the diplomatic progress concerning Iran's nuclear program. If a compromise between the U.S. and Iran is not reached by 21 May, Iran has threatened to erase the International Atomic Energy Agency's (IAEA) monitoring footage of its nuclear activities, possibly upending negotiations. The second upcoming date is 18 June, where hardliners are expected to win Iran's presidential elections and gain control over the nation's diplomatic endeavors.
As the clock ticks on the diplomatic track, regional tensions remain high following several significant geopolitical incidents in April. These include a sabotage event at Iran's primary nuclear facility, the mysterious death of a top Islamic Revolutionary Guard Corps (IRGC) Commander, the U.S. navy firing warning shots at an IRCC ship in the Gulf (for the first time in four years), and alarms sounding at Israel's nuclear reactor. Against the backdrop of recent diplomatic initiatives and geopolitical incidents, the region is on edge awaiting what comes next.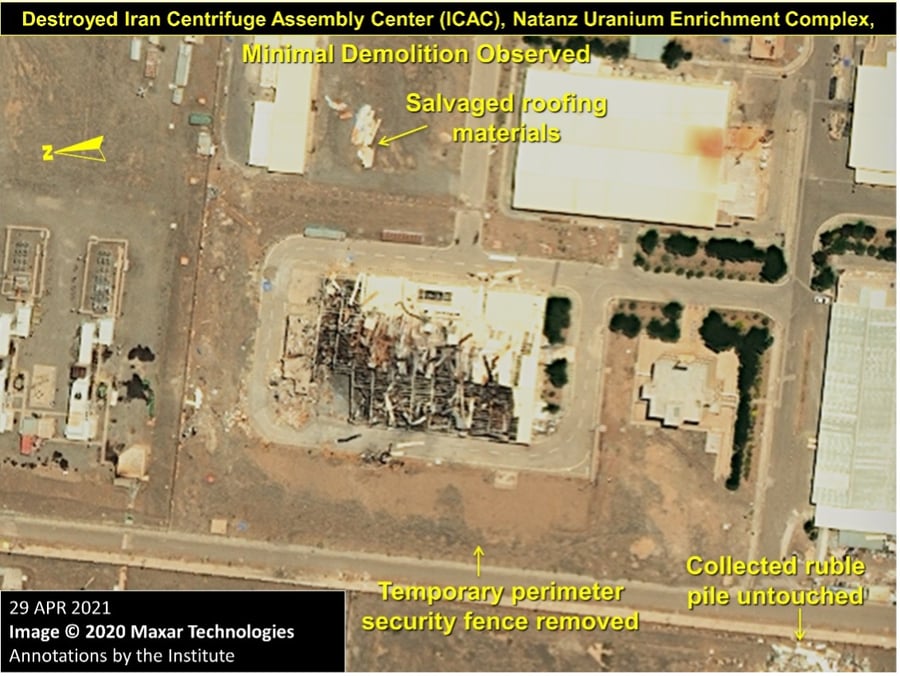 Source: Institute for Science and International Security
Last week, the United States and Iran participated in a second round of indirect talks in Vienna, mediated by Germany, France, and the United Kingdom, to find a formula for a mutual return to the 2015 Joint Comprehension Plan of Action, known as the nuclear deal. The U.S. pulled out of the nuclear agreement in 2018 and instated crippling sanctions on Iran. In 2019, Iran stopped limiting its uranium enrichment and incrementally began racing toward producing the requisite fissile material for a nuclear device.
While at first, the U.S. and Iran insisted that the other party take the first step to return into compliance of the 2015 nuclear deal, it now appears that the U.S. is willing to make the first move. According to a report, the U.S. is considering lifting Trump administration-imposed sanctions on the Central Bank of Iran (CBI), the National Iranian Oil Company (NIOC) and other sectors tied to terrorism and the IRGC. These could include returning Iran's access to the international financial system, allowing it to transact in U.S. dollars. Other reports, which have been denied by Washington, suggest that a prisoner swap is in the works that would involve the U.S. releasing seven billion dollars of frozen Iranian assets. It is unclear what distance remains between the two sides on the scope and sequencing of a return – who does what first.
What is clear is that a tipping point is approaching. Deal or no deal, few signs point to a de-escalation in the region.
THE SHADOW WAR CONTINUES IN FULL
On 11 April, Iran's Natanz nuclear facility suffered an overnight electricity blackout. An explosive device reportedly cut power to the centrifuges. The power disruption led to the centrifuges spinning out of control, destroying thousands of them. This act of sabotage – attributed to Israel – is estimated to physically set Iran back several months and has caused other delays as Iran's security apparatus investigates how this happened. On 18 April, Muhammad Hejazi, deputy head of the Iranian Quds Force died. Conflicting reports over his death leave open the possibility that he was assassinated. If so, within the span of little over a year, three of Iran's most important military officials were killed and its nuclear facilities were attacked three times.
Regardless of the outcomes of the Vienna talks, Israel's campaign to thwart Iran's nuclear progress and its mission to disrupt the production, transfer, and storage of advanced Iranian weapons in Syria will continue at pace.
A NEAR MISS
In the evening hours of 21 April, air raid sirens went off near Israel's nuclear reactor in Dimona. The incident began when Israeli jets targeted an Iranian weapon stockpile in Syria – a routine occurrence. Syrian surface-to-air missiles were then deployed but missed their mark. An errant missile flew as far as 40km from Dimona, evading Israel's multi-tiered missile defense system. Had this been a deliberate attack or had the missile fallen closer to the reactor, the incident may have precipitated a conflict. This event underscores two realities:
With heightened tensions in the region, a small mistake can begin a very serious escalation chain. The risk is compounded by the number of concurrent friction points between Iran and its proxies, and the U.S. and its partners spread over several theaters. From an incident at sea between the U.S. and IRGC navies – to a flair up on Israel's border with Lebanon, there are numerous scenarios that could lead to a major conflagration. With or without a diplomatic agreement in place, risks will remain.
The persistent threat to American interests. US Central Command (CENTCOM) commander, General McKenzie has warned that the U.S. has lost air superiority to due to Iran's drone threat and precision guided munitions. As demonstrated in the 2019 Attacks on Saudi Aramco's Abqaiq and Khurais oil facilities, Iran's improved asymmetric arsenal poses a major security challenge for the U.S., Israel, and the Gulf.
KEY TAKEAWAYS
The Natanz sabotage bought the U.S. time, increasing negotiating leverage.

The "longer and stronger" deal appears off the table (for now).

The election of Iranian hardliners in June could lead either to:

Greater coordination of military action and diplomatic moves, raising the regime's willingness to use aggression to obtain further sanctions relief;

Or a collapse in diplomatic efforts and a more aggressive rush to achieve nuclear breakout.

Israel's security prerogatives will remain regardless of U.S.-Iranian diplomatic progress.

There are serious uncertainties surrounding the future of the shadow conflict between Israel and Iran. Israel does not know which of its incremental attacks will elicit an Iranian response; and Iran does not know which nuclear advancements will cross Israel's redline.
Standing by to Support
Comprehensive security and threat mitigation and management require intelligence: "you can't mitigate what you don't know". Global Guardian can provide incident alerts, security assessments, active shooter training, and more enhanced security services, including security agents, remote camera and access control monitoring, and rapid emergency response across the U.S. and around the world.