Job Losses Continue as House Passes Relief Bill
The U.S. Labor Department reported on 23 April that another 4.4 million people filed initial unemployment claims last week, bringing the five-week total to more than 26 million. Nearly one in six American workers has lost a job in recent weeks.
On 23 April, the U.S. House of Representatives passed a $484 billion relief bill. It replenishes two depleted small business-relief programs, offers additional assistance to hospitals, and funds an expansion of testing capacity nationwide.



New York governor Andrew Cuomo announced the preliminary results of an anti-body study of 3,000 people in New York City. One of every five people in the study tested positive for antibodies to the coronavirus, suggesting that the virus had spread far more widely than previously known (extrapolation shows 2.7 million residents of NYC could be infected).

If this statistical pattern holds, it suggests the mortality rate is far lower than believed.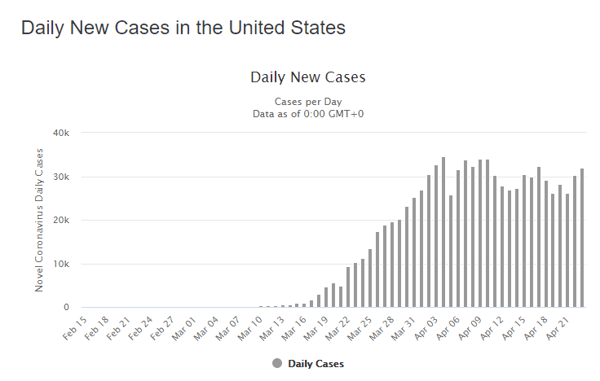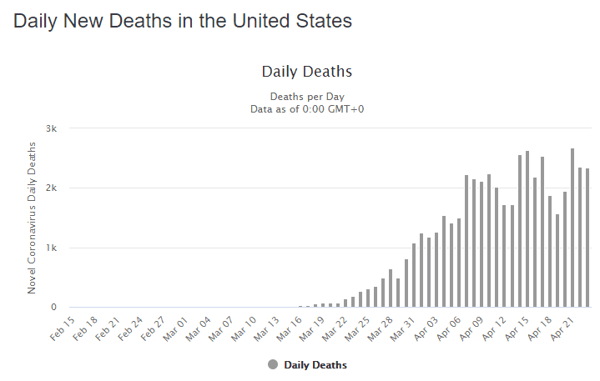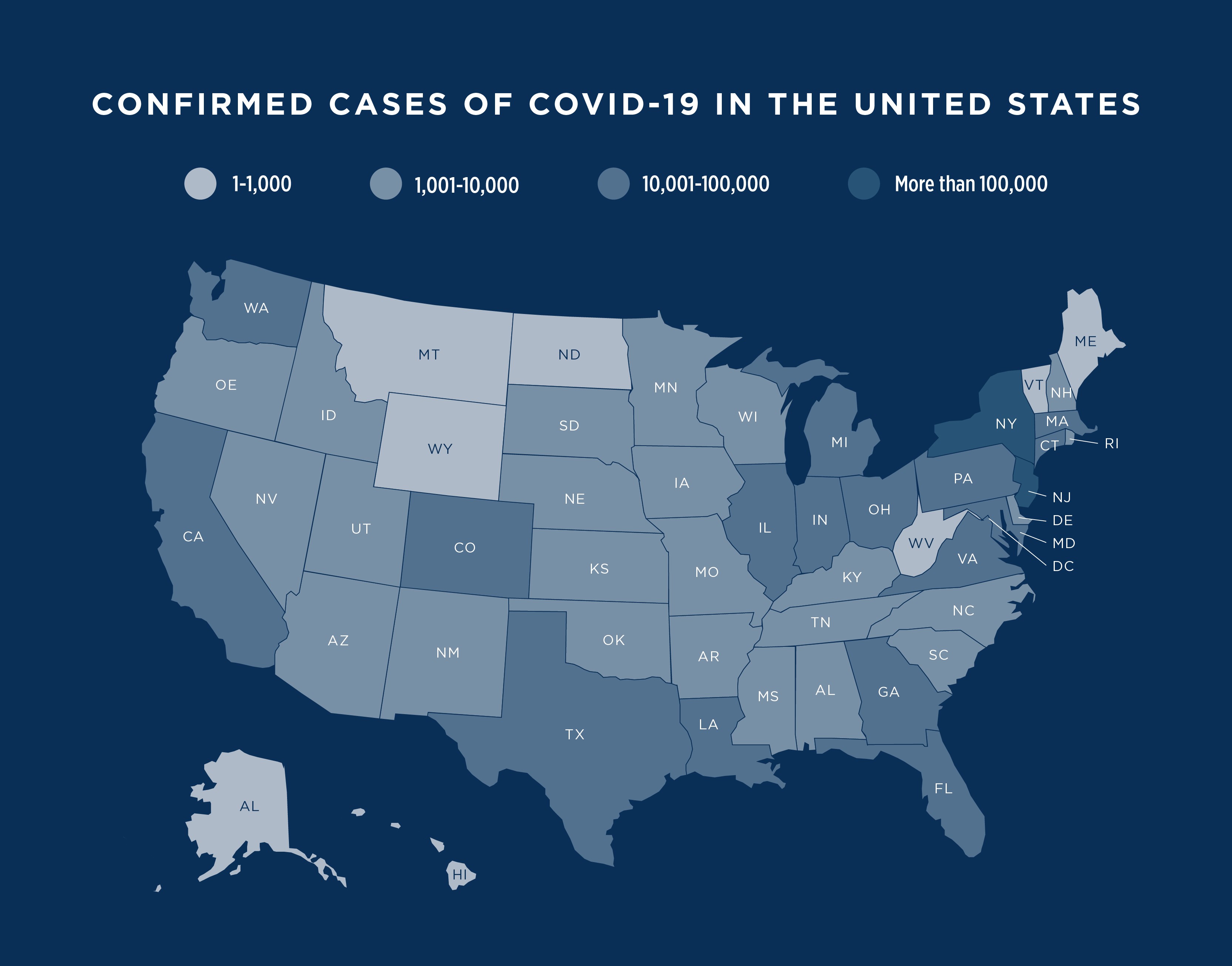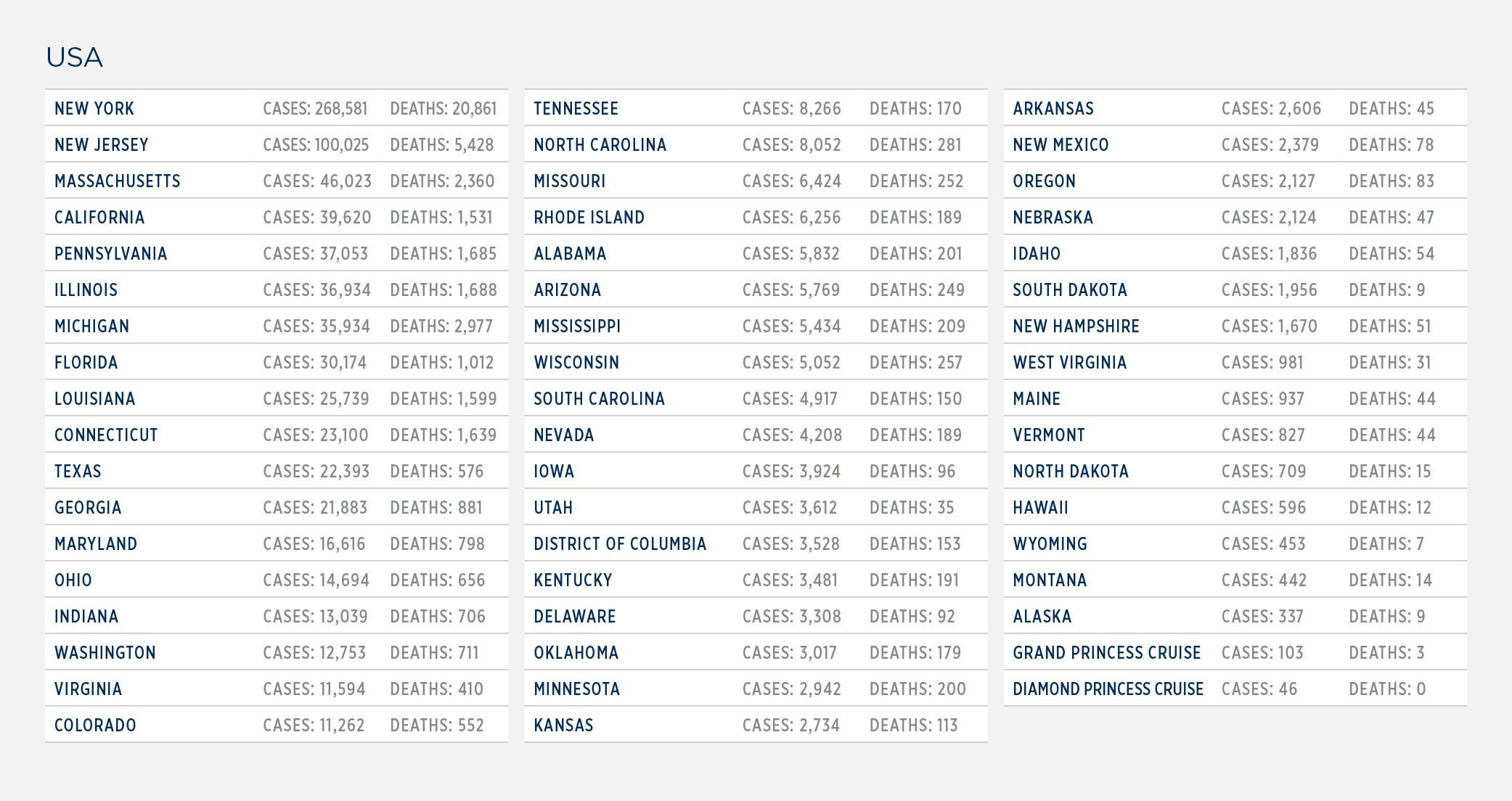 Latest global updates:
The Democratic Republic of Congo has suspended all flights to the country and all airports in the country are closed. Non-cargo road and maritime traffic between Kinshasa and the provinces has also been suspended.



Honduras is barring all travelers from entering the country except for nationals and residents. All airports are closed. Anyone returning to the country will be required to self-isolate for 14 days.

Several countries in Africa, Asia, and the Middle East have implemented new measures for the Muslim holy month of Ramadan, including relaxed curfews and new bans on public gatherings.
What we know:
Nearly 2.7 million confirmed cases worldwide

193,000 deaths

762,000 recovered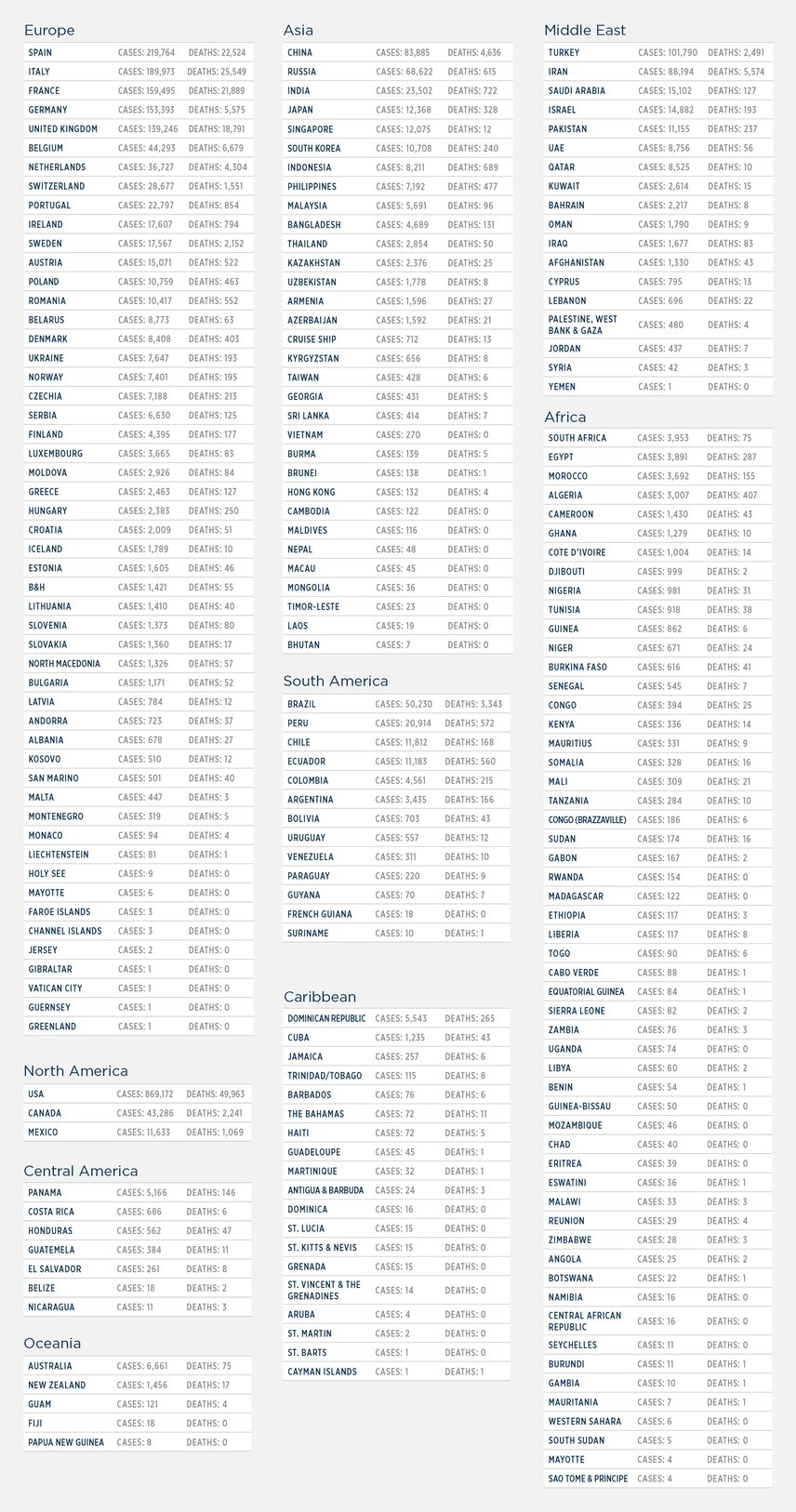 TRAVEL ADVICE
The U.S. State Dept. has issued Level 4: DO NOT TRAVEL guidance for the entire world amid the COVID-19 pandemic. The U.S. CDC has issued a Domestic Travel Advisory for New York, New Jersey, and Connecticut. It urges residents of these states to refrain from non-essential domestic travel for 14 days.
In addition, Global Guardian recommends the following:
Return to the U.S. if currently abroad while commercial means are still available. Otherwise, prepare to remain abroad for an indefinite period.
Avoid all international travel.

Practice advanced careful hygiene measures, including frequent hand washing and sanitizing.

Practice "social distancing" while in public spaces.
OUTLOOK
The outlook remains optimistic despite the upward trend in daily new cases over the last several days in Germany and Spain. Much of this increase is due to new anti-body testing of mostly asymptomatic people.
Several European countries start to see a significant decline in new cases 14-20 days after instituting aggressive lockdown measures. Many are now starting to re-open limited parts of their economies and the success of those restarts will be key for how other nations handle lifting of restrictions.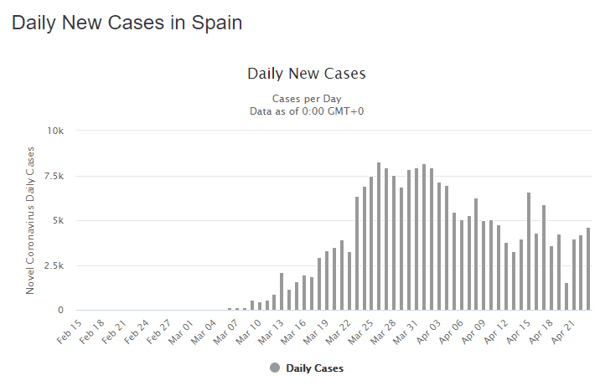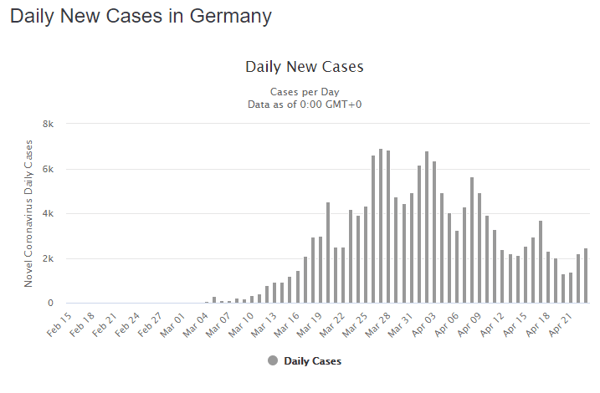 Support
It is our goal at Global Guardian to continue to support the health, safety, and security of our clients throughout the COVID-19 pandemic. From Medical Support, including Mobile Medical Units and supplies to Emergency Evacuations and Custom Intelligence Reports, please reach out to us at intelligence@globalguardian.com to learn more about how we can provide assistance during this time.