In the past four weeks, more than 22 million people filed for new unemployment claims in the U.S., after 5.2 million were added to the tally this last week.
The unprecedented rise in unemployment claims comes amid federal discussions on when and how to reopen the U.S. economy. President Trump announced that the states' governors would have control over when their respective states could begin reopening. To help with this, the White House released broad guidance in a three-phase plan:
Phase One - In states judged to be doing well enough to enter the first phase, people would still be urged to avoid socializing in groups of more than 10, employers would be asked to encourage telework, and schools would remain closed. But some large venues — including restaurants, movie theaters, sporting venues and places of worship — would be allowed to operate under strict physical distancing protocols, elective surgeries could resume, and gyms could reopen as long as they maintained physical distancing. Bars would remain closed.


Phase Two - Schools could reopen and people would be advised to avoid social gatherings of more than 50 people.



Phase Three - States with no evidence of a resurgence of infections would be able to resume unrestricted staffing of work sites, visits to hospitals and nursing homes could resume, large venues could operate under limited social distancing protocols, and bars could reopen with increased standing room.
Timing for economic and social reopening still depends on testing and contact tracing capabilities, which remain limited due to scarcities of test kit reagents and shortages of contact tracers. The CDC is reportedly in discussions with the Census Bureau to divert upwards of 25,000 workers to conduct contact tracing. Some 100,000 people are likely needed to carry out this effort. Peace Corps volunteers returning from abroad may also join the effort.
New York has extended its mandatory shutdown until at least 15 May, and many other states are likely to push their stay-at-home orders past 30 April. Those states who took action early are likely to open back up more quickly, and will be closely watched for a resurgence in cases.
U.S. daily deaths continue to rise while daily new cases remain steady. The spike in deaths on 15 April is attributed to New York counting more than 3700 "probable" COVID-19 deaths since 11 March. These are not laboratory-positive deaths.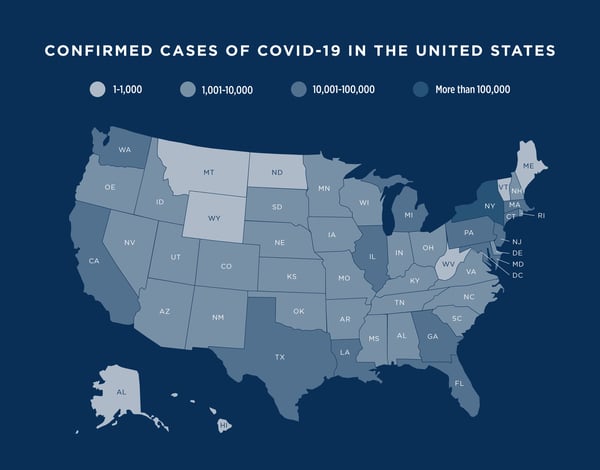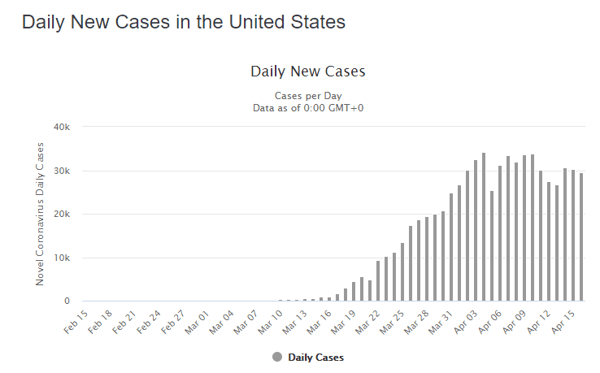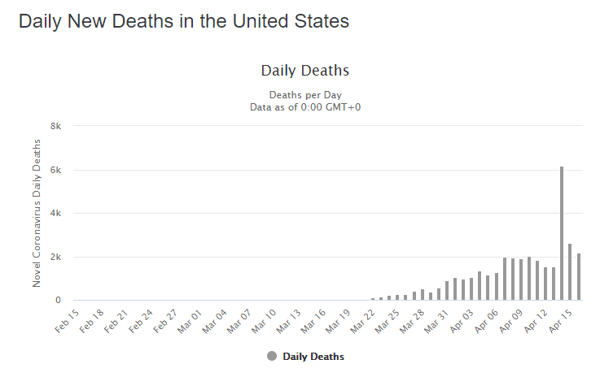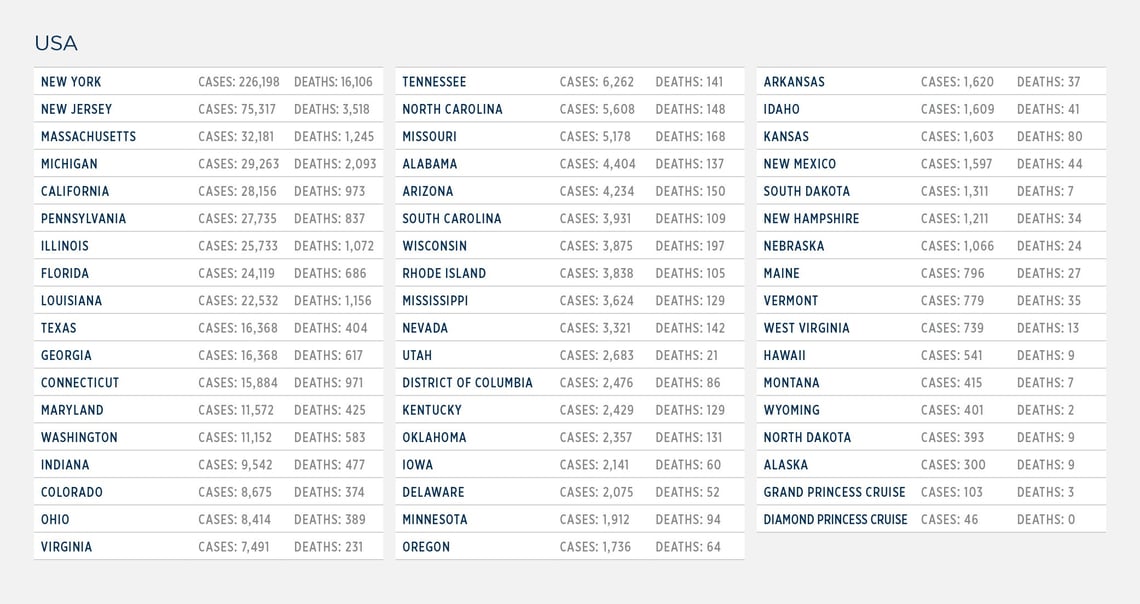 Latest Global Updates:
Algeria has suspended all international flights. All sea and air travel with Europe has been suspended.
Australia

announced that current movement restrictions will be in place until at least mid-May.

Canada-US

border will remain closed to non-essential travel until at least 17 May.

Chinese

authorities reported an additional 325 cases and 1,290 deaths in Wuhan that had not been previously counted and included, resulting in a 50 percent increase from the current death toll in Wuhan alone to 3,869.

Sweden

is barring all foreigners from entering the country for another 30 days starting on 19 April. Swedish citizens and long-term residents, families of citizens and diplomats, individuals transporting goods, cross-border healthcare personnel, and asylum seekers are exempted.

Tunisia

has suspended all flights to the country.
What we know:
Over 2.2 million confirmed cases worldwide

150,000 deaths

560,000 recovered
CURRENT STATUS
The focus in the U.S. remains on shelter-in-place measures to limit the spread of COVID-19. As new cases drop, the economy may be slowly re-opened on a state-by-state or city-by-city basis but with new guidelines such as always wearing a mask while out in public and using hand sanitizer after interactions with people or objects.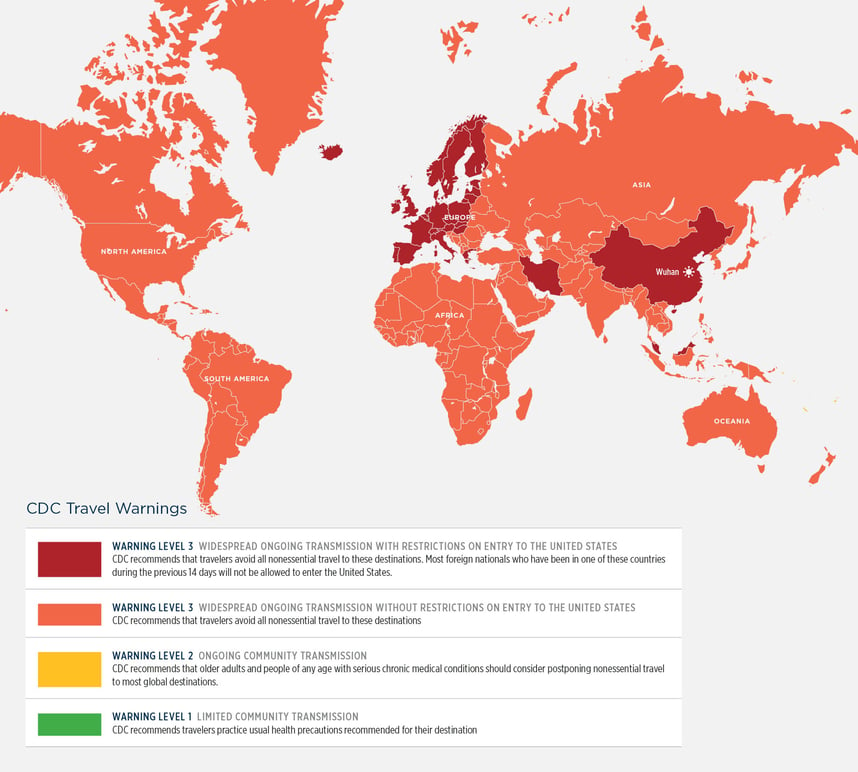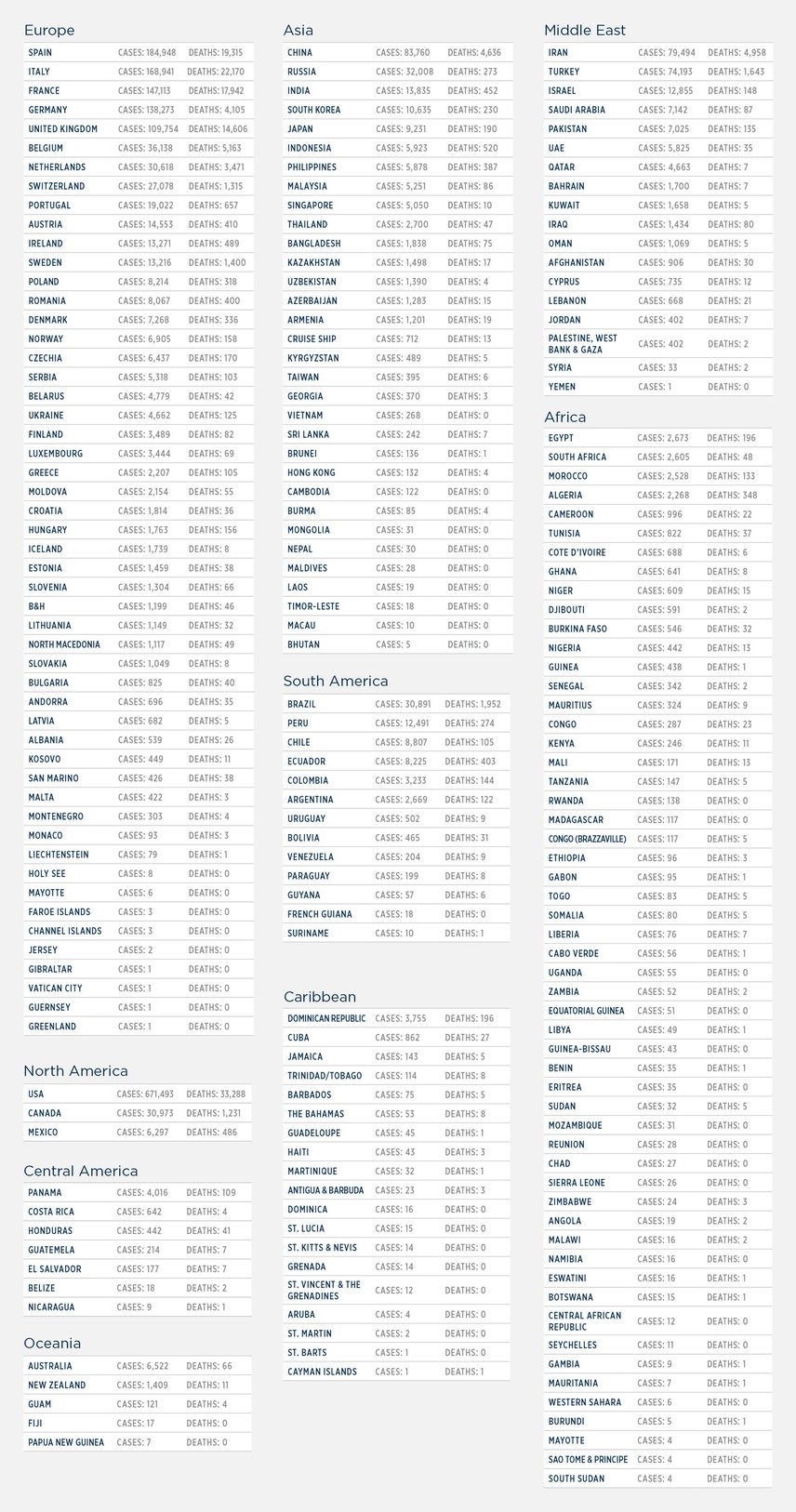 TRAVEL ADVICE
The U.S. State Dept. has issued Level 4: DO NOT TRAVEL guidance for the entire world amid the COVID-19 pandemic. The U.S. CDC has issued a Domestic Travel Advisory for New York, New Jersey, and Connecticut. It urges residents of these states to refrain from non-essential domestic travel for 14 days.
In addition, Global Guardian recommends the following:
Return to the U.S. if currently abroad while commercial means are still available. Otherwise, prepare to remain abroad for an indefinite period.
Avoid all international travel.

Practice advanced careful hygiene measures, including frequent hand washing and sanitizing.

Practice "social distancing" while in public spaces.
OUTLOOK
The outlook is optimistic as several European countries start to see a flattening of the curve in new cases 14-20 days after instituting aggressive lockdown measures. Spain, Italy, and Germany are now starting to see sustained positive effects on case growth after more than 20 days of nationwide lockdown and quarantine. New cases are declining significantly and daily deaths are flattening out.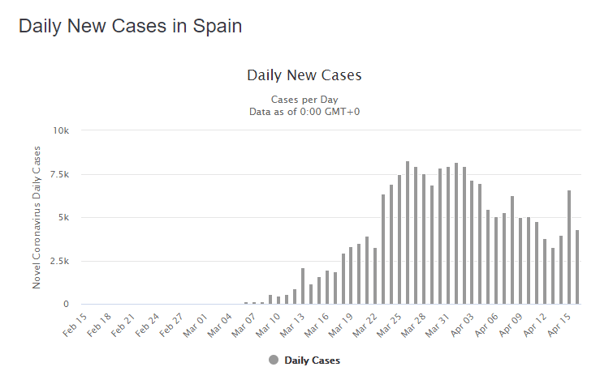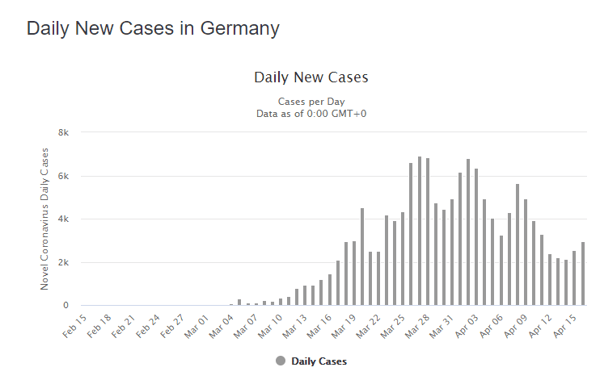 Support
It is our goal at Global Guardian to continue to support the health, safety, and security of our clients throughout the COVID-19 pandemic. From Medical Support, including Mobile Medical Units and supplies to Emergency Evacuations and Custom Intelligence Reports, please reach out to us at intelligence@globalguardian.com to learn more about how we can provide assistance during this time.