Total new jobless claims passed 16 million for the last three weeks as social distancing measures and stay-at-home orders extracted a harsh economic toll.
While funds from the $2 trillion aid package remain mostly undisbursed, the Federal Reserve took action to help states hit by falling sales and income tax revenue by announcing it would buy municipal bonds and expand its purchases of corporate bonds.
Daily new cases remain high in the U.S. as testing becomes more widespread. Total confirmed cases in the U.S. have exceeded 468,000 after more than 33,000 new cases were recorded in the last 24hrs. More than 2.3 million tests have been performed in the U.S. to date. When looking at cases per capita, the worst affected states are New York, New Jersey, Louisiana, Massachusetts, Connecticut, and Michigan respectively. Pennsylvania and Massachusetts saw significant case growth in the last 24hrs. They both have nearly 20,000 cases.
The U.S. appears to have plateaued for daily deaths after 1,900 were recorded in the last 24hrs. This is a slight decrease from the 1,940 and 1,970 recorded in the previous two days. Dr. Anthony Fauci said that total deaths due to COVID-19 in the U.S. will be closer to 60,000, rather than the 100,000-200,000 initially predicted. This indicates the social distancing and non-essential movement restrictions are working. Both daily new cases and daily deaths have held steady near their record highs for the last three days, and may hold there for the next 5-7 days and then slowly decline.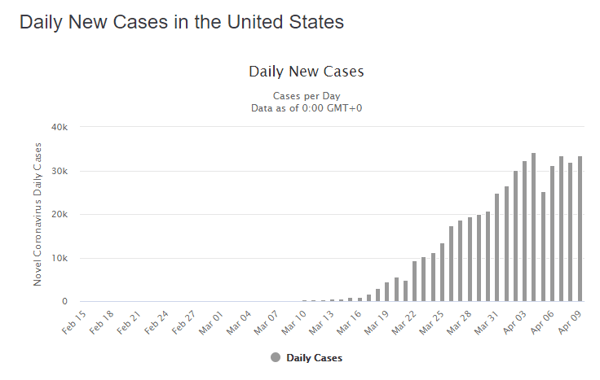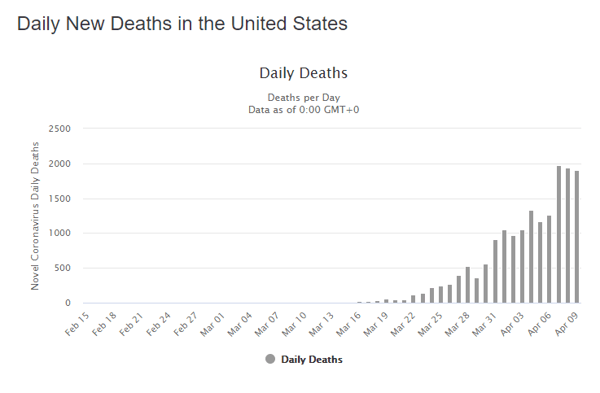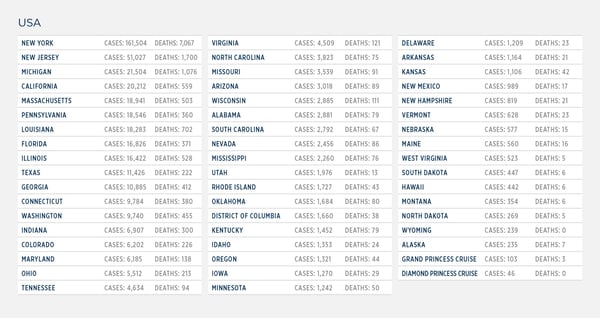 Latest Global Updates:
Argentina announced the national quarantine period would be extended from the second extension date (12 April) through until at least 23 April.


Colombia has barred all travelers from entering the country until 30 May, and all flights are suspended until 30 May. Anyone who is permitted to enter the country is subject to 14-day quarantine.


Pakistan has extended its suspension of all international flights until 21 April. Cargo flights are exempt.

Saudi Arabia announced a ceasefire in the Yemeni Civil War, with the border between the two countries closed until further notice.

In Botswana, President Mokgweetsi Masisi was placed under mandatory 14-day quarantine along with his entire cabinet and all other members of parliament after the health professional who was screening lawmakers tested positive for COVID-19.

France is extending its nationwide state of emergency and lockdown measures beyond 15 April. Additional information will be announced on 13 April.
What we know:
Over 1.6 million confirmed cases worldwide

97,000 deaths

366,00 recovered




CURRENT STATUS
The focus in the U.S. remains on shelter-in-place measures to limit the spread of COVID-19, while ramping up the production of ventilators and personal protective equipment such as masks and gowns. Working from home, closing of schools, and social distancing in public are all part of an effort to "flatten the curve" of cases to prevent the sudden overwhelming of the country's healthcare system.
As COVID-19 spreads, more and more countries will institute domestic and international travel restrictions. These policies are changing constantly as the pandemic evolves. The International Air Transport Association maintains a list of airline travel restrictions.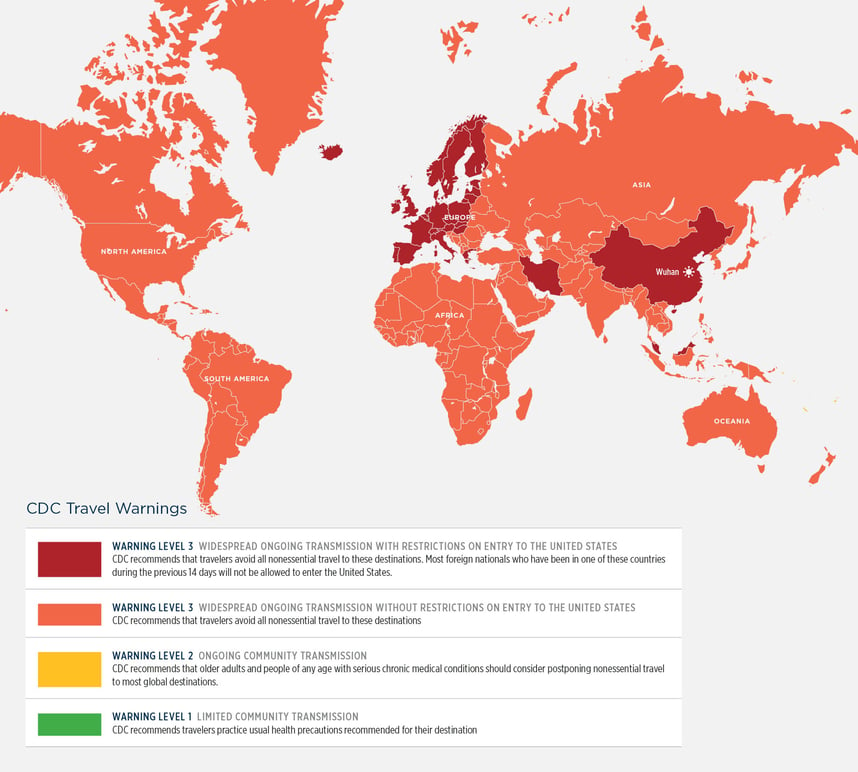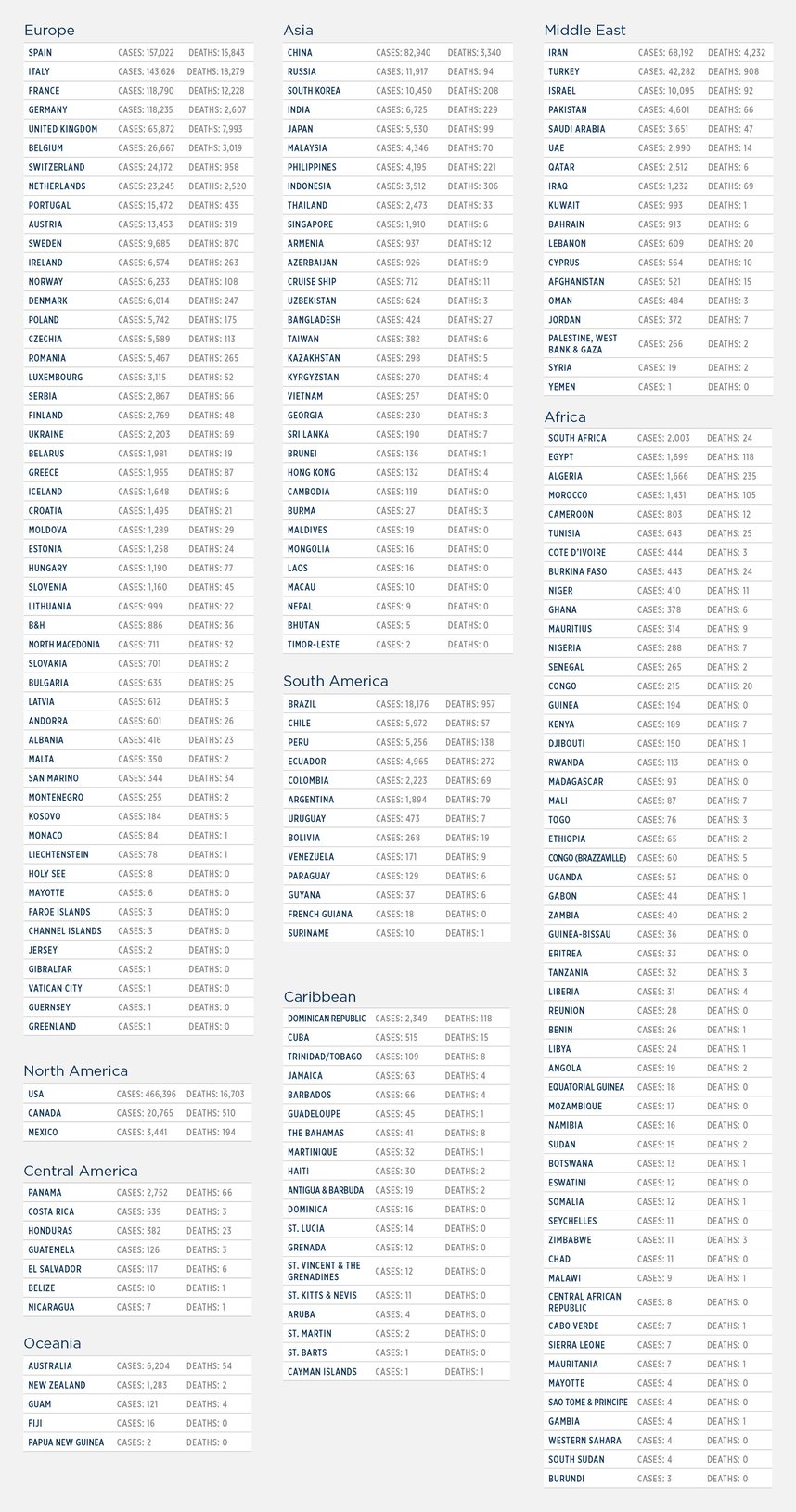 TRAVEL ADVICE
The U.S. State Dept. has issued Level 4: DO NOT TRAVEL guidance for the entire world amid the COVID-19 pandemic. The U.S. CDC has issued a Domestic Travel Advisory for New York, New Jersey, and Connecticut. It urges residents of these states to refrain from non-essential domestic travel for 14 days.
In addition, Global Guardian recommends the following:
Return to the U.S. if currently abroad while commercial means are still available. Otherwise, prepare to remain abroad for an indefinite period.
Avoid all international travel.

Practice advanced careful hygiene measures, including frequent hand washing and sanitizing.

Practice "social distancing" while in public spaces.
OUTLOOK
The outlook is cautiously optimistic as several European countries start to see a flattening of the curve in new cases 14-20 days after instituting aggressive lockdown measures. Spain is now starting to see sustained positive effects on case growth after more than 20 days of nationwide lockdown and quarantine. New cases are declining significantly and daily deaths are flattening out.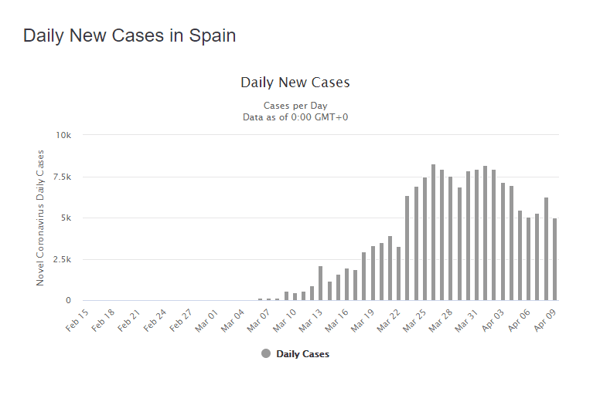 Support
It is our goal at Global Guardian to continue to support the health, safety, and security of our clients throughout the COVID-19 pandemic. From Medical Support, including Mobile Medical Units and supplies to Emergency Evacuations and Custom Intelligence Reports, please reach out to us at intelligence@globalguardian.com to learn more about how we can provide assistance during this time.