In collaboration with CORE Club and CSQ Magazine, Dale Buckner, CEO of Global Guardian, was interviewed by David Wurth, founder and publisher of CSQ.com and C-Suite Quarterly, about the COVID-19 crisis and what lies ahead for businesses. Check out our top five takeaways from the conversation and click to watch the full recording.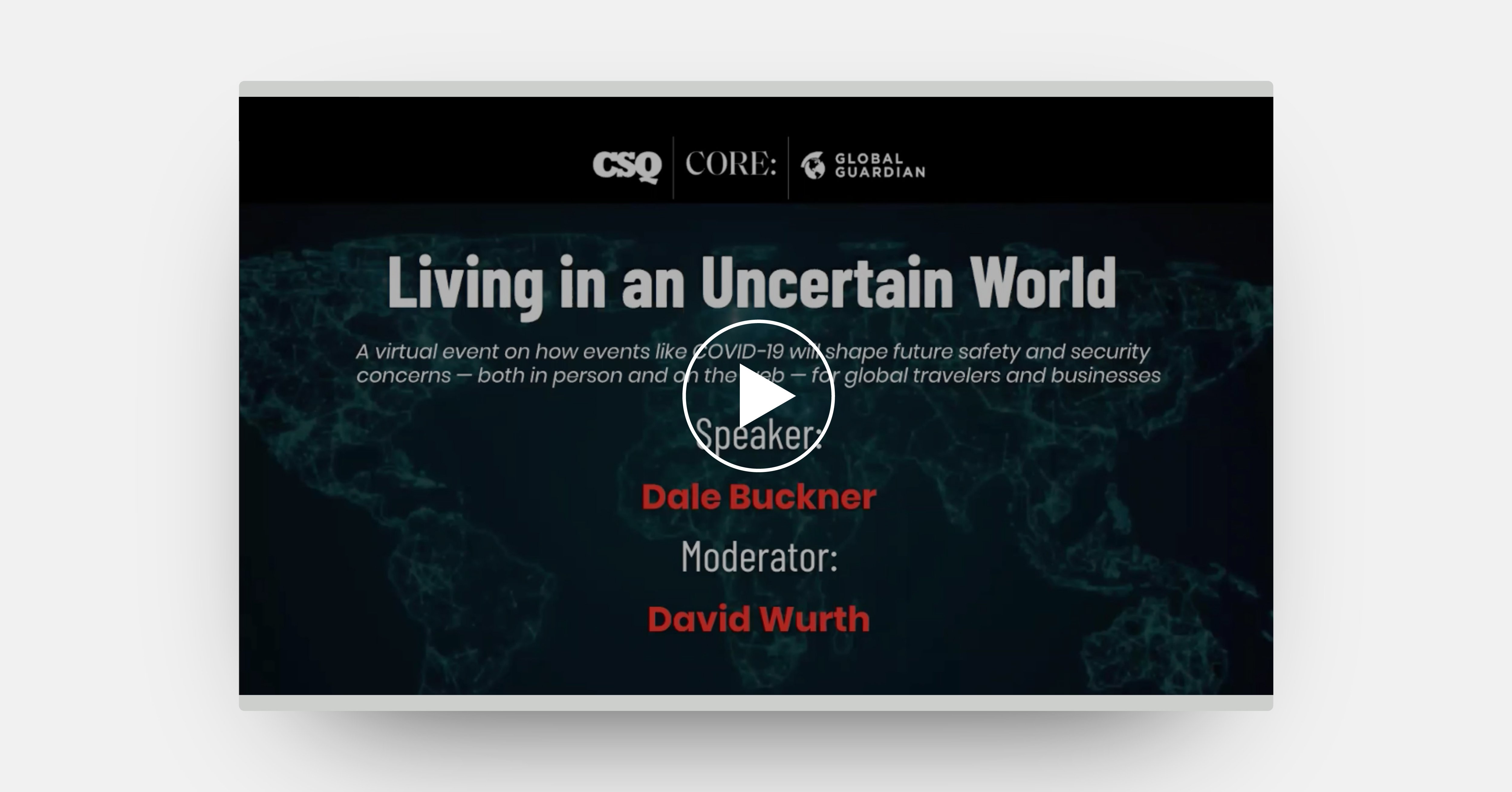 Top Five Takeaways:
1. The window to extricate Americans stranded abroad is closing fast. So far, the US State Department has brought home less than half of the more than 50,000 Americans who have requested help. From students running low on cash due to unforeseen hotel expenses to more affluent travelers unable to receive their regular medical treatment, the needs of these Americans vary, but many are trying and unable to get back home. Global Guardian has assisted in both regular and medical evacuations, but with more and more countries closing their borders, the situation has changed radically from just a few weeks ago. As Buckner put it, "If you do not get your people out within a week, it is going to get very, very difficult." Those unable to leave now, may need prepare to stay put abroad for four to six weeks.
2. The disintegration of the social fabric within the US is a security concern. As millions of people lose their jobs and those already at the margins of society are hit the hardest, the need for the government and the corporate sector to provide a safety net and to do so quickly is essential. However, the current system is not designed to do this, especially given the scale of problem. With more 10 million Americans filing for unemployment in March, delays in receiving unemployment relief are inevitable. The concern is that when people's savings run out and when those already most vulnerable do not have their local food bank to turn to, "Desperate people do desperate things," Buckner said. Although the US has so far avoided spikes in crimes like murder and assault, there are already spikes in other crimes such as domestic abuse, child abuse, petty crime, and burglary. As COVID-19 hits more poor urban areas, where water and sanitation services are already wanting and hospitals are already overwhelmed, the health crisis threatens to exacerbate existing social problems and lead to rise in looting and other crimes.
3. The mobilization of the US military may be needed. The experience of New York City and other COVID-19 epicenters underlines the shortage of doctors and nurses. Those on the frontlines are putting in long hours and getting burnout. "If you ask us what our primary concern in this entire situation right now: medical providers," Buckner said. Consider this possibility: The crisis gets worse, with people dying across the country and not enough health workers to provide the necessary assistance, and unemployment and other safety net programs are not kicking in fast enough to stem social unrest. In that case, the "active duty military is all that is left," Buckner explained. The military's logistics capability is unparalleled, and the professional medical and protection assistance that the military is able to deploy to COVID-19 hotspots around the country may need to be considered.
4. Economic recovery will not be a matter of flipping a switch. The first concern is addressing the health crisis: once the vast majority of the population has immunity to the virus, businesses can start getting back to their regular operations. This is unlikely to happen earlier than the end of 2020. The good news is that the global supply chains are operating, following a short interruption at the beginning of the crisis. Still, getting back to normal will be a sequential and long process. Some small businesses, such as neighborhood restaurants and dry cleaners, may never come back because the government's economic assistance either will not come in time or will not be enough. Hospitality, airline, restaurant, and other industries, which have undertaken mass layoffs, will need time to restart regular operations, not least because they will need to rehire and hire workers. Moreover, when businesses come back, additional safety measures may stem regular operations: For example, some companies may still have half of their employees work from home and restaurants may fill only half of the tables to adhere to social distancing measures. Finally, it will take time for companies to recover their customer base.
5. Corporate leaders can take practical steps to help their communities. At a time of crisis, when there is so much fear and anxiety, the ability to "communicate or create certainty" is important for corporate leaders. Second, corporate leaders can help strengthen the response to COVID-19 by supporting homeless shelters, food banks, and other organizations serving the marginalized in our communities. As Buckner put it, "It was important before; it is important now on steroids."
ABOUT GLOBAL GUARDIAN
Global Guardian is a McLean, VA based global security firm that provides its clients with access to a comprehensive suite of security services. Its capabilities include personnel tracking supported by a dedicated 24-hour Operation Center, a full range of personnel-based security and executive protection services, medical support and transportation, travel intelligence and emergency response and evacuation services in over 100 countries. Global Guardian's suite of risk mitigation services provides organizations with innovative and cost-effective solutions to help them protect their staff and business operations around the world.
Find out how our team can support your security needs. For assistance, call our 24/7 Operations Center at 703.566.9463 or click below.