The number of confirmed cases in the U.S. is over 55,000 and growing fast. As a result of this rapid growth, at least 17 states have issued stay-at-home or de-facto shelter-in-place orders: Washington, Oregon, New Mexico, Wisconsin, Indiana, West Virginia, Louisiana, Connecticut, New Jersey, Ohio, California, Illinois, New York, Delaware, Michigan, Massachusetts, and Hawaii.

Several other states, including Pennsylvania and Texas, have issued orders on a county-by-county basis (PA) or left it up to local officials (TX). Every major city in both states are under stay-at-home advisories. In several other states, including Virginia, all non-essential businesses are closed and those deemed essential can only remain open if they take extra precautions such as limiting the number of patrons at any given time.
American companies 3M, Ford, and GE Healthcare are working together to mass produce N95 respirator masks, surgical masks, ventilators, plastic face masks, and other personal protective equipment (PPE). This comes amid a nationwide shortage as hospitals, especially in New York City, are on the verge of running out. NYC officials say that by early April they will need three million N95 masks, 50m surgical masks, 15k ventilators, 25m each of: surgical gowns, cover-alls, gloves, and face masks. 3M has reportedly doubled production of N95 masks to 100 million per month.
Apple and Facebook have also agreed to donate their stockpile of masks, nearly 10 million combined, to hospitals and local governments.
Shortly after midnight on 25 March, the White House and Congress agreed to a $2 trillion stimulus/rescue package for American small businesses, corporations, and individual citizens. It includes:
$1,200 in direct payments that would apply equally to workers with incomes up to $75,000 per year before phasing out and ending altogether for those earning more than $99,000. Families would receive an additional $500 per child.
Significant expansion of unemployment benefits that would extend unemployment insurance by 13 weeks and include a four-month enhancement of benefits.
A $500 billion fund — $425 billion for the Federal Reserve to leverage for loans in order to help broad groups of distressed companies and $75 billion for industry-specific loans — will have oversight, in the form of an inspector general and a five-person panel appointed by Congress. Companies that accept money must also agree to halt any stock buybacks for the length of the government assistance, plus an additional year.
A provision that will block Trump family businesses — or those of other senior government officials — from receiving loan money under the programs.





$350 billion that would establish lending programs for small businesses, but only for those who keep their payrolls steady through the crisis. Small businesses that pledge to keep their workers would also receive cash-flow assistance structured as federally guaranteed loans. If the employer continued to pay its workers for the duration of the crisis, those loans would be forgiven.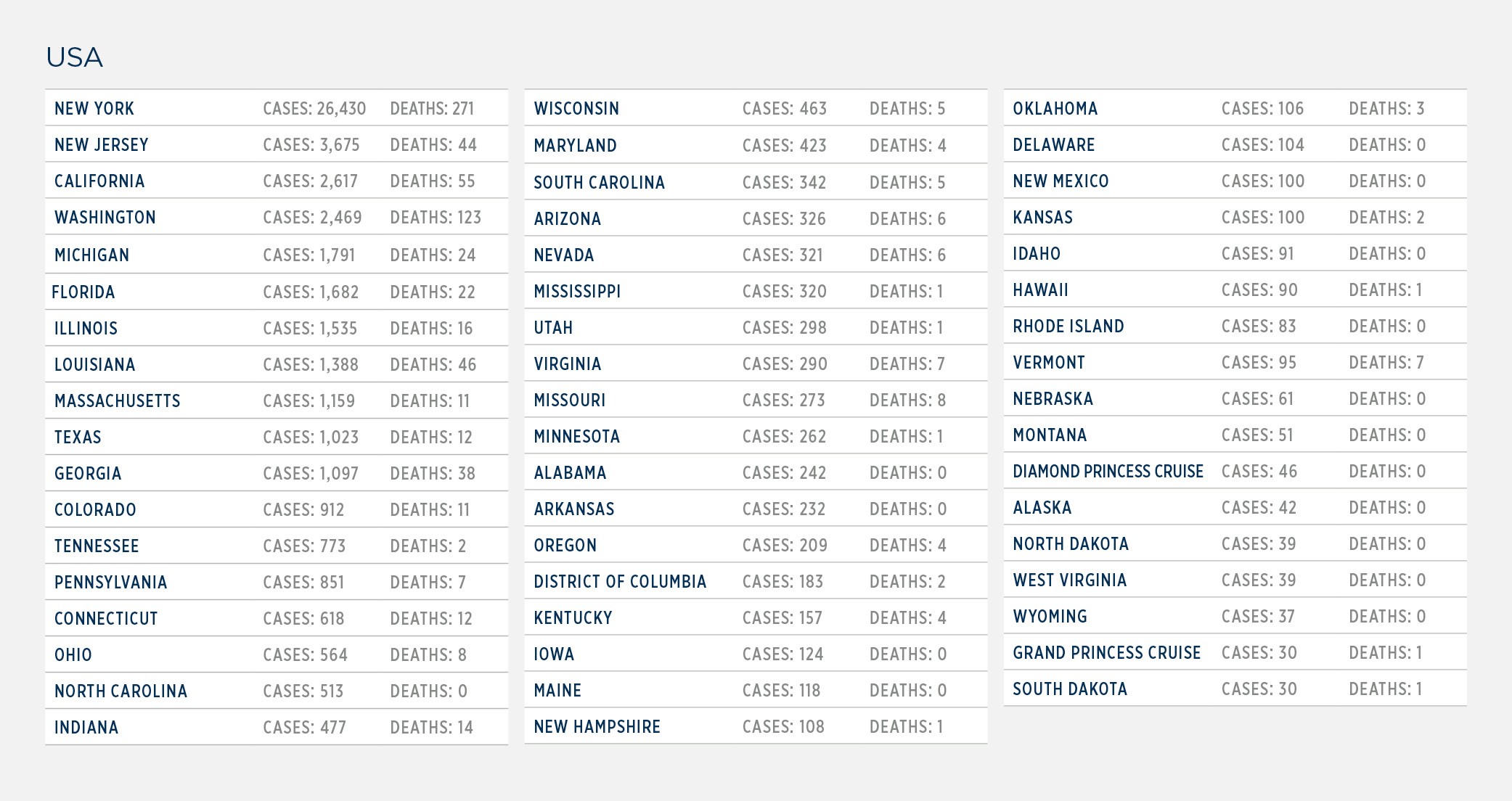 Latest global updates:
Spain's death toll has surpassed China, with 3,434 deaths. Morgues are reportedly overflowing across the country.

Following a decline in overall cases, authorities in China on 24 March lifted a lockdown across Hubei province, which was previously implemented since 23 January. Wuhan will remain under partial lockdown until 8 April. All international arrivals into the country will be screened for COVID-19 and will be required to self-quarantine for 14 days.

On 24 March, UAE officials closed airports across the country for two weeks. Cargo and evacuation flights are not affected by the measure.

On 23 March, the UK implemented a nationwide three-week lockdown, during which all stores selling non-essential goods, libraries, playgrounds, and other public spaces, will close. The populace was also directed to stay in their homes as much as possible and refrain from congregating in groups of more than two. Police have been directed to enforce the measures.

Indian Prime Minister Narendra Modi ordered a nationwide 21-day lockdown starting from 25 March. During the lockdown, all non-essential businesses will be closed and only emergency services personnel and others authorized by the government. Those facing emergencies, will be allowed to travel outside their homes.

South Africa announced it will impose a three-week nationwide 24/7 curfew beginning at 00:00 local time on 26 March. Only essential services will be allowed to operate during the curfew.

Officials in Malaysia announced that the restricted movement order implemented from 18 to 31 March has been extended to 14 April. All foreign visitors remain barred from entering the country and Malaysian citizens are prevented from traveling abroad. All non-essential businesses remain closed and inter-state travel banned. Public transport has also been limited.

On 24 March, authorities in Japan indicated that foreign travelers from Iran and 18 European countries, including Austria, Belgium, Denmark, France Germany, Italy, Malta and Spain, will be denied entry into Japan until further notice.

Authorities in Bangladesh announced a nationwide shutdown of non-essential services and businesses and limited public transport, from 26 March to 4 April. Railway services were suspended and people were requested to refrain from traveling outside their homes except for purchase of essential items like groceries and medicines and for hospital emergencies.
What we know:
440,318 confirmed cases worldwide

19.752 deaths

111,942 recovered

Major ongoing spread areas are now in Iran, Europe, and the U.S.
CURRENT STATUS
The focus in the U.S. is shifting to shelter-in-place measures to limit the spread of COVID-19, with possible full quarantine for certain cities or states with major outbreaks. Working from home, closing of schools, and social distancing in public are all part of an effort to "flatten the curve" of cases to prevent the sudden overwhelming of the country's healthcare system.
As COVID-19 spreads, more and more countries will institute domestic and international travel restrictions. These policies are changing constantly as the pandemic evolves. The International Air Transport Association maintains a list of airline travel restrictions.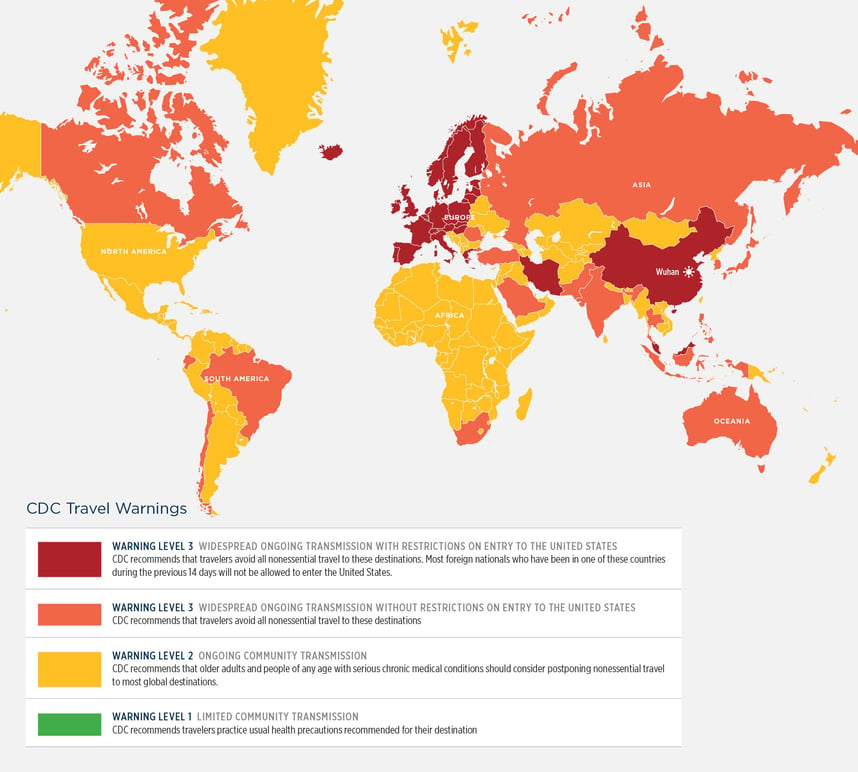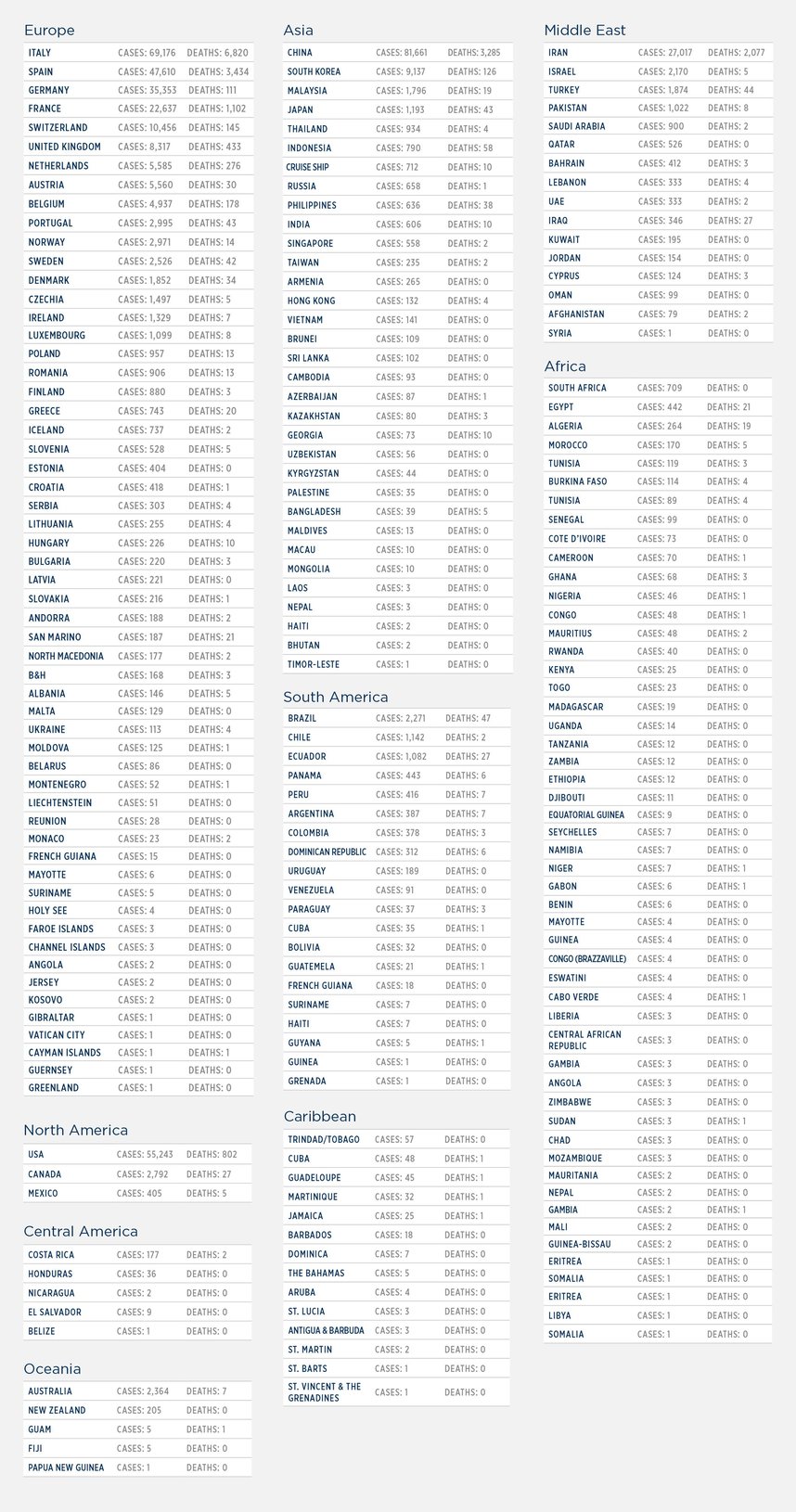 TRAVEL ADVICE
The U.S. State Dept. has issued Level 4: DO NOT TRAVEL guidance for the entire world amid the COVID-19 pandemic. In addition, Global Guardian recommends the following:
Return to the U.S. if currently abroad while commercial means are still available. Otherwise, prepare to remain abroad for an indefinite period.
Avoid all travel to

mainland

China, Iran, Italy, South Korea, Kuwait, Lebanon, Israel, and any other countries with global travel restrictions.

Avoid

all travel to continental Europe.

Reconsider all travel to the rest of the world due to ever changing travel restrictions and border closures.
Do not go on a cruise. Several cruise lines have already canceled all planned cruises.

Practice advanced careful hygiene measures, including frequent hand washing and sanitizing.

Practice "social distancing" while in public spaces.
OUTLOOK
Italy is starting to see positive effects on case growth after 14 days of nationwide lockdown and quarantine. The experience in Europe may serve as a glimpse of what is to come in North America if the virus continues to spread. The U.S. and Europe need to be prepared for significant strain on economic and healthcare resources in the coming months.
See below graphs from Worldometers highlighting rapid growth of cases in the U.S.: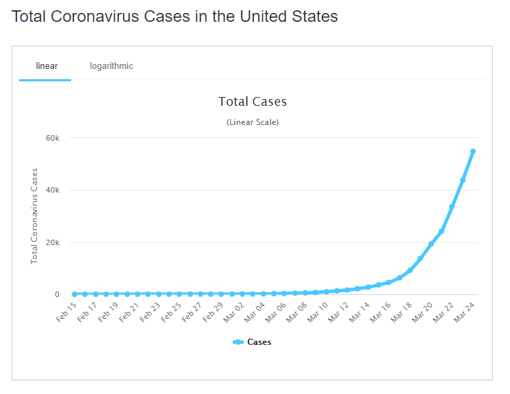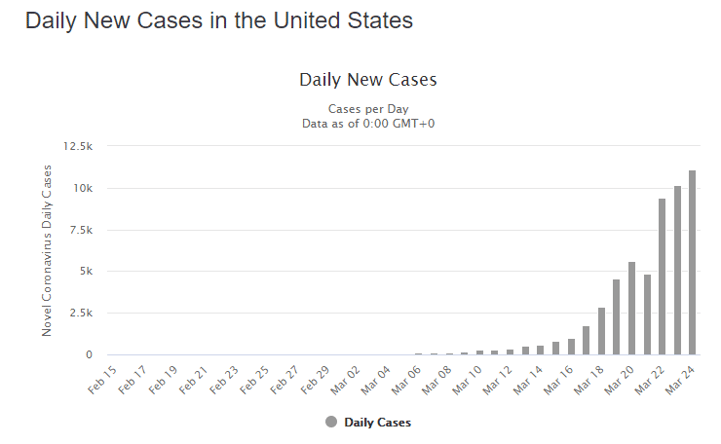 Support
Global Guardian is closely monitoring the situation. To request additional support or learn more about pricing on customized daily intelligence reports tailored to your organization's interests, please reach out to our security analysts by clicking below.